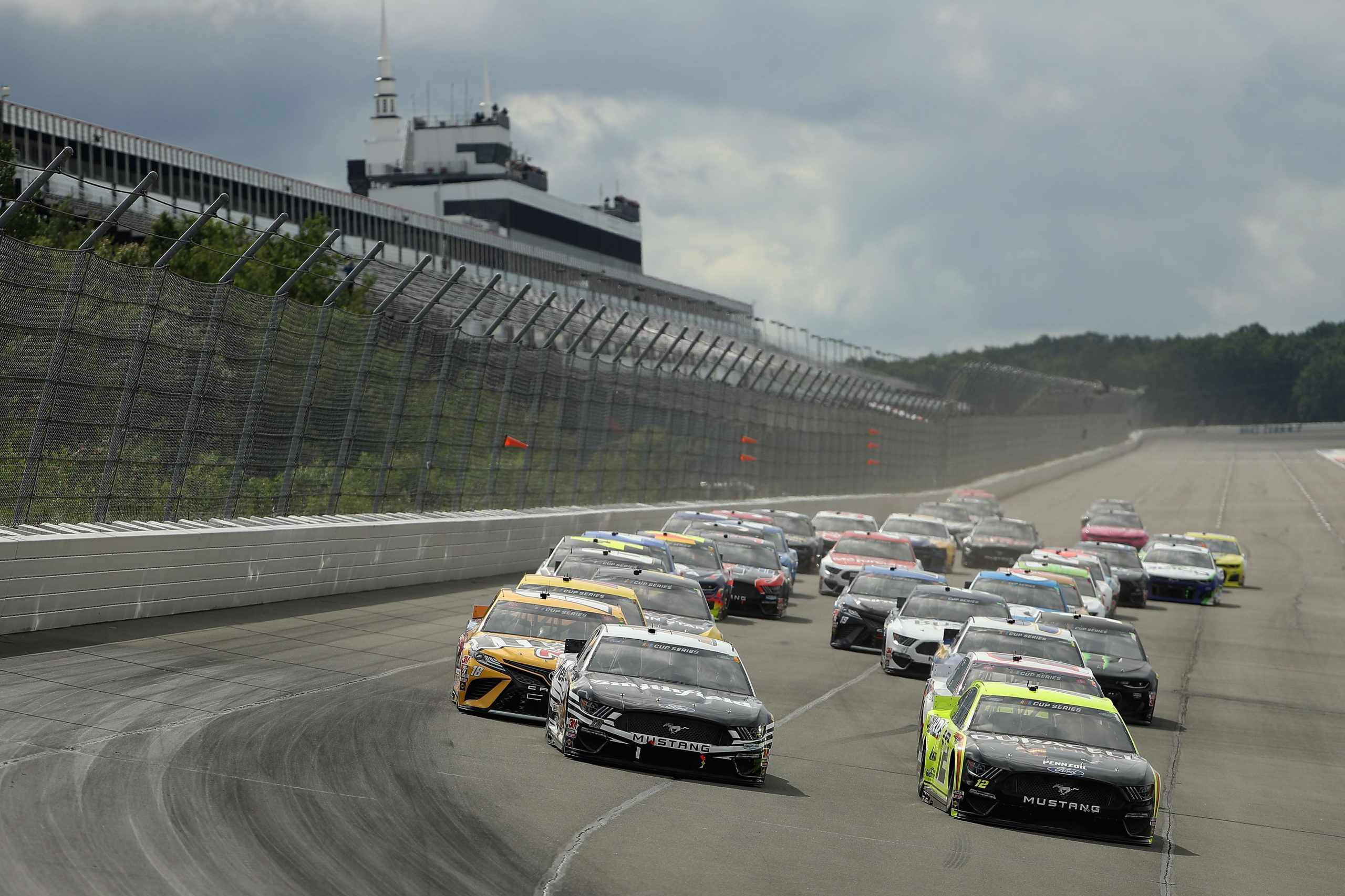 Who Will Find Victory Lane in Pocono Doubleheader?
LONG POND, Pa. – For the second year in a row, the NASCAR Cup Series will run two races over the course of a weekend in Pocono. The 2.5-mile triangle track in Pennsylvania will offer drivers two chances for an all important victory. Many past Pocono winners are in desperate need of a win, as the Playoff bubble battle tightens. Even though Hendrick Motorsports has been unbeaten recently, none of their drivers have a past Pocono victory. As the summer stretch kicks off, who can earn a win or two in the Pocono doubleheader?
Kurt Busch
Coming off an eighth-place run in Nashville, Kurt Busch is 17th in points. As the first man outside the Playoffs, the 1 car is in a very precarious position. The 2004 champion has three victories at Pocono, most recently in 2016. Since his last win here however, Busch only has three top-10s in nine starts.
The 1 team has been progressively chipping away at their deficit to the top 16 in points. Can the 24-point gap narrow this weekend? With a Pocono average finish of 14.5, Kurt Busch can shrink this gap. The 1 must have a few solid Stages and top 10 performances to regain lost points. Kurt Busch will start eighth in race one of the Pocono doubleheader.
Alex Bowman
Alex Bowman and the Hendrick 48 team came into Nashville riding a streak of four-straight top-10s. After a bit of a struggle in the Ally 400, the Ally car left Music City in 14th. Can Bowman get back on the right track at the Tricky Triangle? Across 10 starts in the Keystone State, driver 48 has two-top 10s. This includes ninth in the second leg of last year's doubleheader.
"Pocono is a fun but tricky track," Bowman said. "All three corners are completely different, which makes the track extremely technical. The track is also tough to pass at because of how the groove is and how it doesn't widen out as much. We are typically really fast here and everyone back at the shop is building fast cars right now." The 48 will take the green flag Saturday from 13th. Hendrick Motorsports as an organization has figured out Pocono in recent years, as they had five-straight wins here from 2012-2015. Bowman will try and earn HMS another Tricky Triangle win.
Brad Keselowski
Shockingly only a one-time Pocono winner, the triangle has been one track where Brad Keselowski has had many races slip away. The 2's lone Pocono win came all the way back in 2011. In the last 11 Pocono races, Keselowski has nine top-10s, and was 11th in one race a year ago. This streak includes three runner-up results for the 2. BK will have to rally from deep in the field though to try and win Saturday, as he rolls off 18th for race one.
Ryan Blaney
One of the greatest Pocono moments in recent history was Ryan Blaney's first career win in 2017. Driving the Wood Brothers No. 21, Blaney beat both Kyle Busch and Kevin Harvick for his maiden victory. Blaney has not been able to replicate his 2017 Pocono success, as he only has two top-10s since then. His best finish in this duration was a sixth-place, as he also has three 12th-place efforts. Blaney came in clutch earlier this year to steal the Atlanta win from Kyle Larson; he may just have to do the same on Saturday. The Penske 12 car starts 27th after their early Nashville exit.
Kevin Harvick
Pocono has always been one of Kevin Harvick's strongest venues. Until last year though, he had not found victory lane here. Harvick failed to tame the triangle until his 39th start here. Harvick backed that up with a close second in the doubleheader to Denny Hamlin. Only once in the last 10 Pocono races has the 4 finished outside the top 10, with laps led in seven of those events. After a strong fifth-place run in Nashville, Harvick is hoping momentum can carry the 4 team closer to victory lane. The 4 will start third as they chase their second Pocono win.
Martin Truex, Jr.
Seeming to become an afterthought in recent weeks, can Martin Truex, Jr. tame the triangle again? In the five Pocono races since Truex's 2018 win, he has three-straight top-10s. This includes a sixth and a tenth-place finish in last year's doubleheader. MTJ has been going to Pocono as a fan or a driver for most of his life, and knows just how special it will be to have a crowd back in Pennsylvania.
"It will be great going to Pocono and having fans be there this year," Truex said. "There is always a great atmosphere at the track and the infield will be packed this weekend. I'm looking forward to going up there and seeing everyone back. It has been a pretty good track for us over the years. Hopefully we can have a good run this weekend. We've had a little bit of a rough stretch lately, so this is an opportunity to get some momentum going our way." The 19 will roll off 15th for race one of the Pocono doubleheader.
Kyle Busch
Arguably the best at Pocono in recent history, Kyle Busch lays claim to three Pocono wins in the last seven races here. Aside from a crash last year, KB18 has not finished worse than ninth here since 2016. 2020 was actually the first time in four seasons Busch did not earn a Pocono win. The 18's victories have come one apiece in 2017, 2018, and 2019. Busch will also be going for a weekend sweep, as he will run the Truck Series event on Saturday. Busch has to be considered a favorite for one if not both Cup wins, as his Pocono prowess bests all. KB18 will go for the Saturday win after starting fifth.
Joey Logano
A one-time Pocono victor like both of his teammates, can Joey Logano reassert his name into championship talks with a breakout run? Pocono has been a bit of a struggle for Logano in recent years. The 22 only has three triangle top-10s since 2015. Over last year's doubleheader weekend, Logano's best result was 24th. However the 22 does have a bit of momentum entering Pocono. Logano has a top 10 in four of the last five races. The Penske 22 will start fourth for Saturday's 325-mile event.
Chase Elliott
After a disqualification, Chase Elliott and the 9 team hope to put Nashville behind them and return to glory at Pocono. Although Elliott is 0-for-10 at Pocono, he does have seven top-10s here. Last year's doubleheader saw Elliott finish fourth in race two, which ties his career-best Pocono result. Elliott is more than aware of how technical Pocono is, and how to handle three very different corners.
"Pocono is such a unique track and I have really enjoyed racing there in the past," Elliott said. "It's always a challenge to get your car balanced in all three corners and then you have to be spot on with your strategy because track position usually plays a big factor. Even though it's a doubleheader, our approach doesn't really change from other weekends. We always want to finish toward the front, and we will have our work cut out for us starting near the back on Saturday. I'm looking forward to this weekend and seeing what we can do." Due to the DQ, the 9 car will start a dismal 29th on Saturday. As a Hendrick car though, do not expect Elliott to stay back there for long.
William Byron
The 24 car is known for being a constant contender at Pocono, William Byron hopes to return this team to victory lane. Six trips to Pocono have yielded four top-10s for Byron, with a best result of fourth. On the heels of a strong third-place run in Nashville, Byron enters the Pocono doubleheader with confidence.
"I feel the doubleheader last year allowed us to learn a lot in that first race that we could then apply to the second one," Byron said. "I feel like Pocono is a track that we are good at. To be successful every time we show up, we just need to get a little bit better to close the gap on the top guys. It's honestly a track that both Rudy (Fugle) and I have a lot of success at together and over our careers. I'm not too worried about it though. I feel like having two races there may be a great opportunity for us." The last time Byron went to Pocono with Fugle at the helm, he won the Truck race in dominating fashion. The 24 team will try and repeat that effort Saturday, after starting second.
Kyle Larson
The run Kyle Larson has been on in recent weeks shows no signs of slowing down. But how will the Hendrick 5 team fare at Pocono? In 12 career triangle starts, Larson is batting .500 in terms of top-10s, with a best result of second. Just because Larson doesn't have any past wins here, do not count him out of a fourth-straight win Saturday and a potential weekend sweep. The Hendrick 5 car is showing no visible weaknesses on any track type. Driver No. 5 also has all the possible momentum in the world.
"I've always enjoyed Pocono because of its uniqueness," Larson said. "Every corner is different. I don't know what to expect with this doubleheader weekend. I've done Xfinity and Cup races on the same weekend before, so I don't think it will be much different. Physically, I won't prepare differently. We'll do a lot of preparation looking at data in advance of the first one, then I'm sure there will be a lot of discussion in the debrief Saturday of what went right and what went wrong as we prepare for Sunday's race." Larson and his Cliff Daniels-led crew will go for their fourth-straight Cup Series win from the pole.
Denny Hamlin
The winner of two of the last three Pocono races, Denny Hamlin is one of the best ever to compete on the triangle. Hamlin owns six wins here, tied with Jeff Gordon for most all-time. The doubleheader a season ago was very kind to the 11, with a runner-up and a win.
A year later though, Hamlin is still searching for the elusive first win of 2021. Driver 11 is also trying to hang onto the regular season championship lead. After Larson's incredible run, Hamlin's points gap is down to just 10 markers. Hamlin knows as well as anyone that past Pocono success is far from any guarantee for this weekend.
"Just because we had success in the doubleheader there last year, I don't think it will automatically mean we'll have success this year," Hamlin said. "A lot of things about the cars and the rules have changed since last year. But I'm optimistic about it. I think we're going to continue to get better as a team. And these summer months are really where we should be hitting our stride."
Denny Hamlin will try and become Pocono Raceway's all-time winningest driver after starting 10th. If anyone is to stop Larson at Pocono, it may just be the Fedex 11.
Be sure to stay tuned to NBCSN all weekend long for the Pocono doubleheader. Both races start at 3:30 p.m. ET on Saturday and Sunday, with coverage on NBCSN, MRN, and SiriusXM NASCAR Radio Channel 90. As the Playoffs loom closer, can any teams stop the undefeated run of Hendrick Motorsports and Kyle Larson?
Written by Peter Stratta
Be sure to follow us on Twitter
Be sure to follow the writer on Twitter
Photo Credit to Patrick Smith/Getty Images for NASCAR