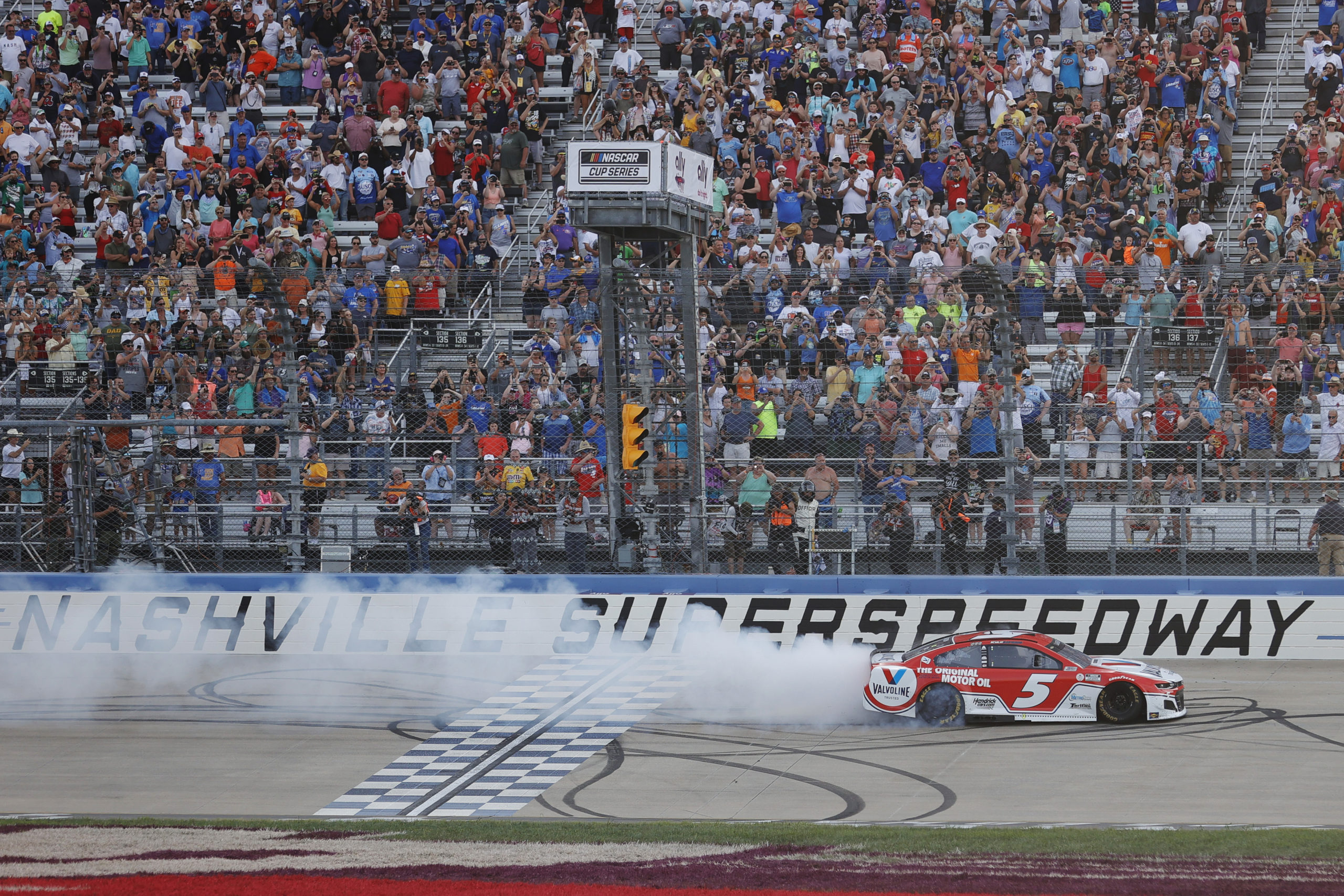 Kyle Larson Earns Three-peat in Ally 400 at Nashville Superspeedway
LEBANON, Tenn. – Kyle Larson did it again, this time in the inaugural Cup event from Nashville Superspeedway. The Valvoline No. 5 car led 264 of 300 laps in the Ally 400 to pick up Larson's third-straight NASCAR Cup Series win. Aside from Larson though, the top 10 was full of an interesting mix of drivers who were in desperate need of breakout runs. In their first showing, Nashville Superspeedway certainly put on quite a show.
Stage 1 Stolen Twice
Although he did not start on the front row, Stage 1 was dominated by Kyle Larson. The 5 took the top spot on lap six, and hardly looked back. This Stage did undergo a position shuffling though with a late caution.
Lap 78 saw both Justin Haley and Chris Buescher find the outside wall. This allowed the leaders to hit pit road, but Chase Elliott would be one of eight to stay out. Thanks to Larson restarting ninth, he did not have enough time to catch the 9 again. Elliott held on for only his second Stage win of the year, while Larson rallied to third behind Kurt Busch. This also marked the first Stage since COTA not won by Larson.
Stage 1 would unfortunately be the highlight of the day for the 9 team. After an ailing right rear tire, Elliott drifted back from the top five to finish 13th.
Post-race, Elliott was found to have five loose lug nuts and was thus disqualified. This sent the 9 from initially finishing 13th with a Stage win to being placed last and having the bonus points revoked. Kurt Busch was declared the new Stage 1 winner.
Larson Leaves Field in Dust
Stage 2 would be retribution for the 5 car, as Larson led all but ten laps. This Stage would only be slowed by two cautions. Once again, a late caution jumbled up pit strategy among the leaders. This allowed Austin Dillon and Chase Briscoe to finish second and third on older tires. The 5 took a record 12th Stage win of the year by two seconds.
The final Stage would not be much of a contest, as Larson would lead all but four laps. This Stage only saw two cautions, as the final run to the checkers was 168 laps. This run was anything but a stress-free Sunday drive for Larson though. The 5 had to save several laps of fuel, and also remove a large amount of grill debris. Thanks to lapped traffic, Larson was able to rid his car of the plastic and not overheat his engine. The 5 eventually took the Ally 400 victory by more than four seconds.
Nashville was the first sold-out NASCAR Cup event since the 2020 Daytona 500, as more than 40,000 fans were in attendance. After the victory, Larson made sure to show his appreciation to the capacity crowd by doing a burnout for the entire length of the grandstands. Driver No. 5 has absolutely gotten loads of practice perfecting celebrations in recent weeks.
Larson's Winning Reaction
"It's awesome to get multiple wins in a row now in the Cup Series," Larson said. "I mean, really it's four wins in a row. Just cool to do that. Didn't think that was possible ever for me in the Cup Series anyways. I've gone on streaks in dirt racing and stuff before, but never been close to doing anything like that in Cup.
It's been awesome. To get to now double-digit point paying wins is great. I'd like to keep winning and keep inching my name up the winner's list not only at NASCAR but at Hendrick Motorsports, too. I think that's important to me."
As the ultimate prize for a Nashville Superspeedway winner, Kyle Larson took home a custom Gibson Les Paul guitar. The guitar trophy has a new meaning now as a kind of memorial to the late NASCAR artist Sam Bass.
"I talked to [Sam Bass] a handful of times," Larson said. "He was always an extremely happy person whenever I was around him. He did a lot for the sport of NASCAR, especially this race I think when it was going on here in the past.
Cool to win a trophy, a cool trophy. Cool to win that guitar. I think that's what we all were striving for this weekend, was to get a guitar."
Numerology Behind Larson's Win
Nashville marks Larson's third-straight win and fourth overall in 2021. In actuality though when adding his All-Star Race win, Larson has pulled into Victory Lane the last four weeks. Nashville also marks career win number 10 for the California driver in his 240th start. Larson now trails teammate Chase Elliott by only two career victories.
Hendrick Motorsports is also undefeated since Darlington in May, where Larson finished second. The week before in Kansas was the last time the 5 team did not get a top-two finish. This is a streak of seven weeks not counting the All-Star Race.
The last Cup Series race in Nashville was also won by a No. 5 car, as Geoffrey Bodine earned the 1984 win at the Fairgrounds Speedway. Larson made sure to give Rick Hendrick two-straight Nashville wins in the flagship car.
Nashville also marks the sixth time in the last 13 inaugural events where Hendrick Motorsports won. This streak dates back to August 6, 1994 when Jeff Gordon won the first Brickyard 400 at Indianapolis.
Top 10 Results from Nashville
Rallying to second in the closing laps was Larson's old car in the 42 of Ross Chastain. For Chastain, Nashville is his first-ever Cup Series top five result. William Byron also made it two Hendrick cars in the top three with another strong run in the 24 car.
Rounding out the top five were a pair of Stewart-Haas Racing cars in Aric Almirola and Kevin Harvick, both earning two of their best finishes this year. At one point Sunday, all four SHR cars ran in the top 12, so this Ford team may just be turning a corner.
The rest of the top 10 were Ricky Stenhouse, Jr., Daniel Suarez, Kurt Busch, Christopher Bell, and Joey Logano.
Common Problem at Nashville
Throughout the race Sunday afternoon, many drivers faced heavy brake wear. Some actually had rotors explode, as teams went with smaller intermediate-track brakes rather than stronger short track packages. In total, five driver's days were ended early by failing brakes, and many more faced soft pedals. Chase Briscoe, Ryan Preece, Justin Haley, and Ryan Blaney all retired early with bad brakes. In future Nashville Superspeedway races, expect teams to return with much more adequate brakes.
What's Next for Cup
Up next for the NASCAR Cup Series is the Pocono doubleheader weekend. Two races will run next weekend, with a 325-miler Saturday and a 350-mile event Sunday. Tune in at 3:30 p.m. ET on both days to see who takes the doubleheader. Coverage will be on NBCSN, MRN, and SiriusXM NASCAR Radio Channel 90. Last year these events were split by Kevin Harvick and Denny Hamlin. A year later, both drivers are still searching for their first wins. Can Larson's unbelievable streak roll through the Pennsylvania mountains, or will someone stop the 5?
Written by Peter Stratta
Be sure to follow us on Twitter
Be sure to follow the writer on Twitter
Photo credit to Sarah Stier/Getty Images for NASCAR