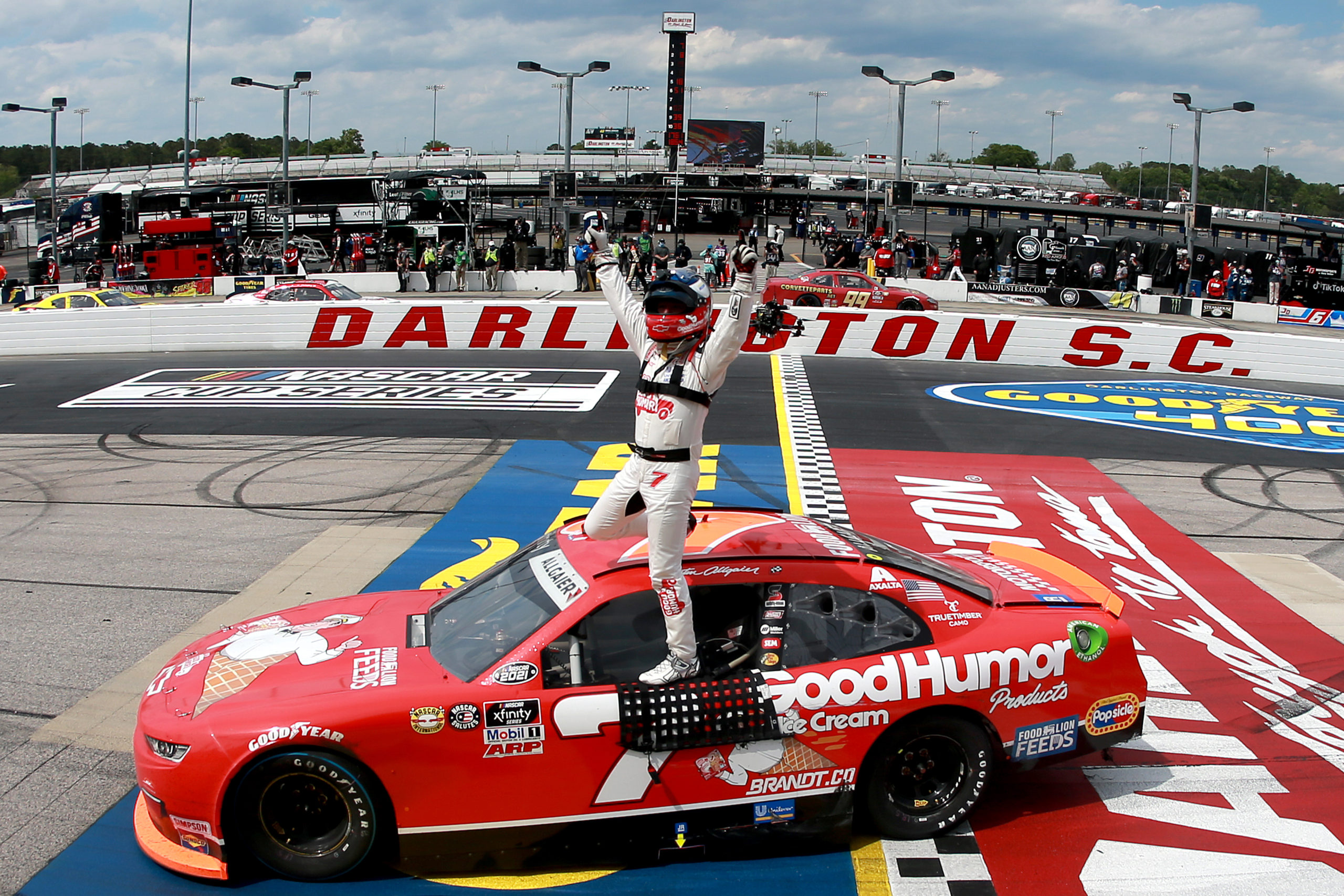 Justin Allgaier Steals Victory in Darlington
Justin Allgaier grabbed the win in Saturday's Steakhouse Elite 200 at Darlington Raceway. The 34-year-old lead his Jr Motorsports teammates across the line as Josh Berry and Noah Gragson finished second and fourth close behind. However, the No. 9 of Gragson was disqualified post-race due to a tech inspection failure, resulting in a 40th place finish. Nevertheless, Justin Allgaier was all smiles post-race.
"Our car wasn't as good as we wanted all day, but the guys down in the pits, they just kept fighting," said Allgaier, who added his first Darlington win to his maiden win this season at Atlanta. "To check off Atlanta and Darlington, I couldn't be more appreciative of this race team … We're going to celebrate this one for a while."
Josh Berry Celebrates Another Strong Run
After leading 95 laps ahead of his Martinsville win a few weeks ago, Josh Berry has surely been riding the momentum. The No. 8 team finished 31st at Talladega due to an incident but were strong throughout. This weekend at Darlington, they showed the same speed that almost landed them in victory lane again.
"I'm mad," Berry said post-race. "I want to win. I'm racing for my life out here, man. We need to find a sponsor or something so I can run this thing full-time. But it's hard to be mad, coming here, running second, no practice, first time with these guys — that's pretty incredible."
Where to Find Xfinity Cars on Track Next:
The NASCAR Xfinity Series will pack up from Darlington, South Carolina, and head north to Dover, Deleware for the Drydene 200. At a track where Justin Allgaier has scored two recent wins and many top-three finishes, he hopes to go back-to-back at the Monster Mile. You can find coverage of the race at 1:30 p.m. ET, May 15th on FS1, MRN, and SiriusXM NASCAR Radio.
Written by Noah Lewis
Be sure to follow us on Twitter.
Be sure to follow the writer on Twitter.
Photo credit to Sean Gardner/Getty Images via NASCARMedia.