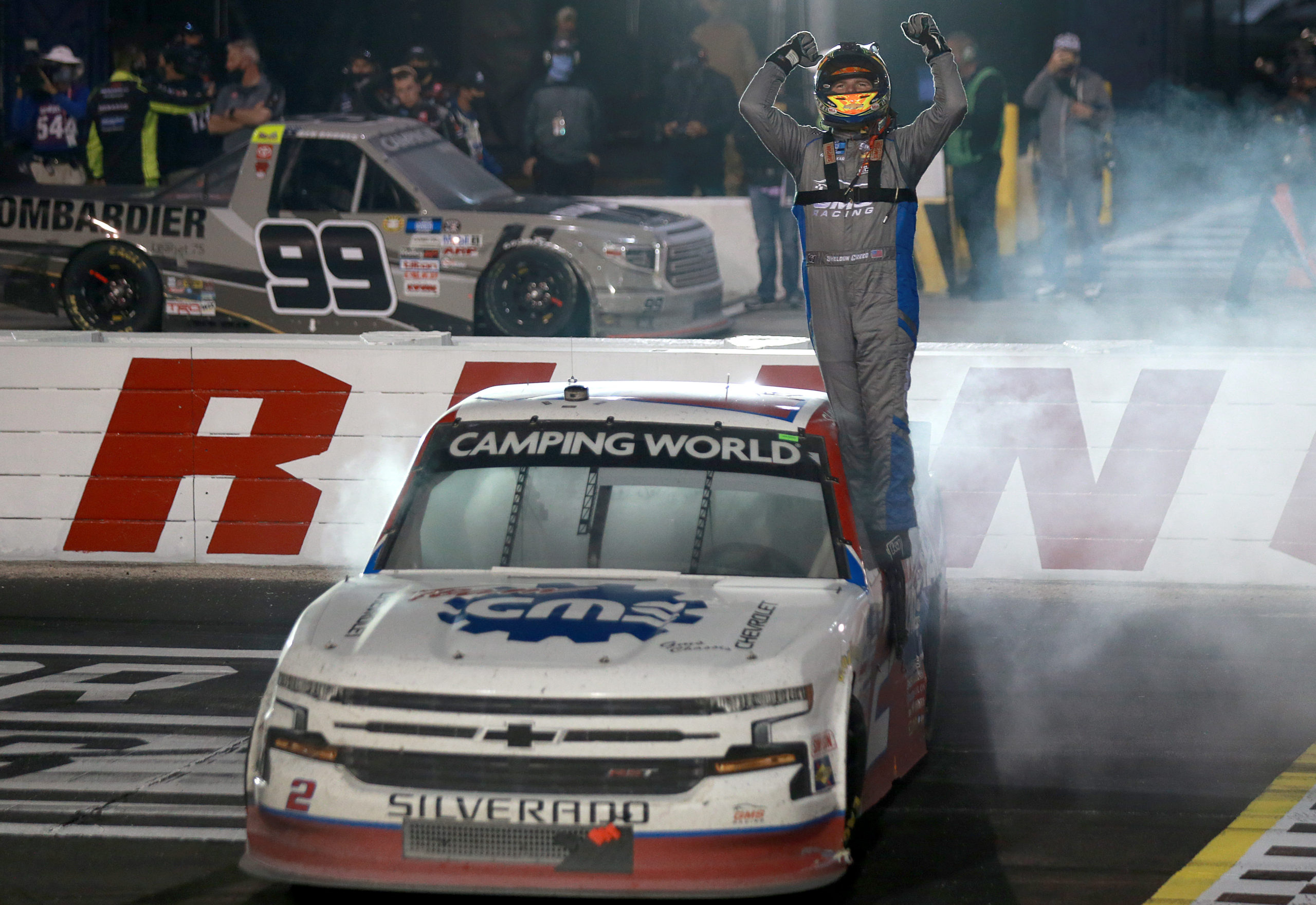 Sheldon Creed Grabs The Checkered Flag in Wild Truck Event at Darlington
Sheldon Creed was first to the line to close Friday's LIFTKITS4LESS.COM 200 at Darlington Raceway. The Alpine, California native beat second-place driver Ben Rhodes after a brash of late cautions, one that involved at least 16 trucks.
"It feels great," Creed said after climbing from his truck. "Didn't have the best truck there, for sure… firing off I was really tight. Then I was wrecking loose there, just doing everything I could.
"I was really aggressive on restarts — that's what it takes. We've been struggling, but we keep chipping away at it. We're getting better trucks in the last couple weeks. All I ask for are trucks I can race with."
Creed also won an extra 50k dollars, part of the first Triple Truck Challenge race this season.
Ben Rhodes Picks Up Second Place
Ben Rhodes found his fourth top-five of the season at Darlington, coming up just short of victory. The 24-year-old Kentucky native led 34 laps of the race but lost the race lead late to Sheldon Creed on a restart.
"I saw going into the corner we were going to push low, so I tried to work our way back up to give us some line so we could be side-by-side coming off of (Turn) 2, but got really loose," Rhodes said of the final restart. "Luckily, we saved it, but it was an up-and-down night. I had a lot of fun.
"We set ourselves up for the end there with our Bombardier Tundra to go for a long run — with like low pressures, and then lo-and-behold, red flags and caution after caution after caution. So what do you do, right? He had seven-lap newer tires, some help on the restarts, and I guess conditions were perfect for him, but I'm not going to pout about it. I'm driving a race car. I'm happy."
Where to Watch The Next Truck Series Event:
The Camping World Truck Series next heads to Texas. No, not the Texas we're used to, but Austin, Texas where Circuit of the America's can be found. As NASCAR teams learn their way around COTA's winding twists and turns, you won't want to miss it! Coverage of the Toyota Tundra 225 kicks off at 1:00 p.m. ET Saturday, May 22nd, on FS1, MRN, and SiriusXM NASCAR Radio.
Written by Noah Lewis
Be sure to follow us on Twitter.
Be sure to follow the writer on Twitter.
Photo credit to Sean Gardner/Getty Images via NASCARMedia.