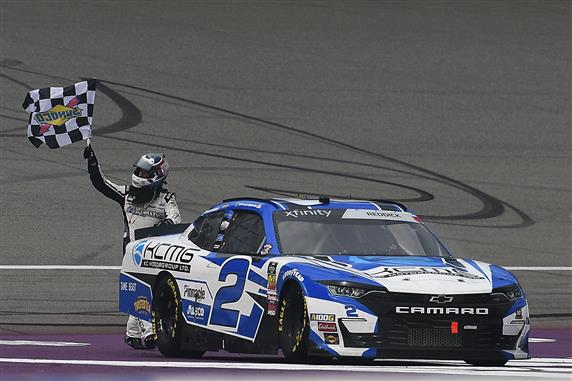 Can The NASCAR Xfinity Series "Big 3" Once Again Score The Win?
Currently, in the NASCAR Xfinity Series, 3 drivers seem to be in their own league.  All season long the talk has been about Christopher Bell, Cole Custer, and defending champion, Tyler Reddick.  These drivers have been so dominant that they've been compared to last years "big 3" in the Cup Series.  Now as they prepare to tackle Iowa, the question is can one of them find victory lane again this weekend?
Cole Custer's Iowa Stats
Cole Custer has raced at Iowa 4 times in the Xfinity Series.  In those 4 starts, Custer is credited with a 9.0 average start and a 10.50 average finish.  He also has 3 top 10's and 2 top 5's.  In fact, Custer's most recent run at Iowa could be argued as his best.  Even though he finished 9th, he led 104 of the 250 laps at the 7/8ths of a mile speedway.
"It's the best track we go to," Custer told NASCAR.com about racing at Iowa.  "It's so fun, you're able to run from the top to the bottom, and throw slide jobs.  It is probably the biggest track that we throw slide jobs at so it's really fun.  But it's also so bumpy, so rough, just every driver's dream I would say."
Tyler Reddick's Iowa Stats
Tyler Reddick is undoubtedly the most talked about guy in the "big 3" right now.  With an astonishing 89 point lead in the series, Reddick is one of the favorites every weekend.  He currently is holding on to a 10 race top 5 streak and doesn't plan to break it this weekend.  Instead, he plans on adding to his already 3 wins this season.
In 4 starts in Iowa, Reddick has 2 top 10's and 1 top 5.  His average start is 10.5 with an average finish of 17.2.  Reddick will work on bettering those stats with his new team Richard Childress Racing this weekend.
Christopher Bell Iowa Stats
The "big 3" driver with the best stats this weekend is Christopher Bell.  In his 3 starts in Iowa, he's claimed 1 win, 2 top 5's, and 2 top 10's.  He's also led 248 laps with an average start of 14.3 and an average finish of 6.3.
"When it's your day, it's your day," Bell said after his victory last season. "I'll take them any way I can get them."
Watch The NASCAR Xfinity Series Race At Iowa
Will one of the Xfinity Series "big 3" driver's claim the checkered flag in Iowa?  If so, who do you think it will be?  Find out Sunday at 5:30 PM EST on FS1.
Be sure to follow us on Youtube and Twitter.
Written by Noah Lewis
Be sure to follow the writer on Twitter.
Photo credit to NASCARMedia.