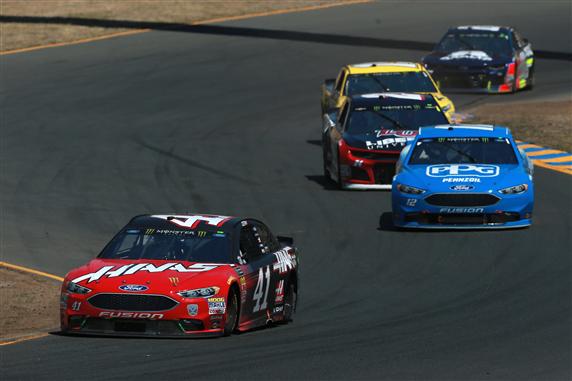 Clint Bowyer, Kurt Busch Come into Sonoma Hoping to Continue Road Course Hot Streaks
Two of the hottest drivers in recent history at Sonoma Raceway come into this weekend still searching for a win. Clint Bowyer and Kurt Busch hope to turn their seasons around on the northern California circuit. Both of them are past Sonoma winners looking for a second victory. Each of these 2 come into the weekend as favorites for the win, so can they capitalize?
Kurt Busch's Sonoma Stats Set Him Apart
Among all active drivers in the Monster Energy NASCAR Cup Series, nobody is more consistent in wine country than Kurt Busch. In 18 Sonoma starts, the 2011 winner has 1 victory, 10 top 10s, and 198 laps led. His laps led mark lead all current drivers, and is second all-time to Jeff Gordon. He also ties Bowyer with a series-high in top 10s on the road course. His top 5 mark (7) is also 1 behind Bowyer for most.
The elder Busch will be making his first Sonoma start for Chip Ganassi Racing in the 1 Chevrolet this weekend. He comes into the first road course race of 2019 ranked 8th in the standings; he is the highest of any winless driver to this point. Busch has 4 top 5s and 9 top 10s through the first 15 races of 2019. With his strong position in points, expect Kurt to be up front and contending late on Sunday.
Clint Bowyer's Quiet Road Course Consistency
The 2012 Sonoma winner has only finished outside of the top 10 on 3 occasions in 13 starts. Clint Bowyer is also tied with Kurt Busch for most top 10s (10) and leads all active drivers with 8 Sonoma top 5s. Minus an early electrical issue in 2016 that saw Bowyer finish 40th, he has yet to finish worse than 10th in Napa Valley since 2011. With top 3 results in 3 of the last 4 trips to Sonoma, Bowyer should be considered a threat for the win.
While the Kansas native would not seem like a road course ace, he has taken to Sonoma well. His average finish of 10.1 is 3rd best all-time behind a pair of Hall of Famers-Jeff Gordon and Dale Earnhardt, Sr.
Clint Bowyer and the 14 Stewart-Haas Racing Ford team are in need of a strong run to turn their year around. "The summer stretch is everything and, looking back at our season last year, we've got to get better at it,'' Bowyer said. "Everybody asks, 'How are you going to improve from last year?' And I say it's that late-summer stretch. We started off great last year and then tapered off in the summer. We have to avoid that this year. You have to get on a roll, especially leading off into the Playoffs."
Bowyer's Recent Up-and-Down Results
Clint enters Sonoma in the midst of a very roller-coaster year. In the last 6 races, he has 3 finishes of 24th or worse. Bowyer is currently 12th in the standings, with 5 top 5s and 8 top 10s. While he has breathing room in terms of the Playoff bubble, Bowyer would benefit greatly from a win at one of his best venues. His recent run of inconsistency sees him in need of a bounce back run at Sonoma.
With the return of the carousel turn at Sonoma, all drivers will face a new challenge on Sunday. Who will rise to the occasion and drink the wine in victory lane? Kurt Busch and Clint Bowyer enter as 2 of the favorites, but there is a long list of potential winners. The Toyota/Save Mart 350 will on FS1, PRN, and SiriusXM NASCAR Radio Channel 90 on Sunday, June 23rd at 3 PM EST. Be sure to watch the final race of 2019 for NASCAR On Fox.
Be sure to follow us on Youtube and Twitter.
Written by Peter Stratta
Be sure to follow the writer on Twitter.
Photo credit to NASCARMedia.