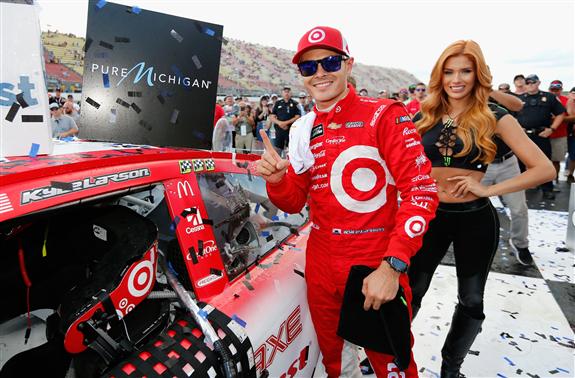 Can Kyle Larson Reverse His Recent Bad Luck at Michigan?
So far, this season has been very hit or miss for Kyle Larson. Many foresaw 2019 as a rebound year for the California driver. Coming off of a year where he did not win, but did finish 2nd 6 times. While Larson did score his first career All-Star Race victory last month, he's also crashed out of 4 of the last 8 races. Coming into his strongest venue at Michigan International Speedway, can the California kid turn his luck around?
Kyle Larson's Michigan Stats
To say that Kyle Larson has an uncanny ability to get around the 2-mile Michigan International Speedway would be an understatement. Back in August of 2016, Larson scored his first career win here in his 99th Cup Series start. He would then go on to sweep both Michigan races in 2017. His win in August of that year was by far his most impressive drive. He led a race-high 96 laps that day after starting from the pole.
Larson's 3-straight Michigan wins have him in elite company with a pair of past champions; Bill Elliott and David Pearson. 'Awesome Bill' Elliott won 4-straight Michigan races from 1985-1986, while Pearson won 3 in a row in 1972 and 1973. Out of active drivers, only Larson's teammate Kurt Busch also has 3 Michigan wins.
For every great stat however, there is an opposing mark that must be remembered. Kyle Larson's bid for 4-straight Michigan victories was far from successful in 2018. He had finishes of 28th and 17th a year ago at MIS. Larson is still looking for his first points-paying win since the 2017 fall Richmond race, a streak of 60 races.
Larson's Chances at a Victory on Sunday
So can the 42 park it in victory lane once again in the Irish Hills? He is far from a favorite coming into Sunday, being listed at 14-1 odds for the win. However, if Larson can put on a drive similar to his All-Star win, then it may be lights out for the competition. He does also have a bit of momentum on his side, as he swept both Stage wins a week ago in Pocono.
The Firekeepers Casino 400 will be on Sunday, June 9th at 2 PM EST on FS1, MRN, and SiriusXM NASCAR Radio Channel 90. Tune in Sunday to see if Kyle Larson can resurrect his season at Michigan International Speedway.
Be sure to follow us on Youtube and Twitter.
Written by Peter Stratta
Be sure to follow the writer on Twitter.
Photo credit to NASCARMedia.