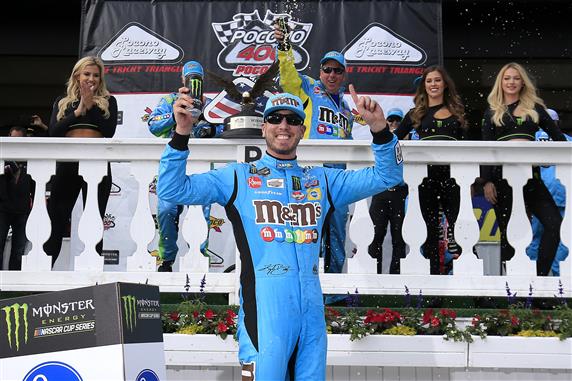 Kyle Busch Puts in Pocono Domination for Series-High 4th Win of Season
Coming into the Pocono 400 Kyle Busch was listed as the favorite, despite some recent struggles. After starting a in season-best 2nd position, the 18 would lead early at 'The Tricky Triangle.' By the end of the race, it was a Pocono domination from the points leader. Kyle ended up cruising to a win of over 2 seconds. This is Busch's 4th win of 2019, as well as his 55th career victory.
Byron Starts Up Front Again
For the second-straight week, the pole went to William Byron in the Hendrick Motorsports 24 Chevrolet. Byron was able to put up a lap in Saturday's qualifying session that nobody could trump. Kyle Busch would line up alongside Byron in his season-best starting position. The 21-year-old would get an early lead at the start on Sunday. The 24 led up until the competition caution on lap 20. By the time this yellow flew, Byron had a 1-second lead over Erik Jones.
Position Changes on Pit Road in Stage 1
For the 50-lap duration of Stage 1, there was only a single lead change. This happened on pit road under the competition caution, when Kyle Larson just beat out Byron. For the remainder of Stage 1, it was the 42 leading the way to his second Stage win of 2019.
Just prior to the competition caution, one driver made an early pit stop as part of a gamble. 11th-place running Kevin Harvick pitted to change 4 tires, and would stop again under the yellow for fuel. This exchange would put Harvick up to 6th when racing resumed, so it was a successful strategy call by crew chief Rodney Childers.
Tempers Flare Between Dillon, Menard
Racing would go back to green on lap 25, and the yellow flag would fly again a few laps later. While racing just outside of the top 10, Austin Dillon came across the nose of Paul Menard on lap 29. It appeared to be a racing deal, as Dillon thought Menard would yield the position. This contact would send the 3 car hard into the outside wall, and to a last-place finish. Dillon was less than pleased with how hard Menard raced him. The pressure is ramping up for both drivers, as they are each vying for a Playoff berth on points.
"He just ran into the back of me," said Dillon on Menard. "It takes me out of the race, kills us in the points, it's disappointing. There's nothing nice I have to say about him right now." Dillon also referenced how Menard has been pulling moves like this for a long time. This comes from a driver who was previously Menard's teammate. Dillon would not get back on track, and finished dead-last in 37th. On the flip side, Menard was able to continue on to an 18th-place result.
After the caution for this incident, the remainder of Stage 1 was raced without issue. Larson took the Stage win over Byron and Brad Keselowski. Towards the end of the Stage however, many front running drivers such as Kyle Busch gave up Stage points in order to pit early. This move would give the 18 and others prime track position for Stage 2.
Rash of Cautions Early in Stage 2
The early laps in Stage 2 would be several short-runs, due to drivers having issues on restarts. On lap 60, the 95 of Matt Dibenedetto would spin coming out of turn 2, bringing out the 4th yellow. 3 laps later the yellow would fly again for a very similar incident with Matt Tifft. The 36 clipped the apron in turn 2 and looped it, bringing out a quick yellow. Lap 70 would be the last of these short yellows, as Corey Lajoie pounded the wall again in turn 2. After the 32's incident, the remainder of Stage 2 would be raced without break.
Power Move By Busch over Bowyer
On the lap 73 restart, Clint Bowyer muscled his way by Kyle Busch for the top spot. Bowyer would hold his lead for 2 laps, until Kyle charged his way by the 14 on the outside lane in turn 3. Once he got around Bowyer, Kyle started checking out. In just a few laps, he was up by more than a second. Busch would hold his lead until pitting on lap 93.
Rare Engine Issue for Contender
While making a pit stop on lap 91, Martin Truex, Jr.'s 19 Toyota was smoking heavily from the exhaust pipes. Truex said he thought his car was "blowing up," and he would not continue onward. The Joe Gibbs Racing crew would push the 19 behind the wall and to an early exit. Truex said he had very little warning that his motor was expiring, but pit as soon as he knew. Truex would not be able to back up his Pocono domination victory from last year or his Charlotte win from last week. JGR's Toyota motors are known for their reliability, so to see one go up in smoke is a rarity.
After Truex's exit and Busch's pit stop, the lead was handed to Chase Elliott. Elliott would navigate the 9 into the pits 2 laps later, giving the Stage 2 win to Kyle Larson. Kyle Larson and the 42 team's recent uptick in performance would deliver them a sweep of both Stages from Pocono. However, the car who was still putting on a Pocono domination was the other Kyle in the 18.
Busch Starts Final Stage Up Front
Thanks to his pit stop on lap 93, Kyle Busch was one of 9 drivers who did not stop under the stage break caution. The 18 would re-assume the lead, and held off a restart charge from Kevin Harvick. As the race crossed 50 laps remaining, Busch held a half-second lead over Harvick, leaving the others in the dust.
Promising Pit Stop Turns Bad For Harvick
With 37 laps to go, both Kyle Busch and Kevin Harvick made their final pit stops under green. Initially, the 4 of Harvick only took 2 tires and beat the 18 out. This looked like it was a big swing for the eventual race lead. However, Harvick's crew would get busted with an uncontrolled tire violation. The 4 would be forced to come back down pit road to serve a penalty. This costly infraction would end Harvick's shot at the win. With no other contenders in reach, the 18 logged laps as the pit cycle worked its way out. Meanwhile, Harvick would only recover to finish 22nd.
Late Caution Gives Hope For the Field
On lap 148, the 17 of Ricky Stenhouse, Jr. pounded the turn 2 wall with a blown right front tire. This incident would bring out 1 more caution late in the race. Consequently, Busch had to pull off 1 more restart for the win. Despite being right alongside him, Erik Jones and the field were no match for Kyle. The 18 was clear by turn 1, and held on to a win by over 2 seconds.
Other Notables in the Top 10
By the end of the race, the 18 had a lead of more than 2 seconds over Brad Keselowski. The remainder of the top 10 were Erik Jones, Chase Elliott, Clint Bowyer, Denny Hamlin, Joey Logano, Daniel Suarez, William Byron, and Aric Almirola. For Jones, a solid 3rd-place finish puts him inside the top 16 in points by just 1 point. Chase Elliott secures a 5th-straight top 10 result for the HMS 9 team, as he is carrying the banner for Chevrolet. Clint Bowyer also scored his first Pocono top 5 since 2014. Lastly William Byron had a quiet but uneventful day, starting on pole and only fading to 9th.
Significance of the Win for Kyle Busch
While just a few years ago Pocono was one of his worst tracks, 'The Tricky Triangle' is quickly becoming one of Kyle Busch's strongest venues. In the past 5 Pocono races, Busch has 3 wins. He has also been passed for the win the other 2 times. In this same span, Kyle has 318 laps led on the triangle. To put it simply, Pocono domination is becoming a new norm for the 18. Sunday also marked Busch's 4th win of 2019, which leads all drivers to this point.
Lastly, Sunday's Pocono domination was career win 55 for 'Rowdy.' This is a milestone win total, as it ties him with Rusty Wallace for 9th on the Cup Series all-time wins list. With each win Busch is entering even more exclusive territory, it truly is a wonder just how many wins he will rack up by the close of his career.
How to Watch the Next Race
With the NASCAR On Fox broadcast season entering its final 2 weeks, the next Cup Series race will be Michigan International Speedway. The Firekeepers Casino 400 will be on Sunday, June 9th at 2 PM EST on FS1, MRN, and SiriusXM NASCAR Radio Channel 90. Stewart-Haas Racing enters week 15 of the year still winless, can this 4-car powerhouse team bounce back at a track they swept last year? Watch on Sunday to see if an SHR Ford wins again at Michigan.
Be sure to follow us on Youtube and Twitter.
Written by Peter Stratta
Be sure to follow the writer on Twitter.
Photo credit to NASCARMedia.