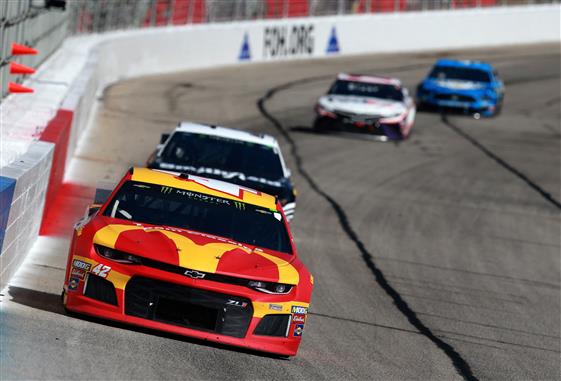 Kyle Larson Looking For Vegas Victory
This weekend the Monster Energy NASCAR Cup Series rolls into Las Vegas for its third race of the season. So far this season Chip Ganassi Racing is off to it's best start in team history. This is because despite not winning yet this season, both Kyle Larson and Kurt Busch are ranked in the top 10 in points. Kyle Larson is sitting 4th in points currently while teammate Busch finds himself sitting in 8th. In fact, Larson is sitting the highest in points by any Ganassi driver at this point of the season since 2010.
Despite not having a win yet this season Kyle Larson has been Ganassi's standout driver. After a solid 7th-place finish in the Daytona 500, he followed it up with an impressive performance at Atlanta. Larson managed to notch his first stage win of the season in Stage 1 after starting in 7th. Larson went on to lead a race-high 142 laps at Atlanta. This stat is also good enough to put him on top of the season's lap leaders for 2019 so far. Ganassi has certainly come out of the box strong in 2019.
Kyle Larson is Model of Consistency at Vegas
Don't look for this early season success to stop this weekend at Las Vegas either. Since breaking through to the Monster Energy NASCAR Cup Series, Vegas has been a great track for Larson. In six career races at the track, Larson has an average finish of 11.33. While nothing to scoff at, this average finish isn't something that would wow you. However, in his last three starts at the track, Larson has finished no worse than 3rd and has two 2nd place finishes in that span. So whatever it may be, Larson has something figured out when it comes to Las Vegas Motor Speedway. So don't expect the 42 to remain in his starting position of 7th for long. Fans should expect to see him up front throughout the day.