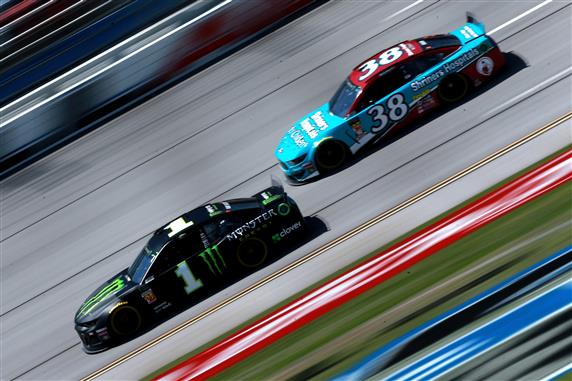 Kurt Busch Looks For First Career Win at Talladega
As the Monster Energy NASCAR Cup Series heads to Talladega, there is one driver who has been remarkably consistent. But, he is yet to break through for that elusive win. That driver is the man who is behind the wheel of the 1 Chip Ganassi Chevy-Kurt Busch. In his career, Busch has made 36 total starts at the track and has still yet to win one.
Kurt Busch's Career Talladega Stats
When you take a deep dive into his statistics at the track, it makes you realize how hard it truly is to get a win at the 2.66 mile superspeedway. Of the 6 major loop data stats at the track, Busch ranks in the top 2 in 4 of them. Kurt has the best driver rating (90.5) at Talladega for drivers who have made more than 6 starts at the track. Kurt is only second here to Chase Elliott, who has made just 6 starts. Busch also boasts the second-best average finish at the track among active drivers at 15.4. This is only bested by Daniel Suarez (15.0) who has made just 4 starts at the track. Then that brings us to the 2 stats in which Kurt Busch leads among active drivers. He leads active driver in top-10s with 19 total and in top-5s with 8.
That brings us to last fall's Talladega race. This was a race in which Kurt Busch dominated by leading 108 of 188 laps. Despite the amount of laps led, Kurt managed to finish 14th because it turned into a fuel mileage race. Proving once again that despite how good of a position you put yourself in at Talladega, it is truly a coin flip. More so than any other track, there are things that will keep you out of victory lane that are completely out of your control. However, if you can get some of those things to go in your favor you can end up in victory lane. The question is if Kurt Busch will finally have things go his way on Sunday.