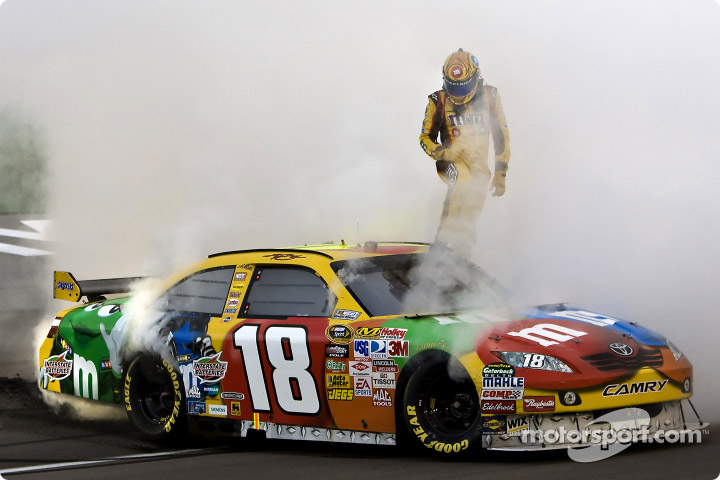 Kyle Busch Look's For More Las Vegas Success
Kyle Busch is on his way to having another spectacular season. The Las Vegas native was able to clinch the regular season championship following last week's race in Indy. If that isn't enough momentum, he heads into Sunday's race as a driver who has won in Vegas.
Currently, Kyle sits as the youngest pole sitter and winner in Vegas. In his most recent race there, he was able to claim a 2nd place finish. For this trip to Vegas, a few new elements have been thrown into this weekend's race that we haven't seen before.
For starters, this is the first time Las Vegas Motor Speedway has been in the playoffs. Following a deal made last season, Las Vegas was given another date on the schedule. That 2nd date leads me to another new element.  Usually, drivers only run this track in March, meaning the hotter weather could play a factor on the drivers. Currently, the temperature for this weekend's race looks to be over 100 degrees. This will change the track, as well as make the drivers very uncomfortable for 400 miles.
Kyle Busch's Vegas Stats
As mentioned before, Kyle Busch is currently the youngest pole sitter and winner at Las Vegas. His current 103.4 driver rating there is only second to Jimmie Johnson's 108.9. In his 14 starts, Busch has 6 top 5s, 7 top 10s, and 2 poles. His average finish is currently 13.29 on his hometown track.
"Going to Vegas, it's not one of my best racetracks, for some reason,'' Busch told NASCAR.com. "I've won there before, but it was a long time ago. We finished 2nd earlier this year. We struggled early but came on late and we'd love to have the opportunity to go out there and win and just move ourselves automatically through to the next round and not have to worry about the "Roval" (at Charlotte).
Can Kyle Busch clinch his way into the second round with a win in Las Vegas? Find out in Sunday's Playoff opener, the South Point 400.
Follow the Writer:  twitter.com/noah_lewis1
Photo credit to Stephen Taylor via Flickr.