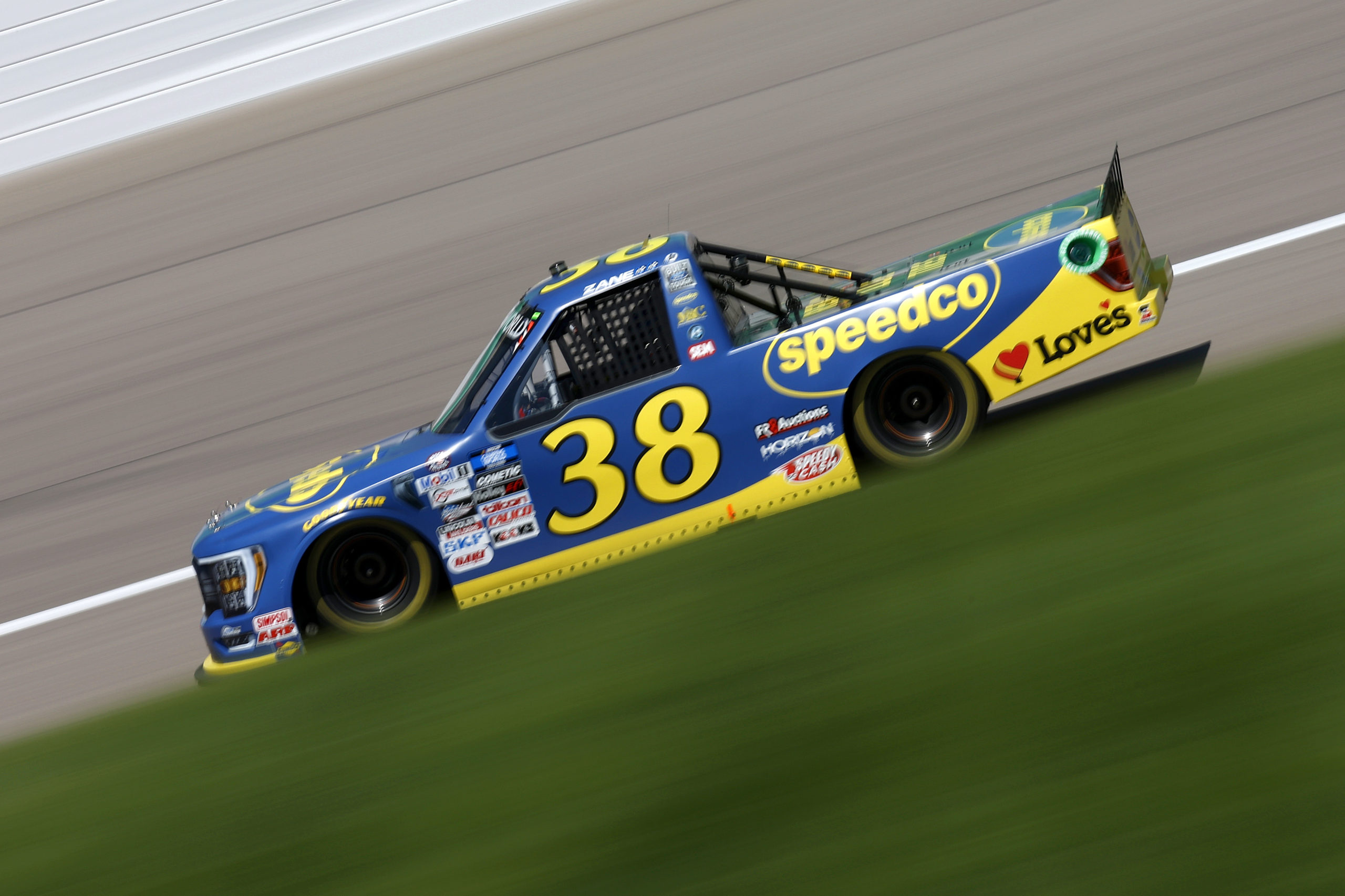 Zane Smith Cruises to Third Season Victory at Kansas Speedway
KANSAS CITY, Kan. – Zane Smith picked up his third NASCAR Camping World Truck Series victory of the season in dominant fashion at Kansas Speedway. The Front Row Motorsports driver collected the Stage 2 win and led 108 laps on the night. This marks Smith's best career Truck Series finish at Kansas, outdoing his 6th place effort back in 2020.
"Really just an unbelievable truck," Smith said after climbing out. "We struggled there in the first stage and I feel like I made the mistake last week of adjusting too much in the heat of day and it wasn't right. We just executed greatly with this truck. This is our Vegas truck, I feel like this would of been an image of Vegas if I didn't get damage early in the race there.
That was one of my easier ones I've ever had to win but that late-race restart scared me a little. Good thing I didn't have another one there, because I was stuck in fourth (gear)."
Stage 1 went caution-free, with Zane Smith taking the early lead from John Hunter Nemechek after three laps. Smith led 18 laps early but was passed by Corey Heim late, allowing Heim to score the stage victory.
During the opening stage, there was one on-track incident, although it didn't result in a yellow flag. Tate Fogleman came up before clearing Blaine Perkins, sending the No. 9 truck spinning down the backstretch. Perkins saved the truck, quickly gassed it up, and got it to pit road without contact.
Stage 1 Results:
Corey Heim
Ty Majeski
Zane Smith
Chandler Smith
John Hunter Nemechek
Derek Kraus
Ben Rhodes
Matt Crafton
Tanner Gray
Carson Hocevar
Stage 2 restarted with Heim leading the way but it was Zane Smith who once again jumped out front early. This time, Smith didn't let Heim back around, picking up 10 extra points in another fully green stage. Heim didn't let Smith get far as he crossed the line just 2 seconds behind him.
Stage 2 Results: 
Zane Smith
Corey Heim
John Hunter Nemechek
Ty Majeski
Ben Rhodes
Carson Hocevar
Tanner Gray
Derek Kraus
Colby Howard
Stewart Friesen
For the start of Stage 3, Ben Rhodes won the race off pit road and elected to take the top. Zane Smith, who took the bottom of the front row, was able to clear Rhodes heading into turn 1. On lap 92, Kris Wright brought out a caution after making heavy contact with the wall in turn 2 just before green flag stops.
Following pit stops under caution, Corey Heim came out as the leader. However, on the restart, he was split three-wide by Zane Smith and Christian Eckes causing him to fall to 7th. Zane Smith, once again, took the lead and John Hunter Nemechek quickly moved into second.
On lap 100, Heim made contact with the wall and began to report the truck was having engine issues. Then, on lap 106, the right-front tire went down and Heim made more contact with the wall. The incident didn't bring out the caution as he was able to safely make it to pit road.
With 12 to go, on lap 122, Dean Thompson lost control of his No. 40 truck exiting turn 2 and spun down the backstretch. Thompson didn't hit anything but his incident did bring the caution out, setting up a late restart.
The field restarted with 8 to go. Leader Zane Smith chose the bottom and as a result, John Hunter Nemechek restarted from the top of the front row. Right away, Smith cleared into the race lead, while Nemechek fell to 6th after spinning the tires.
Ty Majeski moved into second but wasn't able to catch Zane Smith, who cruised to a dominant victory.
Top 10: 
Zane Smith
Ty Majeski
Grant Enfinger
Chandler Smith
Christian Eckes
John Hunter Nemechek
Matt Dibenedetto
Derek Kraus
Matt Crafton
Ben Rhodes
Written by Noah Lewis
Be sure to follow us on Twitter.
Be sure to follow the writer on Twitter.
Photo Credit to Sean Gardner/Getty Images via NASCARMedia.