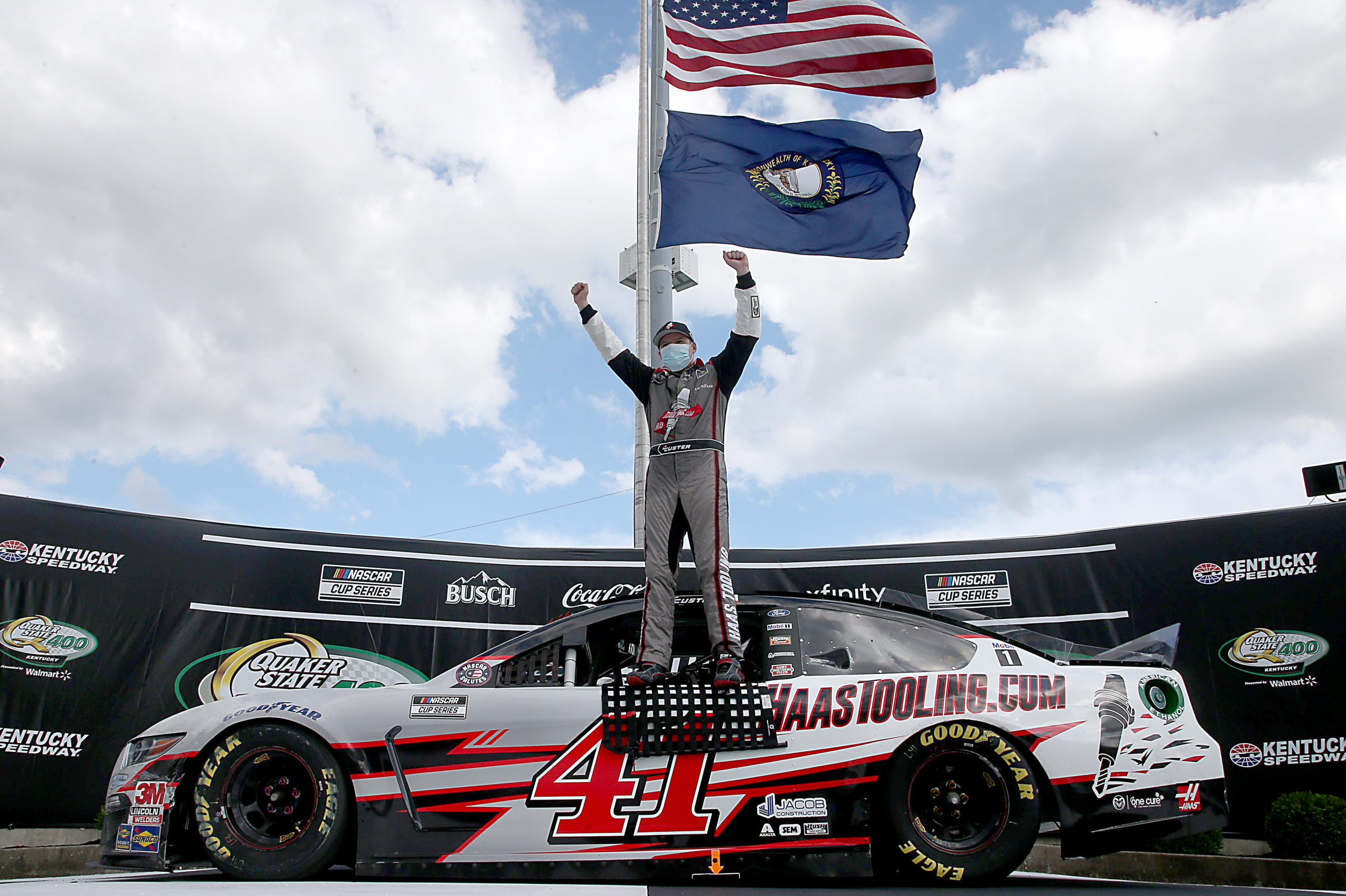 How Has the 2020 Rookie Class Fared?
2020 was an unforgettable year for many of the wrong reasons around the world. In the NASCAR Cup Series however, the season affected most by the COVID-19 pandemic will be remembered for the crowning of Chase Elliott as champion. Although most of the year was dominated by Kevin Harvick or Denny Hamlin, it was the Hendrick 9 car winning three of the last five races, taking home the Bill France Cup. However, 2020 was also perhaps the most difficult year in NASCAR history to be a rookie.
With no practice or qualifying after the return to racing, the young drivers from 2020 had minimal time to learn much of anything. For many tracks, the first time each rookie saw the venue in a Cup car was taking the green flag.
The 2020 rookie class was already highly-touted prior to the season or the pandemic, as the Xfinity Series' Big 3 from 2019 headlined this talented crop. These three drivers alone, Tyler Reddick, Cole Custer, and Christopher Bell, won 21 of 33 Xfinity races from 2019, and took the top three spots in the championship. However, the rookie class was not just this trio, as John Hunter Nemechek also made the jump into NASCAR's premier division.
Across the top four rookie drivers from 2020, who has had the best past year-and-a-half of racing? While all four drivers were linked as rookies amidst the craziness of 2020, they've each taken different paths since. Let's take a look at the careers of each young talent since their maiden campaign in the NASCAR Cup Series.
Christopher Bell
Considered a preseason favorite for Rookie of the Year in 2020, Christopher Bell had a decent first season. Piloting the No. 95 Toyota for Leavine Family Racing, Bell earned seven top-10s, finished 20th in points, and had a best result of third at Texas.
Once making the move into Joe Gibbs Racing's No. 20 team, Bell found victory lane in just his second outing at the Daytona Road Course. 2021 would end for CBell with 15 more top-10s, and 12th place in the championship. Bell also had breakout performances on other road courses, as well as at New Hampshire last year.
12 races into 2022, Bell sits 10th in points after a terrible start to the year. At one point being as low as 36th in standings, Bell has consistently put the 20 right into the thick of Playoff discussions. While he has yet to find victory lane again this season, he is batting .500 with earning top-10s, getting six in 12 starts. Bell's best result so far this year was third at COTA, so look out for the 20 at upcoming road course events. Bell is poised nicely to make his deepest Playoff run yet in 2022.
Tyler Reddick
Coming into his rookie year as the two-time defending Xfinity Series champion, Tyler Reddick had a lot to live up to. Reddick's first year was highlighted by finishing second to teammate Austin Dillon at Texas in June. Reddick had a Playoff spot in sight, but a badly-timed slide job in the regular season finale at Daytona ended the 8's title bid. Nine top-10s put the RCR 8 team at 19th in standings, falling just short of a Playoff berth. 
2021 was another step forward for the California native, making his first Playoffs on points. 16 top-10s was also a new career high, featuring another runner-up at Homestead. Ending the year 13th in points, Reddick topped many lists coming into 2022 as perhaps the next first-time winner.
2022 so far has been a breakout year for Tyler Reddick, as he's led a career-best 206 laps through just 12 weeks. While Reddick has been up front a lot, he also has yet to seal the deal. The 8 has had multiple quality chances at victory this year, but has faltered each time. Some untimely DNFs also have the 8 at 17th in points, putting him at risk of missing the Playoffs. While Reddick's speed should prevail into a win eventually, there are no guarantees. Reddick is still favored to be the next first-time winner, but three others have already leapfrogged him in that category this year.
Cole Custer
While all of the Big 3 rookies from 2020 had shots to make that year's Playoffs, only Cole Custer did. Custer's year changed on the last restart at Kentucky. A monster shove from Matt DiBenedetto saw the 41 go from sixth to the victory. In only his 20th start, Cole Custer was a Cup Series winner. This July afternoon ended up deciding 2020's Rookie of the Year battle, as no other contender made the postseason. Since that day however, Custer has had more trying days than high points in his career.
2020 only saw four top-10s for Custer after Kentucky, as he finished that year last of Playoff drivers in points at 16th. In an admittedly off year for Stewart-Haas Racing, the sophomore driver had no memorable moments. Custer's 2021 only saw two top-10s, ending with him at 26th in points. Through the first third of 2022, the 41 is at the exact same spot in points, with no top-10s. Custer's best result so far this year was 11th at Auto Club. Still trying to find consistent speed, the third-year driver for Stewart-Haas is still trying to establish himself as a Cup contender.
John Hunter Nemechek
Taking over the No. 38 Ford from the retired David Ragan for 2020 was John Hunter Nemechek. In a lower-tier car than his rookie counterparts, Nemechek did have a few breakout moments. The second-generation driver was ninth in the first leg of the Darlington doubleheader, and earned two more top-10s at Talladega. Beside those shining moments though, not much went right for JHN in 2020. The 38 led the series in crashes, with a dismal 15 incidents. This led to Front Row Motorsports replacing Nemechek with Anthony Alfredo for 2021.
Nemechek marks the lone 2020 rookie who did not remain in the Cup Series. After a mixed-results year, JHN dropped down into the Truck Series, teaming up with Kyle Busch Motorsports. In almost a year-and-a-half with the 4 team, Nemechek has five wins. While short of the championship a year ago, Nemechek was third in points. Select Xfinity starts have also panned out well for Nemechek, as he won at Texas last fall with Joe Gibbs Racing. At the time of this writing, Nemechek also won the most recent Truck race at Darlington in dominating fashion. Nemechek is among the championship favorites in the Trucks yet again this year, as he's likely far from finished winning.
So which 2020 rookie has done the best in the time since their freshman season? It's truly a toss-up between Christopher Bell and Tyler Reddick; the 8 is a near-weekly contender while the 20 is also coming into their own as a team. Bell does have the edge over Reddick though in that he has a Cup win. However, Reddick's maiden victory seems to be in the very near future, as the RCR team is extremely fast. It will certainly be interesting to revisit these four drivers again at season's end and see who achieved the most in 2022.
Written by Peter Stratta
Be sure to follow us on Twitter
Be sure to follow the writer on Twitter
Photo Credit to Jared C. Tilton/Getty Images for NASCAR