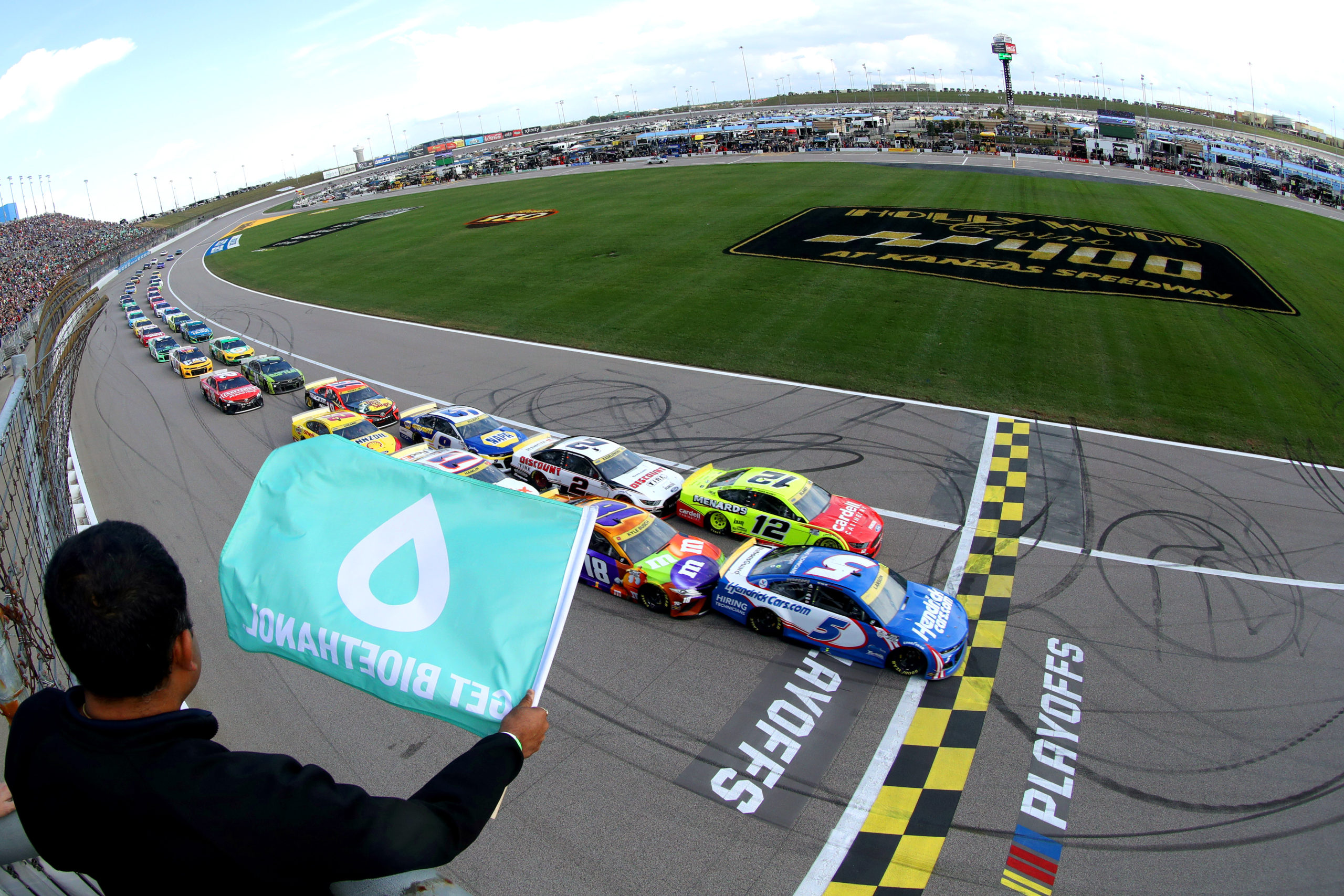 Stratta's Six: Who Could Come Out on Top at Kansas?
Sunday's AdventHealth 400 from Kansas Speedway marks the halfway point of NASCAR's regular season. Through 12 races, 10 different drivers have found victory lane. Who will triumph in the heartland and take home the 13th checkered flag of 2022? Let's take a look at some potential contenders for the midwest showdown.
Joey Logano
With the winning monkey off his back, Joey Logano could go for broke this weekend. Driver 22 has three career wins at Kansas, with his most recent coming in 2020. Kansas is one of Logano's statistically-best tracks on the circuit, so he could easily make it four wins this weekend. Should Logano conquer Kansas again, it would become his winningest track, breaking a tie with Michigan and Talladega.
Denny Hamlin
Another three-time Kansas winner, Denny Hamlin has been very strong recently in the Sunflower State. Since winning back-to-back Kansas trips in October 2019 and July 2020, the 11 also placed fifth here last fall. Hamlin also has laps led in four of the last five Kansas races. This puts the 11 on a short list of favorites with 9-1 winning odds. Recent strong runs at Kansas and speed from 2022 have Hamlin optimistic for Sunday.
"I'm excited about the weekend," Hamlin said. "We've been to pretty much every type of track that we're going to see, so now we have some notes and data points that we can build off of. That helps us a ton with setups and finding a direction to work in. I feel like our team has been looking forward to this race since Las Vegas because of how strong our car was there, and this is the first true mile-and-a-half we've been to since then. As a company, we have been bringing great cars to the track lately and just haven't been able to get the finish we deserved, but I'm confident that we can do that this weekend in Kansas."
Still mired at 22nd in points, the only highlight of Hamlin's year is still the Richmond win. However, the 11 did spend some time up front in Darlington before pit road woes. With their speed, the 11 will be a weekly threat if they can find some better luck.
Chase Elliott
Only continuing to grow his points lead, can Kansas mark a second win of 2022 for Chase Elliott? Driver 9 has one past win here from 2018. Elliott also boasts a top-six result in all but one Kansas race since then. His Kansas average finish of 9.8 is also second-best of all drivers. With two top-fives in 2021, Elliott hopes to better his runner-up from the fall.
"We've had some pretty good finishes at Kansas in recent years and had built up a solid playbook," Elliott said. "But I feel like a lot of that is out the window with this new car. We weren't that great at Vegas earlier this year, but we were pretty decent in Atlanta. I think we've learned a lot more about the car in general since those races and the changes that we can make to get the most out of it. Each track presents its own set of challenges, but I think our team as a whole has done a good job of adapting and I don't think that will be any different this weekend."
Riding a streak of top-10s in the last five weeks, Chase Elliott's consistency keeps him atop the standings. Now leading over William Byron and Ryan Blaney by 65 points, Elliott has to be seen as a weekly pick for the win. Expect the 9 to be a big threat on Sunday.
Kyle Larson
The only man to beat Chase Elliott last fall was Kyle Larson, who picked up his first Kansas win that day. Kansas could have easily given the 5 team two wins last year though. The spring race saw Larson lead a whopping 132 laps. A bad restart push from Ryan Blaney though would relegate Larson to 19th a year ago. Already a winner this year at a similar track in Auto Club, Larson envisions having similar speed this weekend.
"At Fontana, we were able to run really close to the wall, so I would imagine it's pretty easy to run next to the wall at Kansas," Larson said. "I love Kansas – it's definitely one of my favorite tracks. It does have multiple lanes, typically. If that top lane gets going really fast, it does make it hard to pass. I hope we can run the bottom, middle and top."
While Larson is the most recent Kansas winner, everything will be different this time around in the Next Gen car. Unlike last year, Kansas is far from an easy win for the 5. That being said, the win from Auto Club does give Larson a bit of an advantage. Young Money enters Kansas as the favorite, with 6-1 winning odds.
Martin Truex Jr.
The Kansas sweeper from 2017, Martin Truex Jr. is nearly unparalleled in his consistency here. The 19 team has an active streak of five-straight Kansas top-10s. MTJ also has finishes of ninth or better in nine of the last 10 trips here. Needing to still find victory lane this season, Kansas could be just the track that Truex has been yearning for.
"Kansas has been a good place for us the last handful of years, so I think we're all excited to go there," Truex said. "James (Small, crew chief) and the guys have been bringing great cars to the track and that has been promising with how well we've ran the last few weeks. We just need to avoid the mistakes that have cost us a good finish at the end of the day, but I'm excited about the progress we have made the last few weeks. If we continue to do that, we'll be able to put ourselves in contention."
While Truex is not in danger of missing the Playoffs, it is uncharacteristic of him to still be winless. At the last intermediate 1.5-mile track in Las Vegas, MTJ was contending for that win against the 18. Kansas is one of the 19 team's best circuits, so that could very well change this weekend.
Tyler Reddick
If and when ripping the fence is a viable option Sunday, expect Tyler Reddick to make time up there like no other. At a very precarious points position, Reddick needs to go for broke and find victory lane. Kansas may just be where Reddick finally breaks through that glass ceiling. In five Kansas starts, Reddick has two top-10s, with a best result of seventh. Seemingly a weekly contender for the win, Reddick enters Kansas with a high degree of confidence.
"I think this weekend's race at Kansas Speedway is going to be a lot like the races we've seen at Homestead-Miami Speedway," Reddick said. "The race will be a very unforgiving one. There will be a lot of running the wall with little to no room for error. The margin of error is so small and if you make one mistake, you could take yourself and others out of the race. It's going to be a lot of strategy and deciding when the right time is to take a risk. Certainly, with my driving style, running the wall is going to be a huge part of my race but it's also important to listen to my crew chief and spotter and weight the risk versus reward. You don't want to get out there in the first stage and dive into the wall and end up finishing 38th."
While Reddick has seemingly had three or four great winning chances escape him this year, he's also had three DNFs. This inconsistency currently has the 8 at 17th in points, just shy of the Playoffs. Reddick can erase all of these concerns with a win, which he could grab this weekend at Kansas.
Race 13 of 2022 for the NASCAR Cup Series will be one driver's lucky day. Coverage of the AdventHealth 400 from Kansas Speedway is Sunday, May 15 at 3:00 p.m. ET on FS1, MRN, and SiriusXM NASCAR Radio Channel 90. Will one of the above mentioned drivers earn victory, or are we in for a Kansas upset?
Written by Peter Stratta
Be sure to follow us on Twitter
Be sure to follow the writer on Twitter
Photo Credit to Meg Oliphant/Getty Images for NASCAR