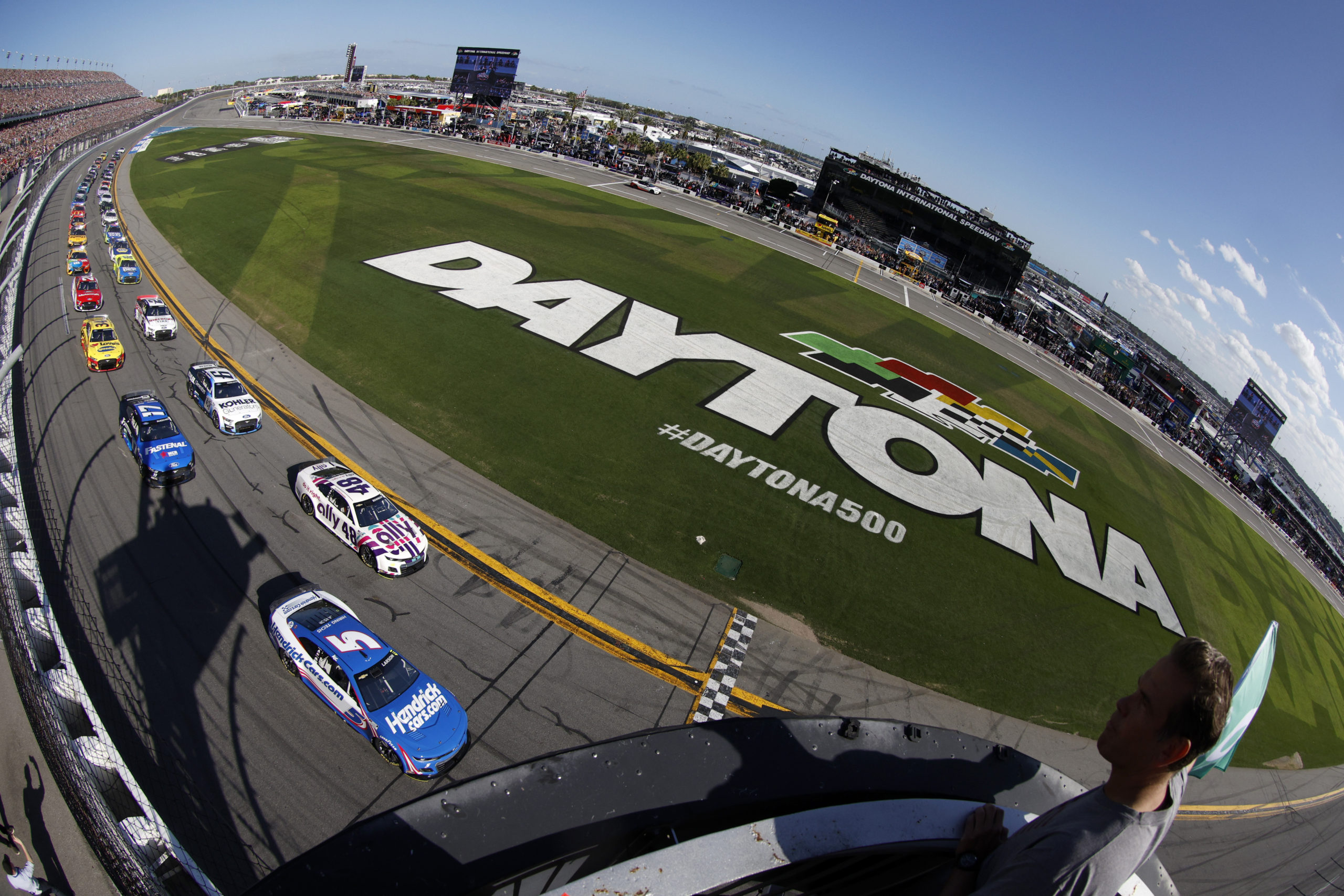 Who's In, Who's out of Cup Series Playoff After 12 Weeks?
Through 12 weeks of the 2022 NASCAR Cup Series, we've seen 10 different winners. That means only six Playoff positions are remaining up for grabs with 14 races left in the regular season. At the one-third point of 2022, which drivers would make up these final six spots? Let's take a look at who occupy these final berths, and those within striking distance.
Ryan Blaney (+102)
Currently tied for second in points, Ryan Blaney is sitting pretty for another Playoff run. While the 12 has yet to win this year, they have been close. Blaney's best result has been fourth, coming at the Daytona 500, Phoenix, and Martinsville. Nine top-10s through 12 weeks have the 12 team dead even with William Byron for second in the standings, 65 markers behind Chase Elliott. Despite being the lone Penske car to not find victory lane, Blaney has been the most consistent. At more than 100 points to the good over the cut line, Blaney should get a win in the next few weeks to secure his Playoff fate.
Martin Truex Jr (+78)
The runner-up in the 2021 Cup Series championship, Martin Truex Jr. has not had a stellar start to 2022. Eight top-10s have the 19 at seventh in points, with a best finish of fourth in Richmond. At this point 12 months ago, MTJ was sitting nicely with a series-best three wins. Now however, the 19 is going through a bit of a slump. However, several strong tracks for MTJ are coming up in the near future. The 2017 champ could revisit victory lane in the next few weeks.
Christopher Bell (+41)
After a horrendous first few weeks of 2022, Christopher Bell has rallied nicely above the cut line. After spending a few weeks outside of the top 30 in points, Bell has quietly strung together enough consistency to currently rank 10th. While the 20 does have two poles this year, they also only have six top-10s. This includes three of the last four weeks, so Bell is trending in the right direction. Third in COTA and fourth at Dover are Bell's best results so far this year. With more road courses in the coming months, the 20 should have some great chances at victory lane.
Kevin Harvick (+27)
Stewart-Haas Racing has been a bit better so far in 2022, with Kevin Harvick at 11th in points. While 11th may not seem stellar for the perennial championship threat, the 4 is riding a streak of three-straight top-10s. Had Richmond had a few more laps, we may have seen the 4 take that win away from Denny Hamlin. While Fords are inconsistent in overall speed, Harvick and Rodney Childers may be able to out-strategize the competition and steal a win.
Aric Almirola (+25)
After a strong start to his swan song season, Aric Almirola has faded to 15th in points. After opening 2022 with three-straight top-10s, Almirola has not finished that high since Martinsville. An average finish of 13.8 has him currently inside the proverbial Playoff grid, but he is at high risk of losing ground. With as few as one winner outside of the current top 16, the 10 will be pushed down towards the cut line. Almirola is not in must-win territory yet, but he must perform at a higher level if he wants to remain in a safe postseason position.
Austin Dillon (+1)
Much like last year, the Playoff cut line is straddled by both cars from Richard Childress Racing. Due to a few breakout top-fives, Austin Dillon is the last man in the postseason now by just one point. Dillon's 2022 efforts have been very hot or cold. The 3 has podium results from Auto Club, Martinsville, and Talladega, but also five finishes outside of the top 20. Darlington marked Dillon's sixth top-10 of the year, as he is on track for his most in a season. However, it may take a win to fully lock the 3 into the Playoffs. Dillon narrowly missed out on the postseason a year ago, as the 3 team expects to be a part of the Playoff hunt.
Tyler Reddick (-1)
Despite a few near-wins escaping his grasp, a few costly DNFs have Tyler Reddick as the first man out of the postseason. Nobody this season has had more winning chances elude them than driver 8, as he still hunts down career win number one. While Reddick has five top-fives, he also has five finishes of 24th or worse. No loss was in a crueler fashion for the 8 than Bristol Dirt, as a bad slide job by Chase Briscoe let Kyle Busch grab the victory.
Another strong run for the 8 happened just last week in Darlington, as Reddick finished second to Joey Logano. If Reddick can maintain this speed and simply put an entire race together, he will get multiple wins.
Erik Jones (-5)
A quietly consistent year has Erik Jones and the Petty GMS 43 sniffing a Playoff berth. Much like with many above, 2022 has been very hot and very cold for the 43 team. Jones has had four top-10s, but also three DNFs. The 43 also led coming to the checkers at Talladega, only for a bad block to relegate him to sixth. Jones has also had the misfortune of bringing out a few late-race cautions this year, further affecting his points position.
While only at a five-point deficit now, the summer is sure to have an upset winner or two. With cars capable of winning beneath the 43 in points, Jones must eye a win over points racing for a Playoff spot. The Dave Elenz led crew should have the regular season finale at Daytona circled as a great chance to upset many with a walk-off win.
Daniel Suarez (-18)
While teammate Ross Chastain is a weekly contender, 2022 has been a different story for Daniel Suarez. With top-fives in Auto Club and Atlanta, those are two of his four top-10s. The Trackhouse 99 falls just shy of making the cut currently, due to great inconsistency. If Suarez is to join his teammate in the 16-man Playoff, he may already be in must-win territory at this point of the year. While the 1 is potentially a championship threat, some of that speed should eventually trickle over to the other side of their building.
Chris Buescher (-36)
In his third season piloting the RFK Racing 17, Chris Buescher still yearns for his first Playoff since 2016. At 19th in points, Buescher's banner day of 2022 to date came just a few weeks ago in Dover. The 17 started that day on pole, and was up front throughout the race, coming home eighth. Aside from Dover though, Buescher only claims two other top-10s, with an average finish of 17.8. With these mid-pack stats in mind, Buescher may be eyeing upcoming superspeedway races in Atlanta and Daytona as must-win events.
With 14 races left in the regular season, the Playoff cut line is sure to change weekly. While the battle currently comes down to both RCR cars, there's little chance that remains. Three first-time winners already in 2022 have the postseason taking shape without some heavy hitters. Between the upcoming road course races and superspeedways, the chances of a winner leapfrogging those listed above are high. Be sure keep a keen eye on this points battle all summer long. Who makes the 2022 Playoffs will likely all come down to that final checkered flag in Daytona.
Written by Peter Stratta
Be sure to follow us on Twitter
Be sure to follow the writer on Twitter
Photo Credit to Sean Gardner/Getty Images for NASCAR