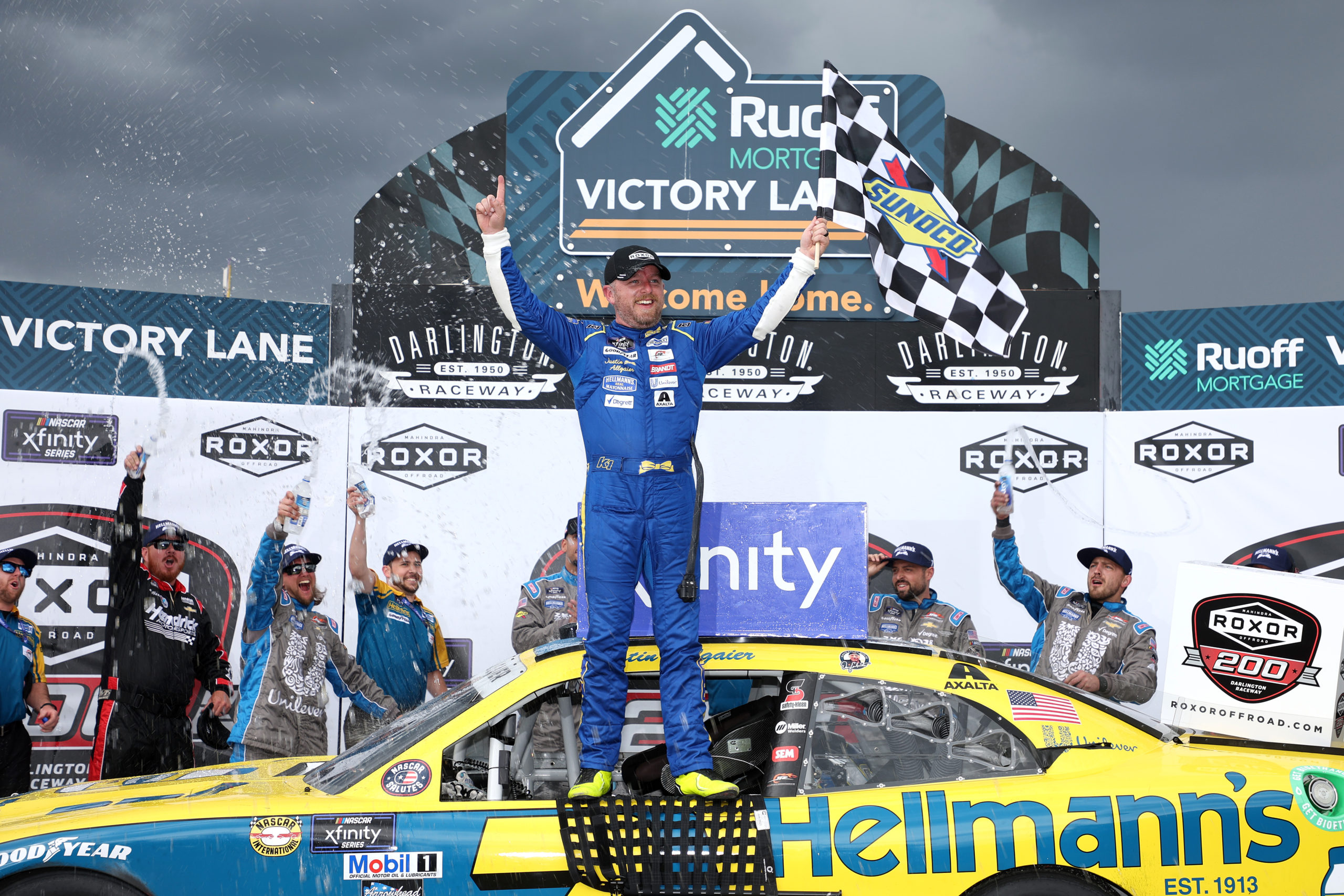 Justin Allgaier Holds off Noah Gragson for Darlington Win
DARLINGTON, S.C. – Justin Allgaier picked up the Xfinity Series win at Darlington Raceway, holding off teammate Noah Gragson on a restart with two laps to go. Allgaier, 35, last won in this same race one year ago. The win marks three in a row for the JR Motorsports organization.  A part of NASCAR's throwback weekend, the No. 7 was wrapped in a scheme paying homage to the late Dale Earnhardt.
"To come here, literally a year after our last win, to win back-to-back in the Spring race here at Darlington, there's no words that can describe how awesome that is," Allgaier said post-race. "To have a cool throwback, to have Hellman's allow us to change the colors and do all the things we did, it makes a big difference…Proud of our team, everybody that's involved, and really proud of JR Motorsports to have the cars we had today."
Noah Gragson was looking for his third victory of the season at Darlington but came up just short after leading 45 laps and winning both of the opening stages. The 23-year-old snagged his eighth top-10 of the season and his sixth top-10 in six races at Darlington.
"He was good all day," Gragson said about teammate Justin Allgaier. "We were good on the long run, he was good on the short run. That's where the race was won. They got us on track position there. Just can't say enough about everyone at JR Motorsports, the preparation and the hard work they've been putting in…to have three wins in a row as a company, the last three weeks, they don't come easy…Second sucks but I guess it's not too bad when you win two stages and come up short on a green-white-checkered, so I'm happy about it."
Where's the White Flag?
An odd moment in this race came on the last lap. As drivers crossed the line, the white flag was not waved. NASCAR quickly communicated to spotters that it was the last lap, but it left a few drivers worried, including the race winner.
"PANIC," Allgaier said about not seeing the white flag. "My spotter told me you're coming to the white…I knew obviously the 9 car was coming and pushing as hard as he could push. So then I'm like, if we have to go two more laps, I might not win this thing. He might get there and give me a run for my money. So we come off four and the spotter said, alright, they're telling us that the white flag just didn't get displayed, keep digging because we're coming to the checkered."
Another driver confused was last night's Truck Series winner John Hunter Nemechek.
"I noticed it," John Hunter said. "He (spotter) said we were coming back to the checkered and I asked him are you sure? I didn't know if we actually were coming back to the checkered or not just because I didn't see the white. I'm glad he told me, that's for sure."
How to Find the Next Race:
The NASCAR Xfinity Series is back in action on May 21st at Texas Motor Speedway. Race coverage begins at 1:30 p.m. ET on FS1, PRN, and SiriusXM NASCAR Radio Channel 90. Kyle Busch is the defending winner with Justin Allgaier runner-up.
Written by Noah Lewis
Be sure to follow us on Twitter.
Be sure to follow the writer on Twitter.
Photo Credit to James Gilbert/Getty Images via NASCARMedia.