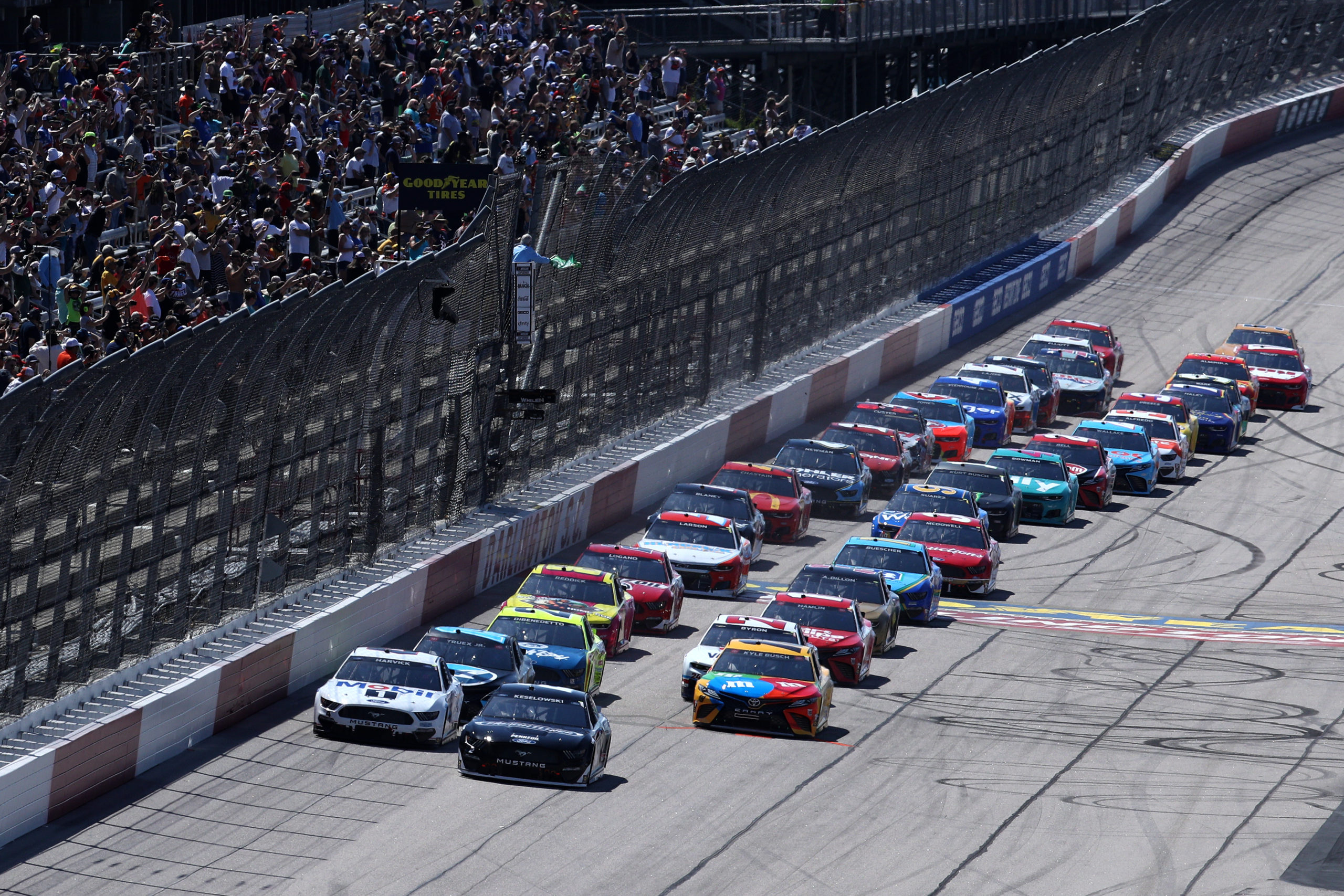 Stratta's Six: Who Can Dance with Lady in Black at Darlington Raceway?
Throwback weekend from Darlington Raceway is upon us once again. Who can tame NASCAR's grittiest, most treacherous surface on Mother's Day and score the Goodyear 400 win? Darlington marks the one-third point of the NASCAR season as race 12, kicking off the summer stretch of the regular season. With nine winners already in 2022, can Darlington provide a tenth? Let's look at some of the favorites heading into The Track Too Tough to Tame.
Kevin Harvick
Three-time Darlington winner Kevin Harvick is one of the best at the South Carolina track. The last time Harvick finished worse than ninth at Darlington was 2012, a series-best streak of 12-straight top-10s. Two of Harvick's three Darlington victories came in 2020, in the Real Heroes 400 and that fall's Southern 500. That year's Labor Day Classic was Harvick's second-to-last win of date. His winless streak now tallies at 54 races. However, Darlington could be the venue where Harvick finds victory lane again. Driver 4 is very optimistic heading into this weekend.
"It's been a lot of fun to have been able to win there a few times now," Harvick said. "Darlington is one of those historic racetracks that everybody loves going to because of the fact that it's forever tied to the guys that used to race there with the same shape of the racetrack. It may be a different surface, but it's the same racetrack that they raced on in the 1950s. It's a unique place to go race and a place that has so much history in our sport."
"I think Darlington is going to be fun, and we learned a lot at the test. Goodyear has a good tire that wears all four tires out, which is something we haven't really seen so far because the left-side tire's been pretty conservative. Darlington is just a tough racetrack, right? Still, it had a lot of fall-off and I think that'll be fun, but it's definitely going to be a full day's work."
At 12th in points, Harvick is in a potentially-precarious position for the Playoffs. A win would erase all of these concerns for the 4 team, as Stewart-Haas guns for another Darlington win.
Denny Hamlin
After a very promising day became unraveled in Dover, Denny Hamlin heads to his favorite track. A four-time Darlington winner, including September's Southern 500, Hamlin is eyeing another win this weekend. However, the FedEx 11 will chase another Darlington trophy without crew chief Chris Gabehart and a few other pit crew members. Hamlin lost a left-front wheel while exiting pit road after Stage 1 at Dover, incurring a four-week suspension for these individuals. After such a strong day ended prematurely, Hamlin is beyond hungry to get back on track at one of his strongest venues.
"We're looking forward to this weekend," Hamlin said. "Darlington has been a great track for us, and we feel like we learned a lot at the tire test, so that gives us confidence going back. Like all season, our biggest thing is just eliminating mistakes – whether that's me or on pit road or something happening with the car. It seems like every week has been something, but our speed has been good most weeks if we can just put everything together."
Aside from the Richmond win, nothing in 2022 has gone right for Hamlin and the 11. At one of his best tracks on the circuit, Hamlin is heavily favored for the victory.
Chase Elliott
Now a race-winner, Chase Elliott still leads the points, now by 50 markers. Elliott has stood atop the standings for the last seven weeks, only growing his gap on the field with last week's Dover win. With the monkey now off his back, Elliott aims to go back-to-back at Darlington. While not a past winner in South Carolina, the 9 team has been close here before. Elliott was robbed of two wins in the three Darlington trips from 2020, and was seventh in this race a year ago.
Elliott will not be lacking any on-track time this weekend. He will also compete in Saturday's Xfinity race in the No. 88 Chevrolet for JR Motorsports, with Hendrickcars.com on board. With a double-duty weekend on tap, Elliott hopes to see great results both days.
"I always look forward to going to Darlington," Elliott said. "It's really cool and I feel like it's really a driver's racetrack. For some reason, I've kind of struggled there the last couple of years, so I'm looking forward to getting some extra practice on Saturday in the Xfinity race. Hopefully, that can help me come Sunday. I also feel like there are some things that we learned from Dover that we can take to Darlington. It'll be interesting with the new car and how things go."
Now a winner for the first time in 2022, have the floodgates opened for Elliott? Despite a large points lead, the 9 team still lacks in consistency, with only two top-fives. With a lot of Darlington laps ahead this weekend, Elliott could walk away with two wins.
Tyler Reddick
If anyone is to score their first career win at Darlington, it could very easily be Tyler Reddick. Much like with Larson, Darlington is a near-perfect fit for Reddick's driving style. Being up against the wall to make time over a long run strongly suits Reddick's dirt background. While Darlington is known as a veteran's track that benefits those with experience, the young RCR driver could get his first Cup win this weekend.
Kyle Larson
Nobody in the series has been closer to more Darlington wins without a checkered flag than Kyle Larson. In the past year alone, Larson has two runner-up results from Darlington, including a "video-game move" in last fall's Southern 500. Piloting a throwback scheme honoring Hendrick Motorsports legend Tim Richmond, Larson hopes for his maiden Darlington win.
"Throwback races are always fun," Larson said. "Especially when you get to do something that doesn't just look cool but also has a lot of meaning behind it. There aren't a lot of All-Star Racing liveries that haven't been re-done already, so it's special. That scheme started it all, and everyone involved worked so hard to get us where we are now. It's definitely motivating, especially when you add that Tim Richmond was the driver. He's a legend for leaving it all on the track – he would go full send on crazy moves and things that other drivers wouldn't even try. So I'm going to go out there and try to drive it like Tim would."
Despite no Darlington wins, Larson leads all drivers with a 5.5-average finish here. Larson has not been closer to more victories at any track that still has him snakebitten. Larson's ninth trip to Darlington could be his first venture into victory lane.
Martin Truex Jr.
In last year's Goodyear 400, Martin Truex Jr. put a stomping on the field, leading 248 laps en route to his second Darlington triumph. While Darlington a year ago was Truex's third checkered flag of the year, he enters this year's race still winless. The veteran knows that this weekend will be one of the most difficult of the year, with a new car on a treacherous track.
"Darlington is a challenging track no matter what you're driving," Truex said. "So it's going to be a handful regardless. Our team is looking forward to the challenge. I have a lot of confidence going there with the success we've had the past few years and the things we're learning about this new car, so I'm definitely excited about this weekend."
After such a dominant run in last year's Goodyear 400, Truex backed that up with a fourth-place effort in the Southern 500. With these two top-fives in mind, Truex could score a third Darlington win this time around.
The Goodyear 400 marks race 12 of the 2022 NASCAR Cup Series, meaning the season will be one-third complete after Sunday. Coverage of the fan-favorite throwback race will begin at 3:30 p.m. ET on FS1, MRN, and SiriusXM NASCAR Radio Channel 90. Can a winless driver lock up their Playoff berth at this historic venue, or will we see a repeat winner?
Written by Peter Stratta
Be sure to follow us on Twitter
Be sure to follow the writer on Twitter
Photo Credit to Sean Gardner/Getty Images for NASCAR