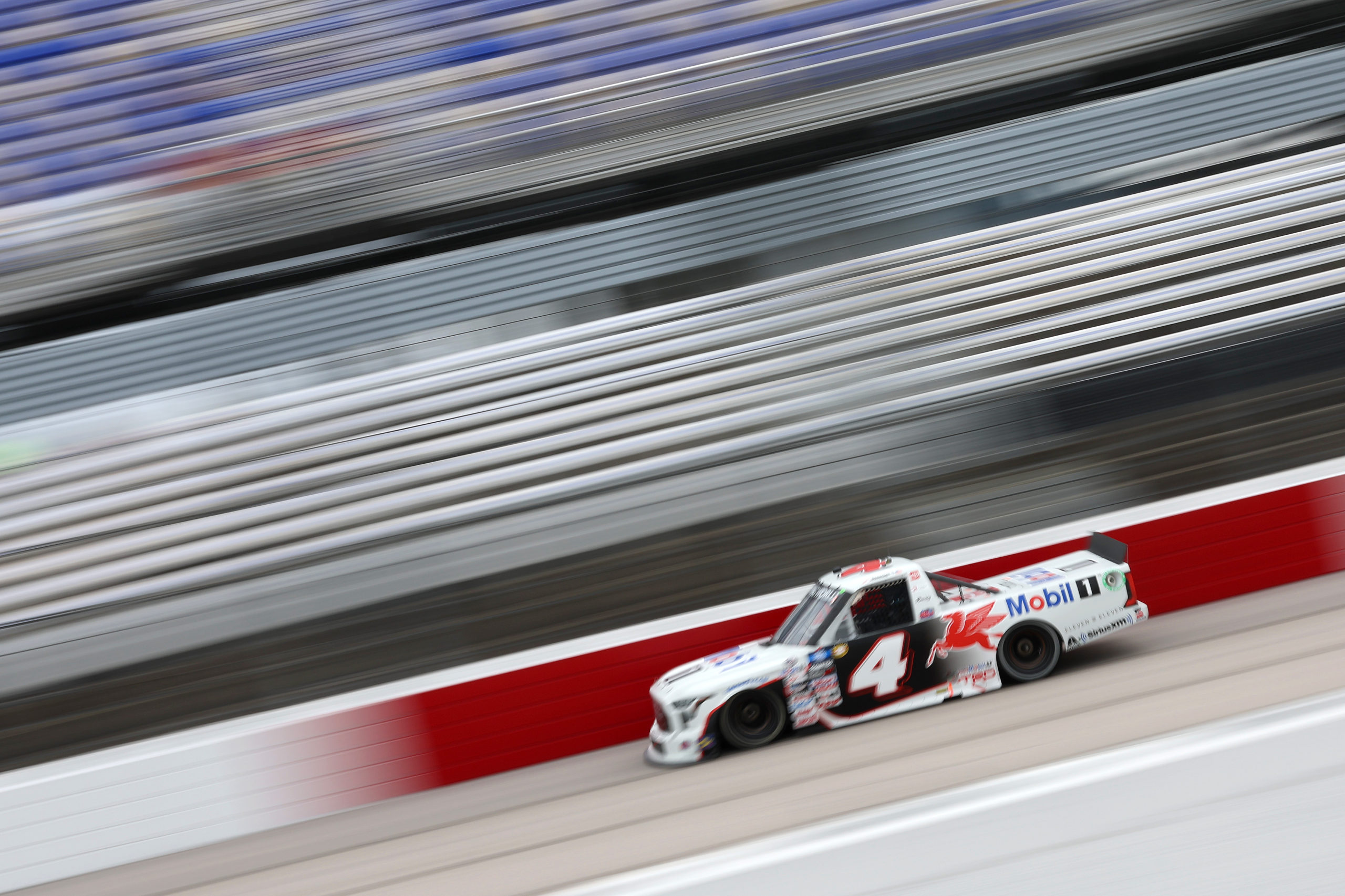 John Hunter Nemechek Earns Retribution Win at Darlington, First of 2022
DARLINGTON, S.C. – After having "unfinished business" at Darlington with two second-places last year, John Hunter Nemechek took no prisoners. The No. 4 Mobil1 Toyota for Kyle Busch Motorsports led a race-high 69 laps, taking home his first win of 2022. Nemechek is now the fourth Truck driver to lock themselves into the Playoffs.
Darlington proved to be kind to a few first-time Stage winners. Parker Kligerman took Stage 1, while Carson Hocevar outlasted Ross Chastain in Stage 2. Nemechek was set back on an alternate tire strategy, and did not retake the lead until lap 107. The caution that ultimately benefitted Nemechek was triggered by a large multi-truck crash. Chase Purdy got turned across traffic, into the paths of several others.
Once racing resumed, Nemechek was on rails as he rocketed towards the front of the field. With the 4 out front, he proved to be the class of the field, nearly impossible to beat.
The field would have one more shot at Nemechek in overtime, but to no avail. Nemechek would bring home his 12th career win ahead of Carson Hocevar. For a second-straight race, the 42 comes home runner-up.
After recent finishes of second, fourth, and third, John Hunter Nemechek finally earns his first win of 2022 at Darlington. A five-time winner a season ago, have the floodgates now opened for the 4? Nemechek marks the fourth championship contender now secured into the 2022 Playoffs.
"No Sheldon Creed, he won both of them last year," Nemechek said of the difference at Darlington this year. "Just a huge shoutout to all of the guys who work on this No. 4 KBM Toyota Tundra TRD Pro. Mobil1, Fire Alarm Services, ROMCO Equipment, everyone that puts their heart and soul into what's going on, it's huge. Thank you to the fans, heck yeah, what an awesome crowd. I though we gave it away early honestly. We were able to rebound though, and battled back."
"I think Aspen is sleeping, so hopefully Taylor gets her up and brings her to victory lane so we can celebrate. Learned a lot tonight, finally was able to bring home the first win of the year. It's been a little bit coming after the start of the year. Just thankful for the opportunity from Kyle, Toyota, and TRD for putting me in this. Let's go celebrate!"
Behind the top two, other strong finishers included Grant Enfinger, Ty Majeski, Matt Crafton, Parker Kligerman, Ryan Preece, Zane Smith, Tyler Ankrum, and the ageless Todd Bodine.
The Truck Series returns to action Saturday night, with the Wise Power 200 from Kansas Speedway. Coverage begins at 8:00 p.m. ET on FS1, MRN, and SiriusXM NASCAR Radio Channel 90. John Hunter Nemechek will try and go back-to-back, as the Truckers kick off eight-straight weeks of racing.
Written by Peter Stratta
Be sure to follow us on Twitter
Be sure to follow the writer on Twitter
Photo Credit to James Gilbert/Getty Images for NASCAR