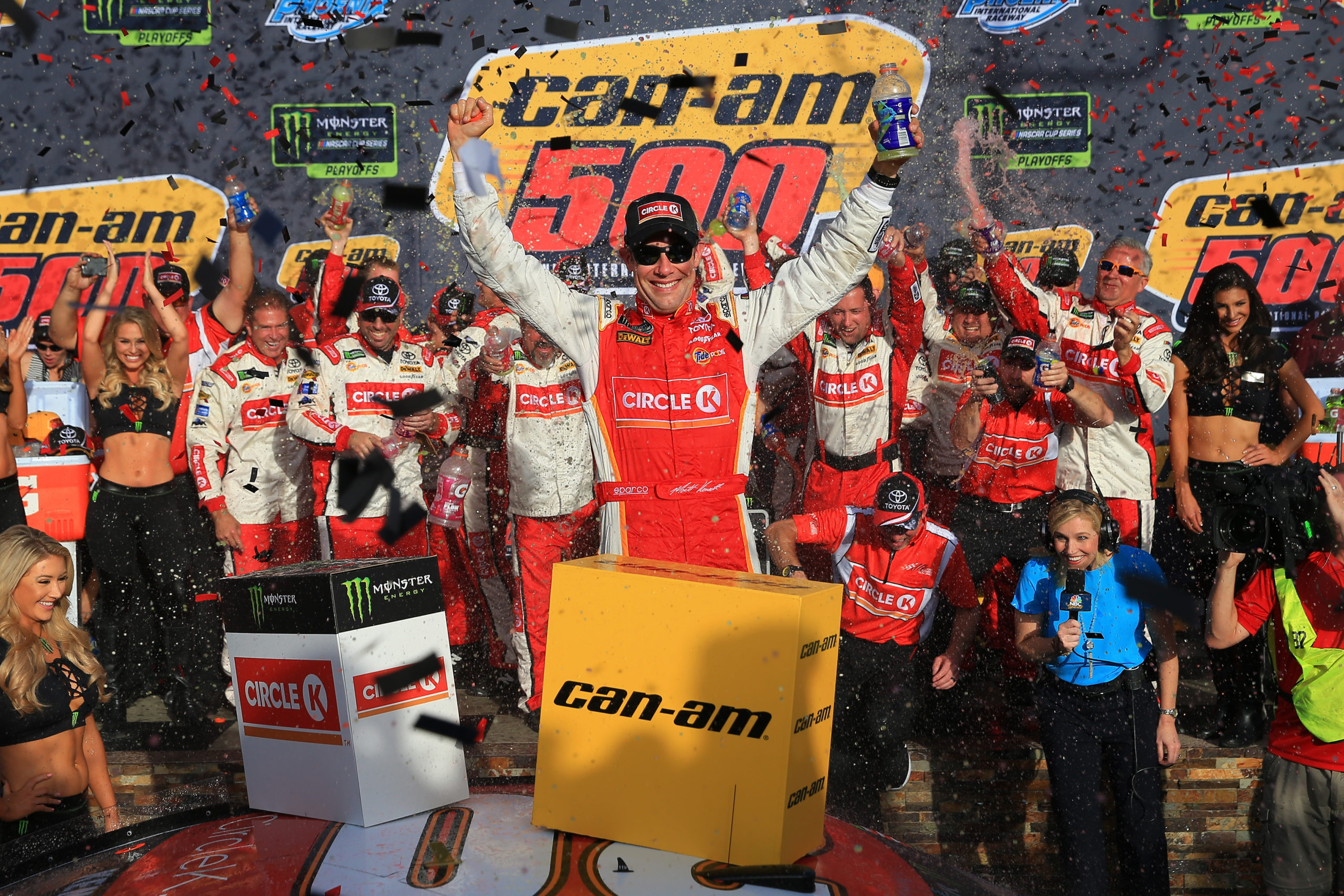 2023 Class of NASCAR Hall of Fame Announced: Kenseth, McGriff, Shelmerdine
CHARLOTTE, N.C. – After voting Wednesday afternoon, the NASCAR Hall of Fame unveiled their Class of 2023. Headlining this class is 2003 Cup Series champion Matt Kenseth. He goes in alongside four-time champion crew chief Kirk Shelmerdine, and regional racing veteran Hershel McGriff. In addition, the Landmark Award for Outstanding Contributions to NASCAR was awarded to Mike Helton.
This marked the first in-person Hall of Fame vote since 2019, due to the pandemic. While both 2020 and 2021 Cup Series champions Chase Elliott and Kyle Larson were invited to attend as voters, they had prior commitments.
Hall of Fame Inductees
Kenseth is a 39-time winner in the Cup Series, including two Daytona 500s (2009, 2012). This ties him for 21st on the all-time Cup Series win list. While he only won the championship in 2003, the Wisconsin native was an annual contender, making the Playoffs in all but one season.
Shelmerdine won four Cup Series titles with Dale Earnhardt and Richard Childress Racing (1986-87, 1990-91). In total, he won 46 Cup races and more than half of his starts were top-10s. The Pennsylvania native also sat atop the box for Ricky Rudd, James Hylton, and Richard Childress across a 16-year crew chief career.
McGriff made his first NASCAR start at the inaugural Southern 500 in 1950. A longtime competitor in the current ARCA West Series, McGriff last competed in 2018, at the age of 90. Competing in parts of 35 seasons, McGriff won 37 races, putting him third on the all-time West Series wins list. His signature year came in 1986, winning the series title, part of 10-straight seasons in the top 10 of championship points. In 1998, McGriff was named one of NASCAR's 50 Greatest Drivers.
Mike Helton is perhaps the most well-known and constant presence in NASCAR. The longtime executive began his NASCAR career in 1980, was formerly the sport's President, and today serves as Vice Chairman. His five decades dedicated to the growth and leadership of stock car racing has been recognized with the Landmark Award.
Voting Totals
Kenseth received 69% of the Modern Era ballot votes, Shelmerdine received 52%. Harry Hyde finished third, followed by Neil Bonnett and Harry Gant. Hershel McGriff received 31% of the Pioneer ballot votes. A.J. Foyt finished second.
Results for the NASCAR.com Fan Vote were: A.J. Foyt (Pioneer); Matt Kenseth and Harry Gant (Modern Era).
The two inductees came from a group of 10 nominees that included: Neil Bonnett, Tim Brewer, Jeff Burton, Carl Edwards, Harry Gant, Harry Hyde, Matt Kenseth, Larry Phillips, Ricky Rudd and Kirk Shelmerdine.
Nominees for the Pioneer Ballot included: Sam Ard, A.J. Foyt, Banjo Matthews, Hershel McGriff, Ralph Moody.
Nominees for the Landmark Award included Janet Guthrie, Alvin Hawkins, Mike Helton, Lesa France Kennedy, Dr. Joseph Mattioli.
The Class of 2023 Induction Ceremony will be Friday, Jan. 20, 2023 at the NASCAR Hall of Fame and Charlotte Convention Center in Charlotte, North Carolina. Tickets for the Induction Ceremony will be available later this month on NASCARHall.com.
Written by Peter Stratta
Be sure to follow us on Twitter
Be sure to follow the writer on Twitter
Photo Credit to Matt Sullivan/Getty Images for NASCAR