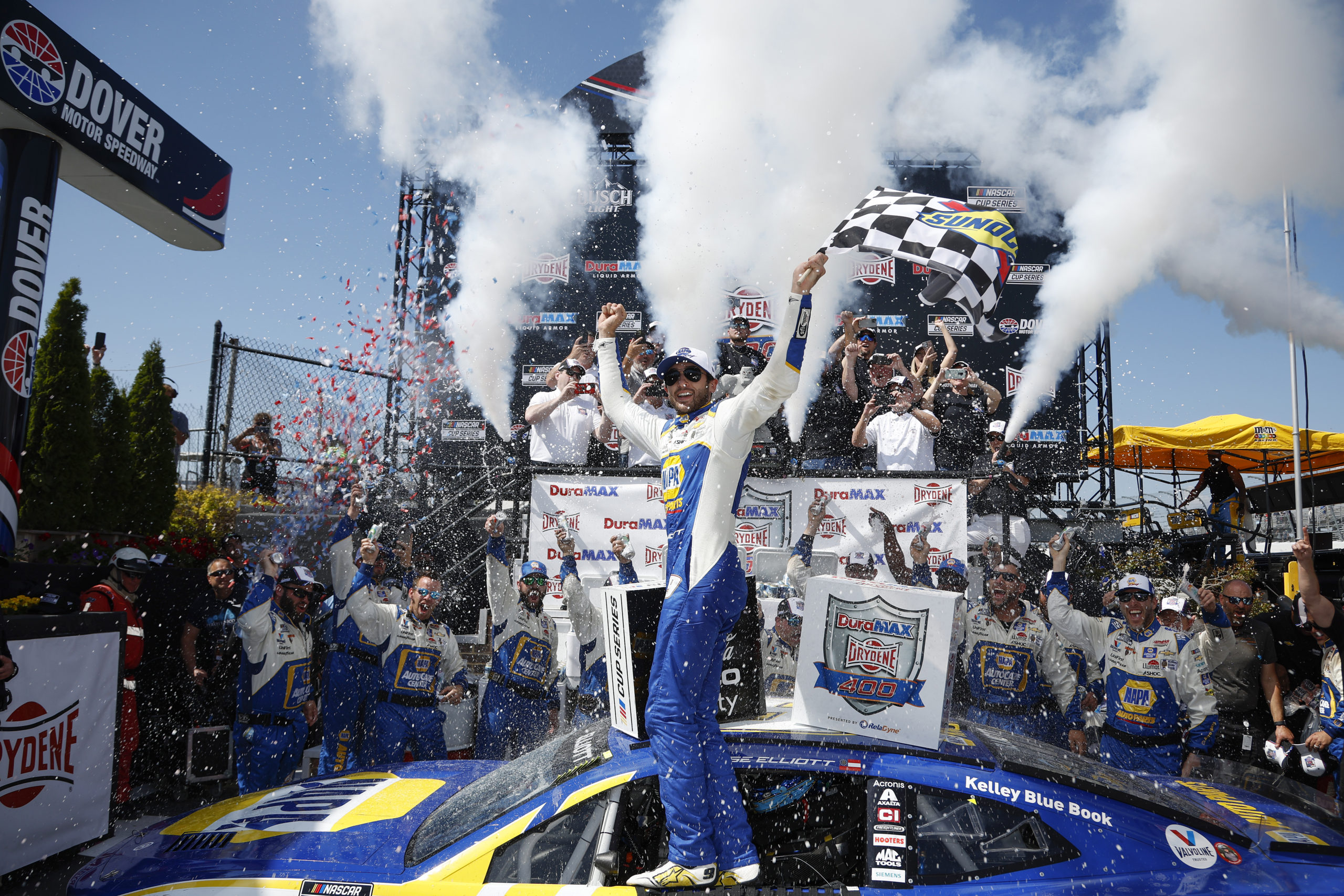 Chase Elliott Returns to Victory Lane at Dover Motor Speedway
DOVER, Del. – It may have taken until Monday, but the Duramax Drydene 400 from Dover Motor Speedway did not disappoint. After stealing the lead away from Ross Chastain on the last restart, Chase Elliott took off for victory lane. The Napa 9 car captured its first win of 2022, only padding Elliott's points lead. 11 weeks into the 2022 NASCAR season, all four Hendrick Motorsports cars have now won, putting them in all the Playoffs.
Aside from the 20-hour red flag for rain, Stage 1 saw little action. Denny Hamlin would take command early, and took the win once racing resumed on Monday.
However, the 11 team would face a major setback after this Stage win, as they did not get a tire secured on their pit stop. As Hamlin was first off pit road, his left-front wheel came off his Toyota. This penalty will result in a four-week suspension for crew chief, tire changer, and jackman on the Joe Gibbs Racing team.
Stage 2 would be led early by Ross Chastain, but a series of cautions did break up this stint. A yellow flew late in this Stage, as Denny Hamlin and Cody Ware collided. This caution would see Ryan Blaney and Harrison Burton not elect to pit, as the 12 held off a hard-charging Kyle Busch for the Stage win.
Leaders Kyle Busch and Alex Bowman both faced adversity with a badly-timed late yellow. Seconds after the top two came to pit road under green, a caution came out for a rogue tire. This buried both the 18 and 48 back in traffic, cycling Chastain back to the point.
A new contender arose to challenge Chastain late, as Chase Elliott showed his hand. The 9 car raced the Trackhouse 1 hard on the last two restarts, getting the upper hand with 53 laps left. Chastain's car lost some performance late, as he faded to third behind Ricky Stenhouse Jr.
Elliott continued to grow his lead over the 47 over the closing laps, eventually winning by 2.5 seconds. This marks Elliott's first win of 2022, and first oval win since Phoenix in 2020.
"Had some good circumstances finally," Elliott said post-race. "Really appreciate Alan (Gustafson, crew chief) and our entire team No. 9 Chevrolet team for just sticking with it. We've had some tough races over the last, I don't know, four, five months. Just great to get NAPA back to Victory Lane; great to get Hendrick Motorsports back to Victory Lane.
"Just so proud. This one means a lot in a lot of different ways. Just appreciate all the effort. But thanks to all the fans for coming out. You're always awesome. Hope to see this big crowd here next year. Just a huge thanks to everybody involved. It's been a fun day and we're certainly going to enjoy.
"Like I told them after the race – those guys, they've been deserving of one for a while. Glad we could get across the line first. We'll enjoy it for a few days and go to work next week."
Through 11 weeks now in the 2022 NASCAR Cup Series season, Chase Elliott is the ninth different winner. The points leader coming into Dover, Elliott's win means that all of Hendrick Motorsports is now locked into the Playoffs. Dover is also the first oval where Elliott has claimed multiple wins.
After losing the lead to Elliott, Chastain was not done being aggressive. He threw a big last-lap block on Martin Truex Jr. The 19 went from battling for third to making wall contact. Truex was not happy with Chastain post-race; the past champion came over to have a discussion with the young driver.
Behind Elliott, Stenhouse, and Chastain, top finishers included Christopher Bell, Alex Bowman, Kyle Larson, Kyle Busch, Chris Buescher, Kevin Harvick, and Erik Jones. Hear reactions from some of the top finishers below.
The NASCAR Cup Series hits its one-third point of 2022 next weekend at Darlington Raceway. The Official Throwback Weekend of NASCAR, the Goodyear 400 will have lots of retro looking cars on track gunning for a major win. Coverage begins Sunday, May 8 at 3:30 p.m. ET on FS1, MRN, and SiriusXM NASCAR Radio Channel 90. How will the brand new Next Gen car fare on NASCAR's toughest, grittiest track? Tune in next week to find out who can tame the historic South Carolina venue.
Written by Peter Stratta
Be sure to follow us on Twitter
Be sure to follow the writer on Twitter
Photo Credit to Sean Gardner/Getty Images for NASCAR