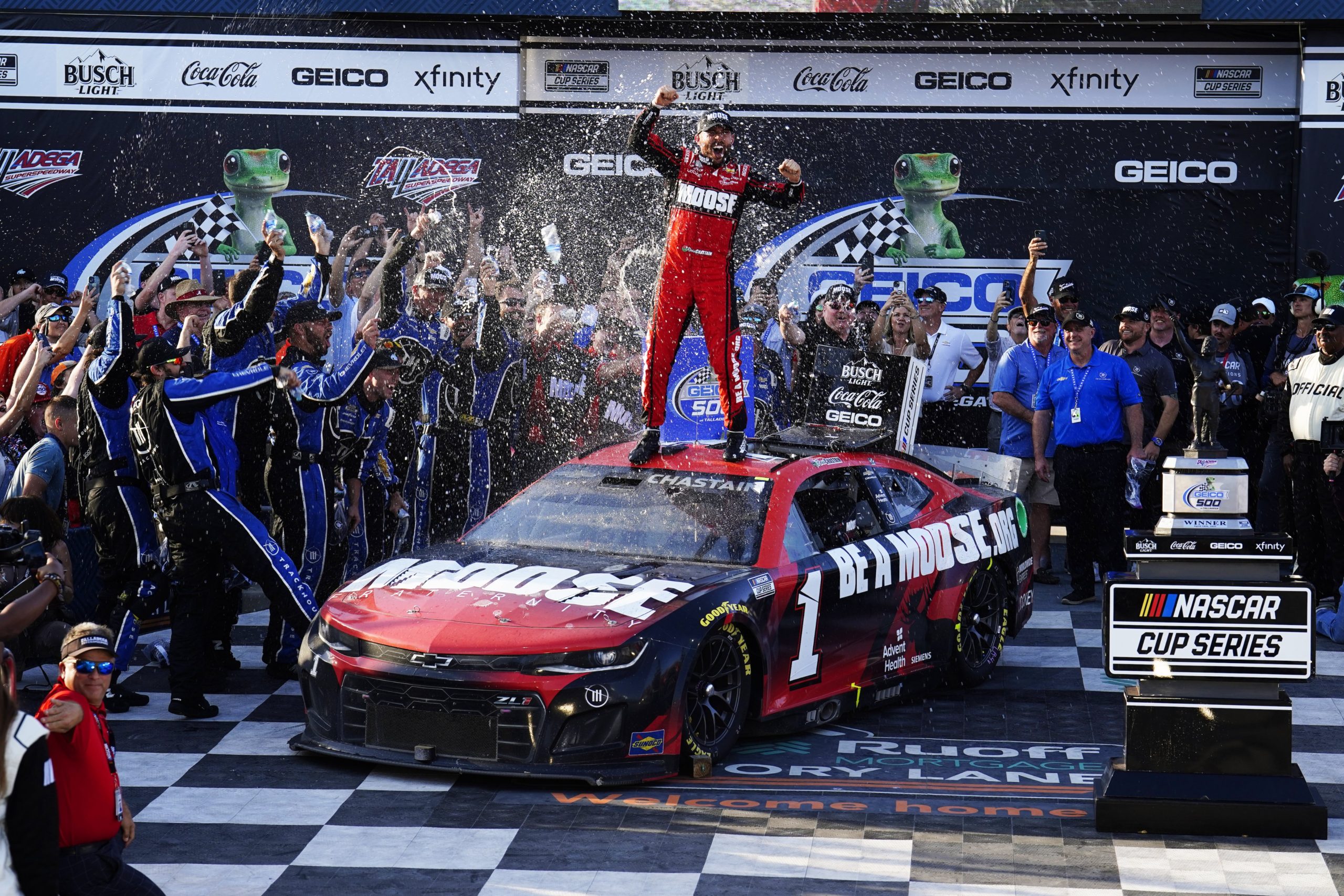 Ross Chastain Earns Second Career Victory at Talladega as Leaders Wreck
TALLADEGA, Ala. – The seas parted coming to the checkered flag at Talladega for Ross Chastain. While the Trackhouse Racing No. 1 Chevrolet was third, the top two crashed out of the way. Talladega marks Chastain's second career Cup Series victory, both coming in the last five weeks.
The day got off to a crashing start at the end of Stage 1, as Daniel Hemric's motor blew up entering turn three. While Hemric tried getting out of the way, he got spun back up the banking, into the paths of Chase Briscoe and Chris Buescher. This premature Stage end gave the win to Bubba Wallace. Not only was the 23 the defending fall Talladega winner, he now also has a Stage win in two-straight spring races.
A restart late in Stage 2 would see the next big one of the day. The outside line got backed up, causing Joey Logano to get shoved into the wall and back across traffic. Hear comments from Logano, and innocent bystander Ty Dillon below.
Stage 2 would eventually go to William Byron, as he led a Hendrick Motorsports top-four sweep. Chevrolets as a manufacturer had their teamwork down to a science this Talladega race, with their strength in numbers.
The final Stage would see Ryan Blaney, Bubba Wallace, and Erik Jones all take turns out front. In the closing laps, the double-file pack would be a battle between Jones' 43 car, and the 5 of Kyle Larson. The last lap would see Jones lead Larson into the final corners, but then chaos ensued coming to the line. Contact from Ross Chastain sent both Larson and Jones wide, with others wrecking behind them. This allowed the 1 to sneak by the 43 in the tri-oval to take the Talladega victory.
"Holy cow," Ross Chastain said post-race in disbelief. "I'm always the one going to the top too early, making the mistake. There at the end it was like eight to go, I was like, I'm not going up there again. I did that a couple times today. I was like, I'll just ride on the bottom. If it works, I'm not going to lose the race for us, I'll just let them.
This Moose fraternity, almost a million Moose members across the world, in the country – I know there's some out here at Talladega. To win with the Moose onboard – they've been with me for a few years now, supported me everywhere I went.
They kept going up, kept moving out of the way. I've wrecked myself so many times and gotten into it with guys. 
Yeah, I mean, Justin Marks (Owner, Trackhouse Racing) and what he laid out for us was ambitious. I had no idea, you know, what to expect other than I knew I had my group from last year, I had AdventHealth, the Moose, now with Worldwide Express and Jockey coming onboard, we've got partners. They're believing in us.
We started the year with a lot of races open. We're almost full now. It's because of the vision of Justin Marks. Pitbull, Armando, we won, yeah!"
Behind Chastain, top finishers included Austin Dillon, Kyle Busch, Kyle Larson, and Martin Truex Jr. The rest of the top 10 were Erik Jones, Chase Elliott, Michael McDowell, Alex Bowman, and Kevin Harvick. Hear from some of the top finishers below.
Chastain joins William Byron as the only multi-time race winners through 10 races in 2022. In a bit of amazement, Chastain's Talladega car was the same chassis he won with at COTA a few weeks back. All around, Talladega was a huge weekend for Trackhouse Racing, as they also announced a new sponsor prior to the green flag Sunday.
The NASCAR Cup Series is back in action next Sunday from Dover Motor Speedway. Coverage of the Duramax Drydene 400 begins at 3:00 p.m. ET on FOX, MRN, and SiriusXM NASCAR Radio Channel 90. The Monster Mile will be a big challenge with the Next Gen car, as passing will be at a premium next week.
Written by Peter Stratta
Be sure to follow us on Twitter
Be sure to follow the writer on Twitter
Photo Credit to Trackhouse Racing via Twitter