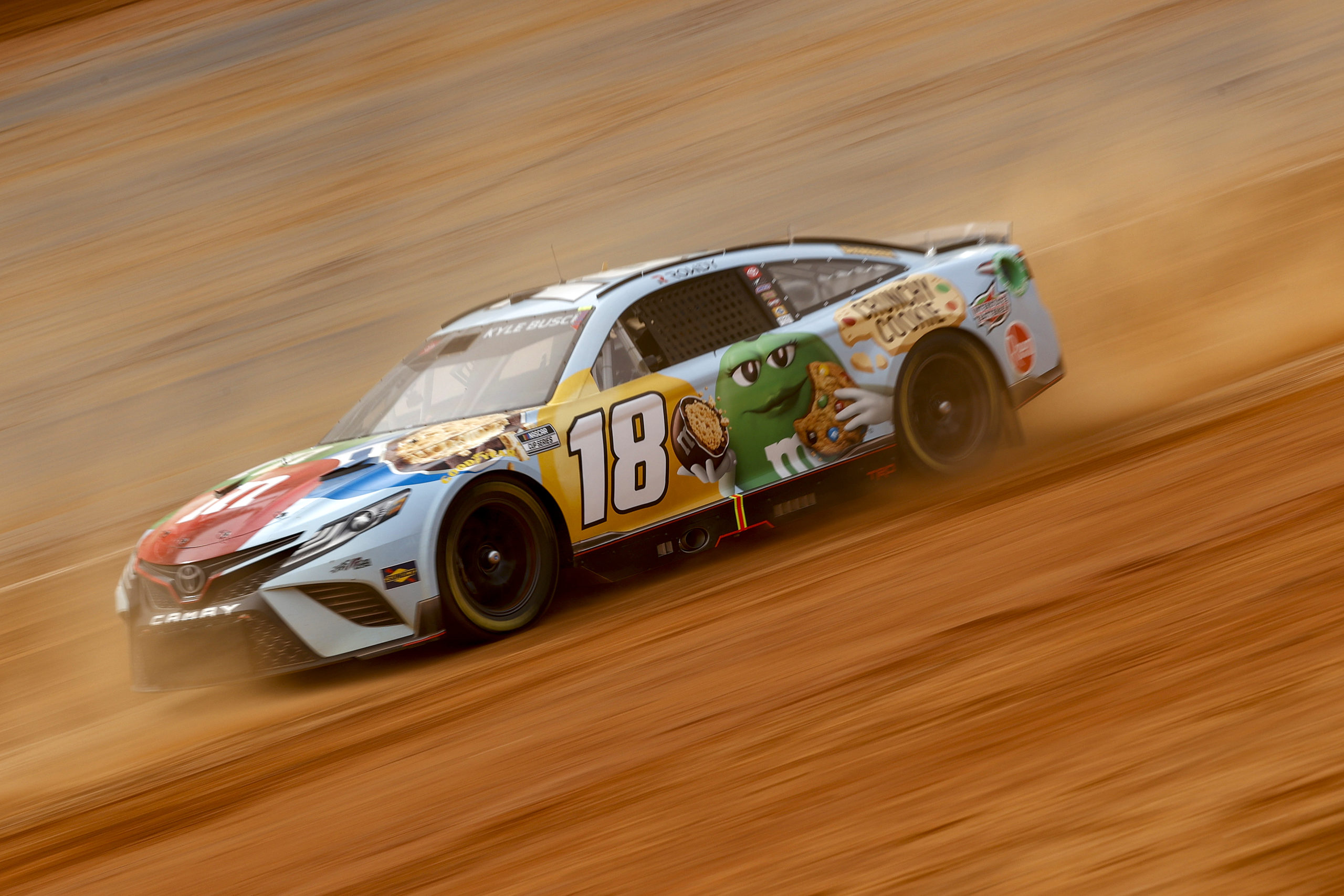 Leaders Tangle in Final Corners, Kyle Busch Victorious at Bristol Dirt
BRISTOL, Tenn. – A night full of chaos at the Bristol Dirt race ends with last-lap drama and Kyle Busch in victory lane. After leaders Tyler Reddick and Chase Briscoe got together in the final corner, Busch just edged ahead of the 8 for the victory. Busch was on the unlucky end of a pit strategy call earlier in the race, so his bounce back to victory is certainly unprecedented.
The other Kyle, Larson, took a dominant Stage 1 win after Chase Briscoe slapped the wall while leading. The dirt ace left the field in the dust in this opening stint, beating out Ty Dillon.
Stage 2 would be a recovery effort for Chase Briscoe. The 14 took the lead away from Daniel Suarez just after halfway, leading the final 10 laps.
After Stage 2 would see a bit of a controversial moment of confusion. Kyle Busch was one of 17 cars who elected not to pit under the Stage break, meaning that he would restart as the leader. Under an immediate rain delay however, Chase Briscoe was still scored as the race leader. Once the race resumed, Busch would restart in the top spot, but quickly faltered to Tyler Reddick.
With about 30 laps left, another brief rain shower sent the race under another red flag. With Tyler Reddick leading over Kyle Busch, the track crew got Bristol in race-worthy shape in little time. When the race restarted again, Reddick took off. However, the 14 of Briscoe began to creep into the picture, getting by the 18 for second. As the laps ticked off, Briscoe grew ever-so-closer to Reddick's back bumper.
In turns three and four coming to the checkers, Briscoe got under Reddick with a slide-job, and both leaders spun out. While Reddick quickly got going again, it was not quick enough to beat Kyle Busch to the stripe. With the win, Kyle Busch now has 60 career Cup Series wins, nine of them coming at Bristol.
"Yeah, we backed into that one didn't we," Busch said. "Sure feels good just to get a win. It's been a little bit of a long time here, but overall, just a great day. Really appreciate – just proud of the guys. They work hard. We all work hard. We all work way too hard. There's not a lot of rewards in the sport except winning. You could come home with a second-place day and not get everything that you wanted from the day and from what you put into it. It's always good when you win. I appreciate M&M's and this Crunchy Cookie Camry TRD.
"It was awesome to keep pace with those two. I don't know why our car would not refire after the rain both times. I was leading on the first big rain delay coming back and I fell to eighth and I was able to drive back through on the long run and get back into position. Then on that one again, same thing and I fell off and couldn't hang. It got me about 20 laps to get going. But overall, just great to get back in victory lane. Thank you to Rowdy Energy, Toyota, Interstate Batteries, Sport Clips, DeWalt, Breathe Right Nasal Strips, everybody that gets us here."
Kyle Busch marks the eighth different winner nine weeks into 2022. With a win now in 2022, Kyle Busch's consecutive years winning streak extends to 18. This ties Richard Petty for the all-time record of most seasons with a win. Should Busch win next year, this record would be his alone.
Behind Busch, Tyler Reddick still managed to finish second despite the spin. The rest of the top five were Joey Logano, Kyle Larson, and Ryan Blaney. Alex Bowman, Christopher Bell, Chase Elliott, Michael McDowell, and Ty Dillon all also finished in the top 10. See reactions from some of the top finishers below.
The Cup Series returns to action next week at Talladega Superspeedway. The Geico 500 marks the third superspeedway race of 2022, giving all teams a shot at the victory. Coverage begins on Sunday, April 24 at 3:00 p.m. ET on FOX, MRN, and SiriusXM NASCAR Radio Channel 90. Will a ninth different driver find victory lane in 2022? Talladega is no stranger to upsets capturing the checkered flag.
Written by Peter Stratta
Be sure to follow us on Twitter
Be sure to follow the writer on Twitter
Photo Credit to Chris Graythen/Getty Images for NASCAR