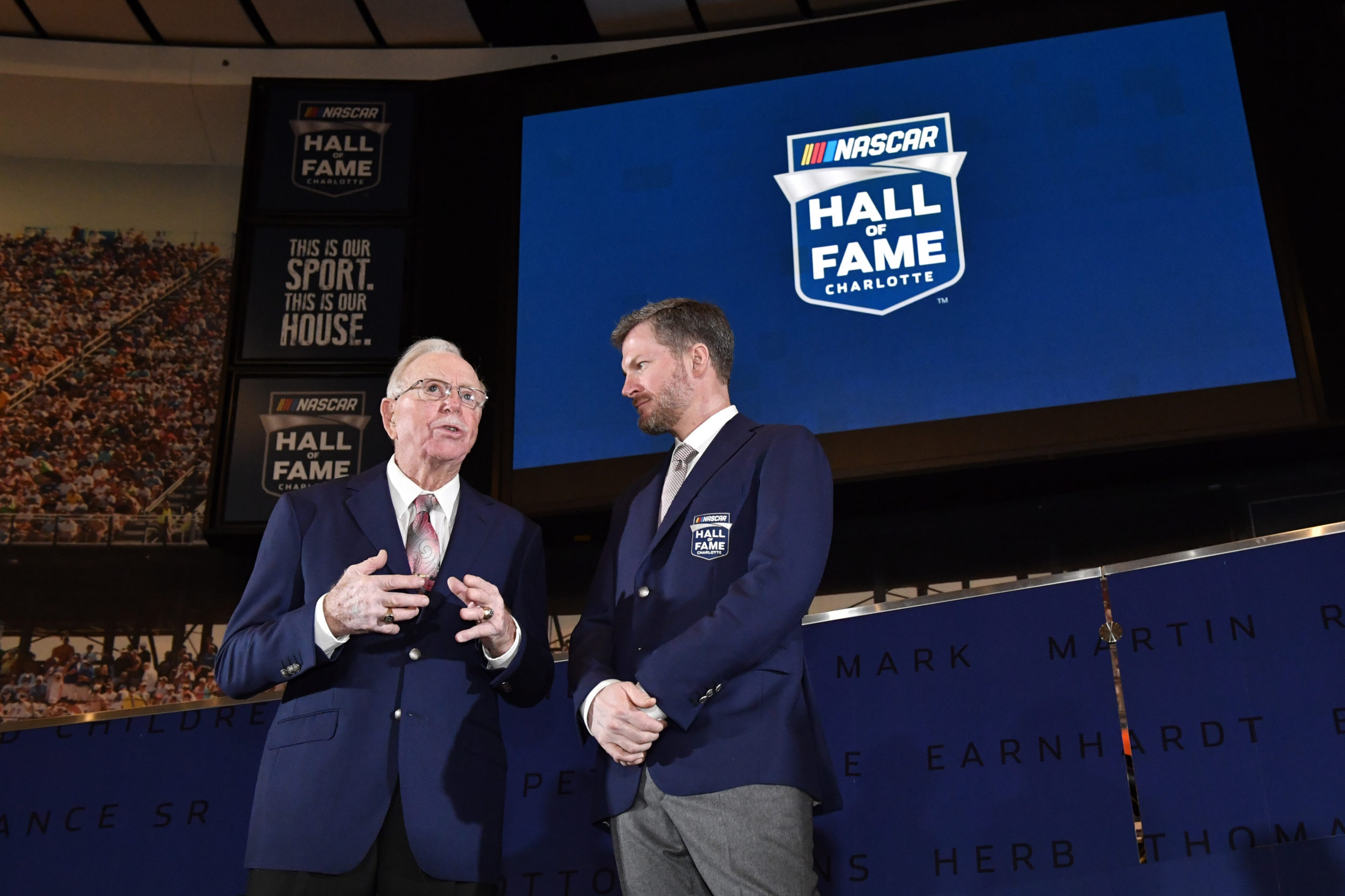 Dale Earnhardt Jr., Red Farmer, Mike Stefanik Make up NASCAR Hall of Fame 2021 Class
CHARLOTTE, N.C. – The NASCAR Hall of Fame grew by three members Friday; the Class of 2021 was forever enshrined as legends of the sport. Among this class was longtime short-track ace Red Farmer, touring series legend Mike Stefanik, and fan-favorite Dale Earnhardt Jr.
Also honored with the Landmark Award was former RJ Reynolds Tobacco Co. executive Ralph Seagraves. Seagraves was instrumental in the formation of the Winston Cup Series, the first premier-partner title sponsorship of a NASCAR division. Under Seagraves' leadership, Winston also helped bring previously-unseen recognition and branding to short tracks across America.
In addition, the Squier-Hall Award for NASCAR Media Excellence was also posthumously given to Bob Jenkins. Jenkins was the voice of NASCAR for a generation of fans as a broadcaster on ESPN, ABC, and NBC. Amazingly, one of Bob Jenkins' final times behind a microphone involved our own Noah Lewis winning a Monday Night Racing event on iRacing. Sadly, Jenkins died in August after a courageous battle with brain cancer.
Mike Stefanik
Known as one of the grittiest competitors of his era, Mike Stefanik was one of the all-time winningest Modified racers. Stefanik won the Modified Tour championship a record seven times, in addition to two Busch North titles (1997-1998). Both of those seasons, Stefanik actually swept championships in both divisions, earning four championships over two years. Stefanik continued racing and winning well into the 2010s, as his last victory came at Bristol in 2013.
Tragically, the Modified legend was killed in a 2019 plane crash. Stefanik's widow Julie delivered an induction speech on his behalf, also accepting his ring and blue jacket.
Stefanik joins his mentor, Modified king Richie Evans, and Jerry Cook as touring series racers in the Hall of Fame.
Red Farmer
Truly one of NASCAR's pioneering stars is short track legend Red Farmer. At 89-years-old, Farmer can still be found racing local events around Alabama today. Farmer is a founding member of the Alabama Gang, as he and the Allison brothers were a fearsome combination for years. It is unknown just how many feature events Farmer has won throughout his many-decade career. It is estimated that Farmer's win total is at least 700 races, as his driving days date back to NASCAR's beginnings.
"I got to race against some of the great drivers back in the '50s, '60s, and '70s," said Farmer. "It started off in 1953 with a Hudson Hornet. I didn't have a tow truck or a trailer. Me and my mechanic got in that car and drove it all the way to Daytona, 350 miles."
"If you had a big Christmas tree up there and every one of these awards that I've got over these 75 years was a big ornament, the NASCAR Hall of Fame is the gold star on top."
Farmer was also in the 1993 helicopter crash that ultimately killed Davey Allison at Talladega. Thankfully, he escaped with a few broken bones.
Farmer is still a staple on the Talladega short track to this day; he plans to continue racing once the season kicks off again in March. At the age of 89, Farmer truly is a NASCAR icon unlike any other.
Dale Earnhardt Jr.
Little needs to be said of the impact Dale Earnhardt Jr. has has on NASCAR. A superstar from the beginning, Earnhardt had incredible success both on and off-track throughout his driving career. Two Busch Series (now Xfinity) championships in 1998-1999 defined his early days of winning. 26 Cup Series victories would follow suit, including two Daytona 500 victories, six Talladega wins, as well as 15-straight Most Popular Driver Awards.
Earnhardt was always a strong threat on superspeedways, much like his father in decades past. Perhaps Earnhardt's most memorable victory came in the 2001 Pepsi 400, the first race at Daytona after Dale Earnhardt's death in that year's Daytona 500. Earnhardt's speech was largely thankful towards a few key people throughout his career.
"I was a mechanic at a dealership, that was my destiny. Or so I thought," said Earnhardt. "My brother and I changed the oil in thousands of cars. When Dad asked Tony Eury Sr. who he wanted in the DEI Xfinity car, he said my name. I pretty much won the lottery. The biggest compliment I could give Tony Sr is I never wanted to let you down."
"In 2007, I wanted to drive the best racecars in the garage, but I also wanted a lifelong friend in Rick Hendrick. Right out of the gate, Rick was all in, caring and supportive and investing a lot of time in me. Over time I realized that he's got a heart the size of Texas, and is somebody who has helped me and countless others overcome challenges in their lives."
"Jr Nation's always had my back. Even when I stumbled. We won together, lost together, and now we go into this Hall of Fame together. To join Dad in the Hall of Fame is probably as good as it's ever going to get."
Earnhardt's Legacy After Driving
For over 20 years now, Earnhardt Jr. has largely been the face of NASCAR across all realms of entertainment and media, which only continues to this day.
Since retiring from full-time racing in 2017, Earnhardt has remained a constant presence as an Xfinity team owner, a broadcaster with NBC, and a podcast host with the Dale Jr. Download. JR Motorsports has won three Xfinity Series championships in the last eight seasons, launching the careers of many drivers. Earnhardt has also competed in one Xfinity race each season since 2018.
After being delayed a year due to the pandemic, these three racing legends finally had their night in the spotlight. As the offseason winds down, it is always a fun and historic night to remember a few extraordinary individuals who helped make this sport special.
Written by Peter Stratta
Be sure to follow us on Twitter
Be sure to follow the writer on Twitter
Photo Credit to Mike Comer/Getty Images for NASCAR