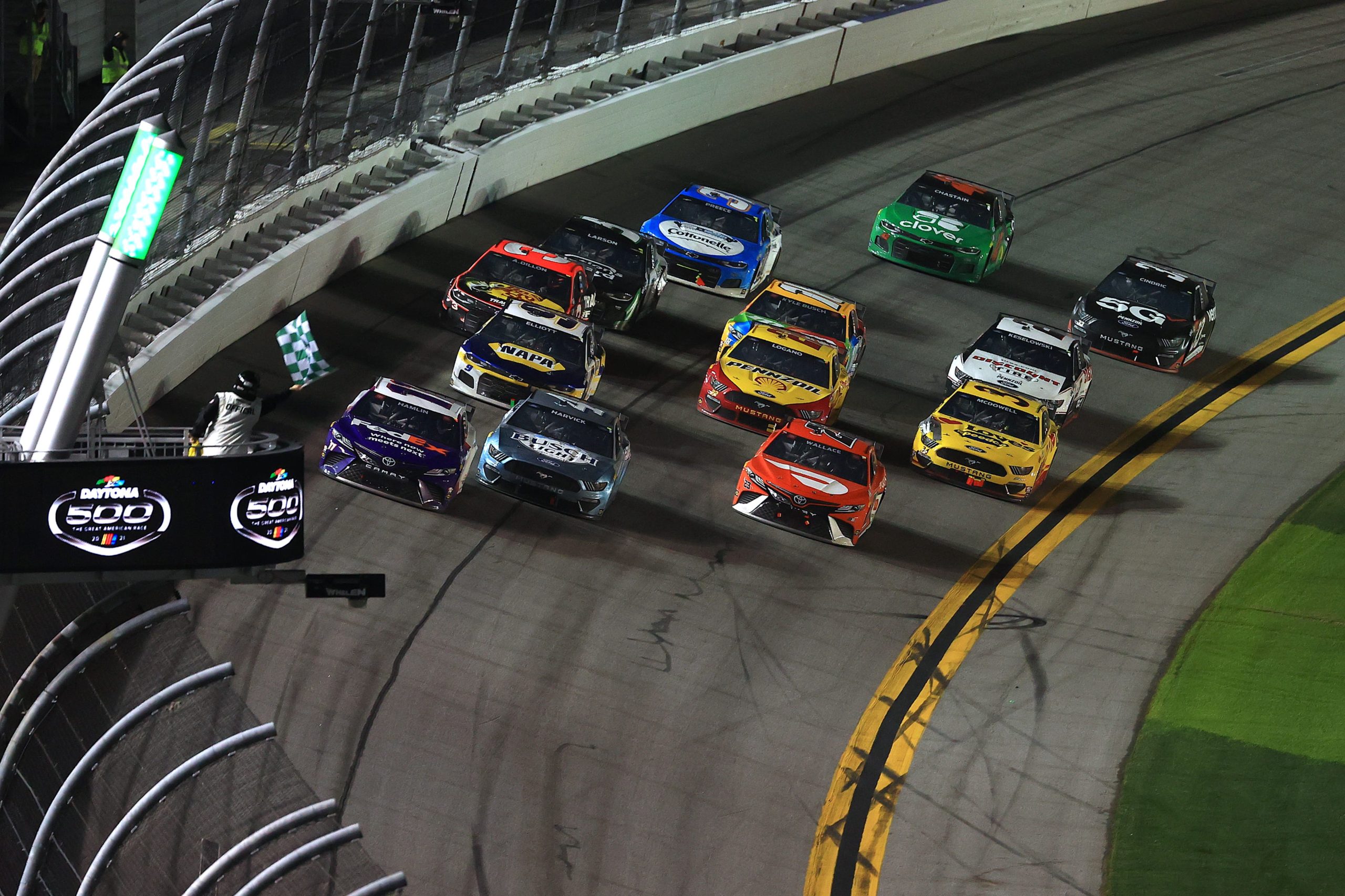 Past Daytona 500 Winners Racing for Another Harley J. Earl Trophy
For 2022, six past winners of the Daytona 500 will be chasing NASCAR's biggest win again. These drivers already have their name engraved on the Harley J. Earl Trophy, but all yearn for another spot on it. They all have experience winning on racing's biggest stage. Can any of these veterans kick off NASCAR's Next Gen era in the best way possible? Let's take a look at the six combatants trying to add to their racing legacy.
Kevin Harvick
Way back in 2007, Kevin Harvick stole the Daytona 500 victory from Mark Martin by mere feet in a classic finish. As the 29 edged ahead of the 01, the field wrecked behind them. Since that night 15 years ago, Harvick has been very hit-or-miss in The Great American Race, with seven top-10s, including finishing second twice. The last two Daytona 500s have seen the 4 finish in the top five as well. With a 43-race winless drought, Harvick eyes Daytona as a chance to return to victory lane.
Last August in the regular season finale here, the 4 was running second on the last lap before getting hooked by Daniel Suarez. Harvick has the experience, skill, and talent to be up front late at Daytona. It is simply a matter of the 4 finding the right luck at this superspeedway.
Joey Logano
One of the most consistent at Daytona in recent memory is the 2015 500 champion, Joey Logano. The Team Penske 22 had four-straight top-sixes in The Great American Race after winning this event seven years ago. Logano also led within a mile of last year's finish, only to crash after blocking Brad Keselowski. As one of the most cunning and aggressive superspeedway racers today, Logano has to be among the favorites heading into this year's race. The 22 has a knack for being involved up front at the finish of more Daytona races than not, as he eyes a second Harley J. Earl Trophy. Should circumstances fall similar to last year, the 22 could win big again.
Denny Hamlin
The only active multi-time Daytona 500 winner is three-time champ Denny Hamlin. The Fedex 11 won this race in 2016, then back-to-back in 2019 and 2020. Hamlin was well on his way to making a three-peat in The Great American Race, until his final pit stop was too fast and left him stranded. Hamlin led a personal-best 98 laps in last year's race, winning both Stages in the process. Since 2014, Hamlin has only finished worse than fifth in one Daytona 500 (2017).
As perhaps the best superspeedway driver today, Hamlin is favored for a fourth checkered flag here. Much like Dale Earnhardt or Dale Jr., Hamlin just has a confidence about Daytona that is unmatched by anyone else in the field. A fourth Daytona 500 win for Hamlin would tie him with Cale Yarborough for second-most wins all time.
Kurt Busch
In his 16th attempt, Kurt Busch finally became a Daytona 500 champion in 2017. The Las Vegas native had previously been second three times in The Great American Race, finally ending up in victory lane with Stewart-Haas Racing. Now, the 2004 Series champion finds himself at a new team, 23XI Racing with the No. 45 Toyota. Busch was hired by Denny Hamlin and Michael Jordan to help turn this team into a true contender, which could start in Daytona. Busch is a very respectable superspeedway racer, as is his teammate Bubba Wallace. With Toyota help, both 23XI cars can be up front late if they avoid carnage.
Throughout offseason Next Gen testing, Busch has shown great confidence and speed in his new ride. As one of the elder statesmen of the sport now, Busch may just have what it takes to secure another Daytona 500 victory.
Austin Dillon
On the 20-year anniversary of Dale Earnhardt's Daytona 500 victory, the 3 car returned to victory lane with Austin Dillon. Dillon led a grand total of one lap that day, after making late contact with Aric Almirola. Aside from the 2018 win though, Dillon has become a venerable superspeedway racer. In nine Daytona 500 starts, Dillon has three other top-10s, including third last year. The 3 was in position leading the inside lane on the last lap, before Keselowski came down to block his run. Should Dillon be in a similar position this year, the 3 may visit Daytona's winners circle once again.
Michael McDowell
The ultimate underdog story came to fruition last year, as wrecked Penske cars led Michael McDowell to Daytona 500 stardom. The lone lap led last year marked career win number 1 for McDowell, but was also his fourth Daytona 500 top 10. McDowell is sneakily good in any superspeedway race, as he was also third at Talladega last year. While the odds of McDowell going back-to-back are slim, anything is possible with the great unknown of Daytona.
These six names represent the only active drivers on the Harley J. Earl Trophy. All of them will be gunning to take home this prestigious hardware again in the 64th Running of the Daytona 500. The season-opener for the NASCAR Cup Series draws ever-so-nearer, as the green flag will fly February 20th on FOX at 3:30 ET.
Written by Peter Stratta
Be sure to follow us on Twitter
Be sure to follow the writer on Twitter
Photo Credit to Mike Ehrmann/Getty Images for NASCAR