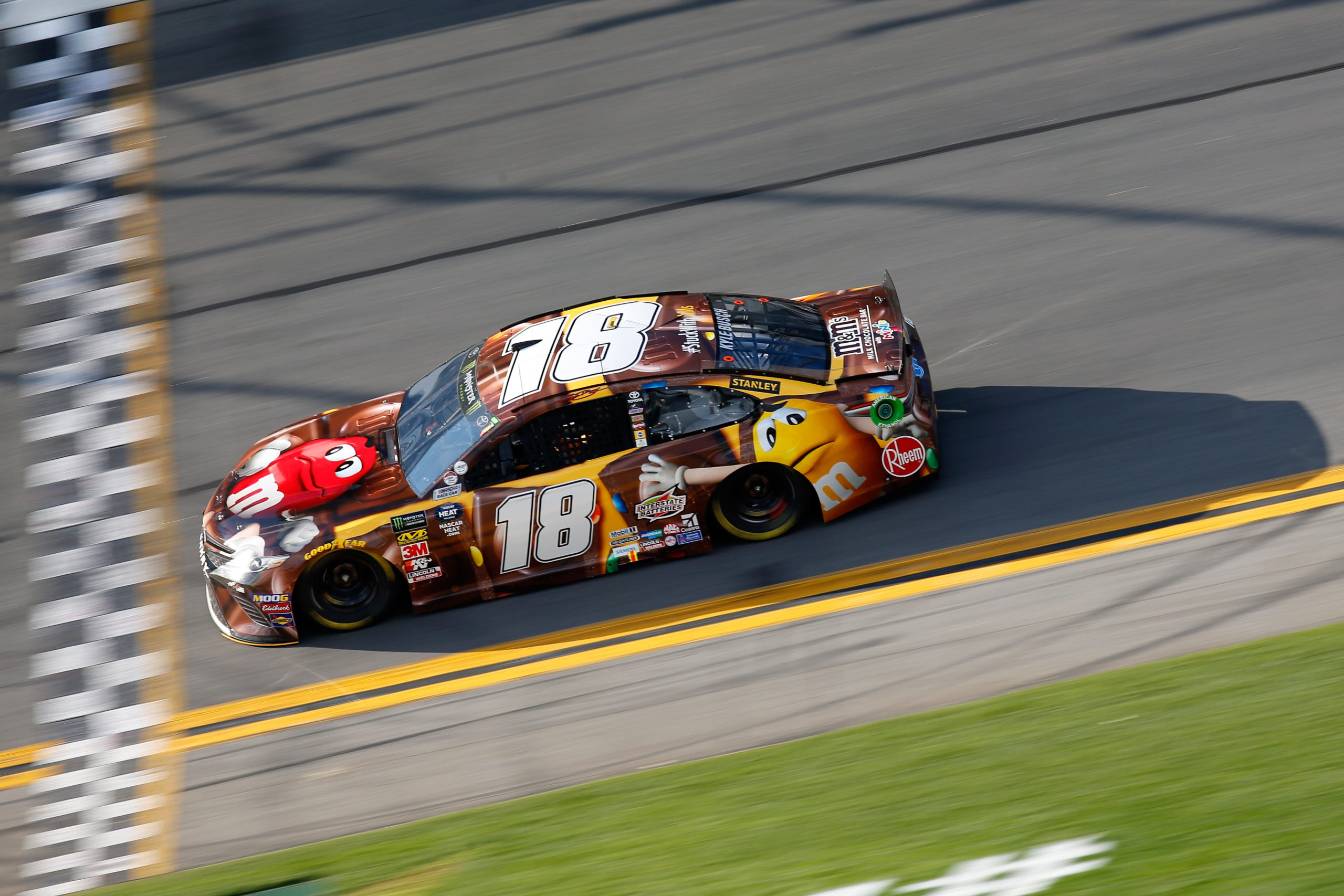 Which Championship Drivers Have Yet to Win the Daytona 500?
In the 63 previous years of the Daytona 500, only 40 drivers have won The Great American Race. For 2022, six past winners will be in the field. That leaves chances high of a new driver adding their name to the Harley J. Earl Trophy. For some drivers, it takes decades to finally pull into Daytona 500 winner's circle. It took Kurt Busch 16 tries to finally win this race just five years ago. For Darrell Waltrip, his 1989 win was start number 17. Lastly, it notoriously took Dale Earnhardt 20 years to accomplish this career-defining feat. 
No current Daytona 500 drought is quite as long as Earnhardt's. However, there are a few notable drivers who have not won this race. This list includes past Cup Series champions, some of the best drivers of today young and old alike. Let's take a look at five past NASCAR champions who have a great chance at winning their first Daytona 500.
Martin Truex Jr
While 0-for-17 in the Daytona 500, nobody has lost in closer fashion than Martin Truex Jr. In 2016, the New Jersey native was in a photo finish with Denny Hamlin, just 0.01 seconds behind the 11. Truex was on the losing end of the closest Daytona 500 finish in history; he has yet to claim the Florida track. Aside from 2016, Truex has not had the best Daytona 500 stats, with only two other top-10s.
MTJ is admittedly not a fan of superspeedway racing; the 19 has ended up wrecked more often than finishing up front at either Daytona or Talladega. If Truex is to check off this box, he will likely need help behind him to fight off the pack. We have seen Toyotas line up and do exactly that at superspeedways in the past. A Truex Daytona 500 win would simply be a matter of the right drivers finding each other late.
Kyle Busch
The driver who has won just about everything possible in NASCAR, Kyle Busch has yet to find Daytona 500 glory. In 16 previous starts, the 18 has been close on multiple occasions. Busch was second in 2019 to Denny Hamlin, and also lost a motor while leading in 2020. He's also led laps in four of the last six 500s. Lady luck has not been on Busch's side in the Daytona 500; he also has not finished four of the last five races.
Busch has the aggression, experience, and competitive edge to win NASCAR's biggest race. However, the cards have yet to fall right for the two-time Cup Series champion. If Busch can avoid any early carnage and be up front in the closing laps, the 18 may do whatever it takes to grab this elusive victory.
Brad Keselowski
A year ago, Brad Keselowski was within a mile of the biggest win of his career, a Daytona 500. However, a bad block by Joey Logano sent both drivers hard into the outside wall. With 12 past losses in The Great American Race, can 13 be Keselowski's lucky number? He now heads into Daytona and this season as
co-owner
of Roush Fenway Keselowski Racing, driving the No. 6 Mustang.
Keselowski is a very stout superspeedway racer, with six victories at Talladega and also a Daytona summer win (2016). However, Florida in February has not dealt Keselowski much optimism. The 2012 Cup Series champ has crashed out of the Daytona 500 in four of the last five years. Last year was perhaps the closest Keselowski has been to this ultimate prize.
Will this debut with a new team be the right combination for this Daytona curse to end for Keselowski? Roush cars have been especially strong at Daytona in recent memory. Out of any driver on this list, Keselowski may just have the best odds to end his Daytona 500 losing streak. Turning the page to a new chapter in his career may lead Keselowski to the win he has yet to achieve.
Kyle Larson
Defending Cup Series champion Kyle Larson has not found much success on any superspeedway. With nine starts in the Daytona 500, Larson only has four top-10s. While he was a quiet 10th-place a season ago, this time Larson should have the wind at his back. Coming off of a 10-win season, the 5 should have all the optimism and confidence possible. However, Daytona takes no prisoners and still demands perfection for 500 miles. If Chevrolets team up, Larson should have ample opportunity to take another prized victory.
Chase Elliott
2020 Cup Series champ Chase Elliott has had a very up-and-down Daytona 500 history. Driver 9 has three poles in nine starts, but only one top-10, a runner-up last year. Amazingly, Elliott has laps led in all but one of his Daytona 500 attempts. In addition, Elliott has a streak of three-straight top-10s at Daytona, so he's been close here recently. Should 2022 be Elliott's first Daytona 500 win, he would join his father as Champion of The Great American Race.
These five past NASCAR Cup Series champions all share the unfortunate stat of 0 Daytona 500 victories. Should any of them change that this year, it would be a stamp on a Hall of Fame career and another step towards racing immortality. However, the first Daytona 500 with the Next Gen car will be the ultimate wildcard for every team. Who will be the fastest to adapt in this season-opening race?
Written by Peter Stratta
Be sure to follow us on Twitter
Be sure to follow the writer on Twitter
Photo Credit to Jonathan Ferrey/Getty Images for NASCAR