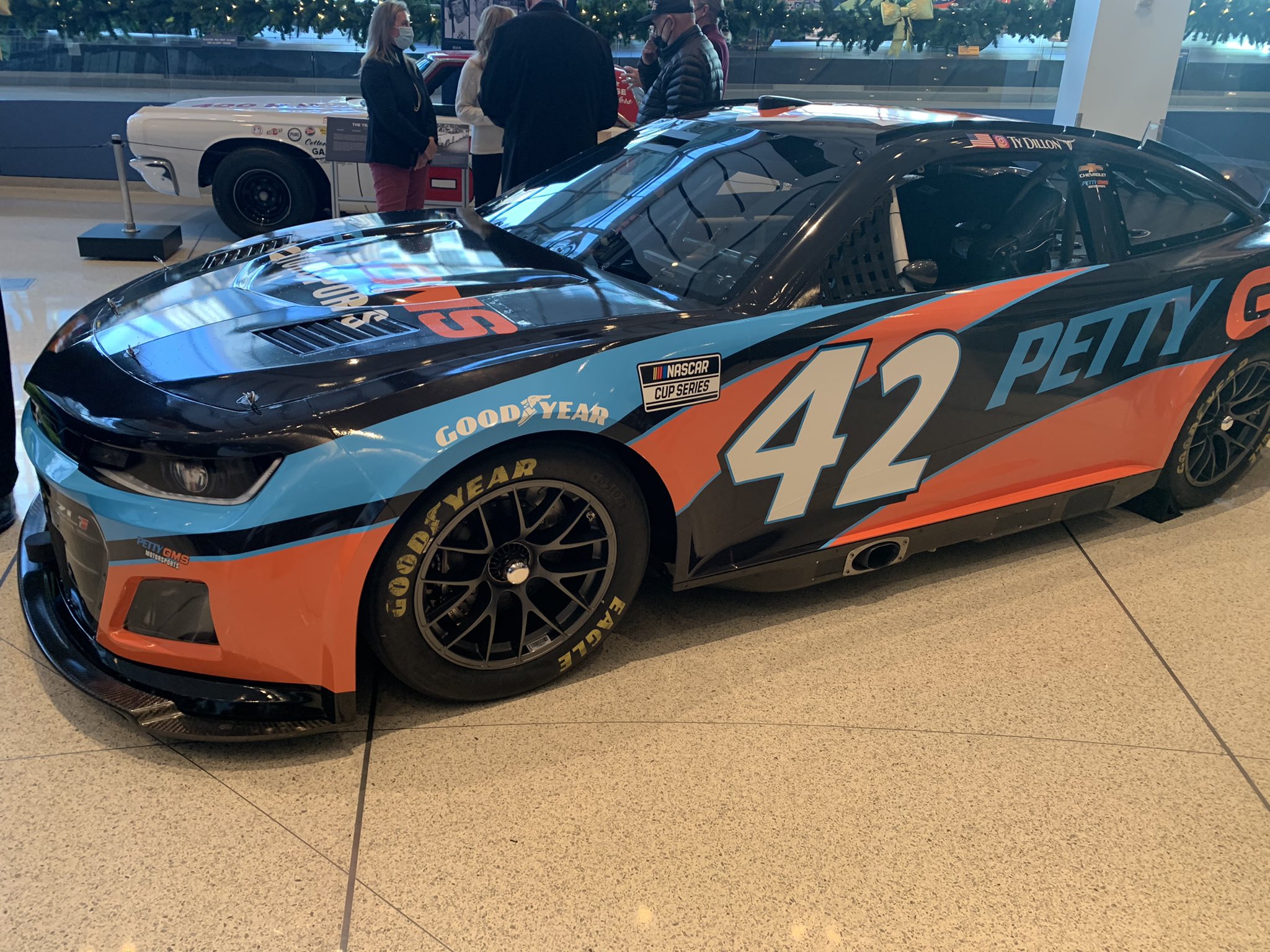 Petty GMS Motorsports to Operate 42, 43 Cars in 2022 NASCAR Cup Series
CHARLOTTE, N.C. – First announced last week, GMS Racing had bought a majority stake in Richard Petty Motorsports. This deal included both charters owned by the Petty organization. As a result, the GMS operation with Ty Dillon was secure to run the full season in 2022. Furthermore, both race teams will operate under the Petty GMS Motorsports name. Rather than previous plans to race the No. 94, Ty Dillon will now run the No. 42 Chevrolet. In addition, Erik Jones will still compete with the famed 43 car.
The number 42 car will be in a Petty-involved team for the first time since 1982. Family patriarch Lee Petty had a majority of his NASCAR success with this car number, including three championships and the inaugural Daytona 500 win. Recent years have seen the 42 used by Chip Ganassi's race team, who sold their operations to Trackhouse Racing for 2022.
Mike Beam will oversee both team's operations as team president, a role he's previously held with GMS Racing in the Truck Series. Both driver-crew chief combos will also remain unchanged. Erik Jones will race with JR Motorsports veteran Dave Elenz in his first season as a Cup Series crew chief. Ty Dillon will also have a first-year crew chief in Jerame Donley.
"I'm very excited about this opportunity to work with Richard (Petty), arguably the greatest driver in NASCAR history, and form Petty GMS Motorsports," team president Maury Gallagher said. "Petty GMS will have a sole focus of winning. Both teams have a track record of winning and we have a strong desire to continue this legacy in a new chapter. Ty (Dillon) and Erik (Jones) have proven themselves through the years and we are looking forward to the success they will have as teammates."
Both teams will operate off of the GMS Racing campus in Statesville, North Carolina. Petty's team will move here after being on Richard Childress Racing's campus since 2018. GMS will also remain in the Truck Series with drivers Jack Wood and Grant Enfinger. GMS has won two of the past six Truck Series titles, with Johnny Sauter (2016) and Sheldon Creed (2020).
Any new team in the NASCAR Cup Series is sure to have some growing pains. However, 2022 is just about a perfect year for a new organization to make this jump. The Next Gen car's debut will bring about a level playing field for all teams. Both Jones and Dillon should have their fair chances at upsetting the Cup Series Playoffs. Each driver will have multiple shots at victory lane next season. GMS has a winning pedigree from years of experience in ARCA, Trucks, and Xfinity. In their first foray into motorsports' highest level, it will be interesting to see how Petty GMS Motorsports fares in year one.
The Busch Clash at the Los Angeles Memorial Coliseum will mark the debut for this new team. It will certainly be refreshing to see a 42 car team up with the historic 43. The February 6 exhibition event will mark a new chapter in the history of both cars numbers at racing's highest level.
Written by Peter Stratta
Be sure to follow us on Twitter
Be sure to follow the writer on Twitter
Photo by Noah Lewis/TSJSports