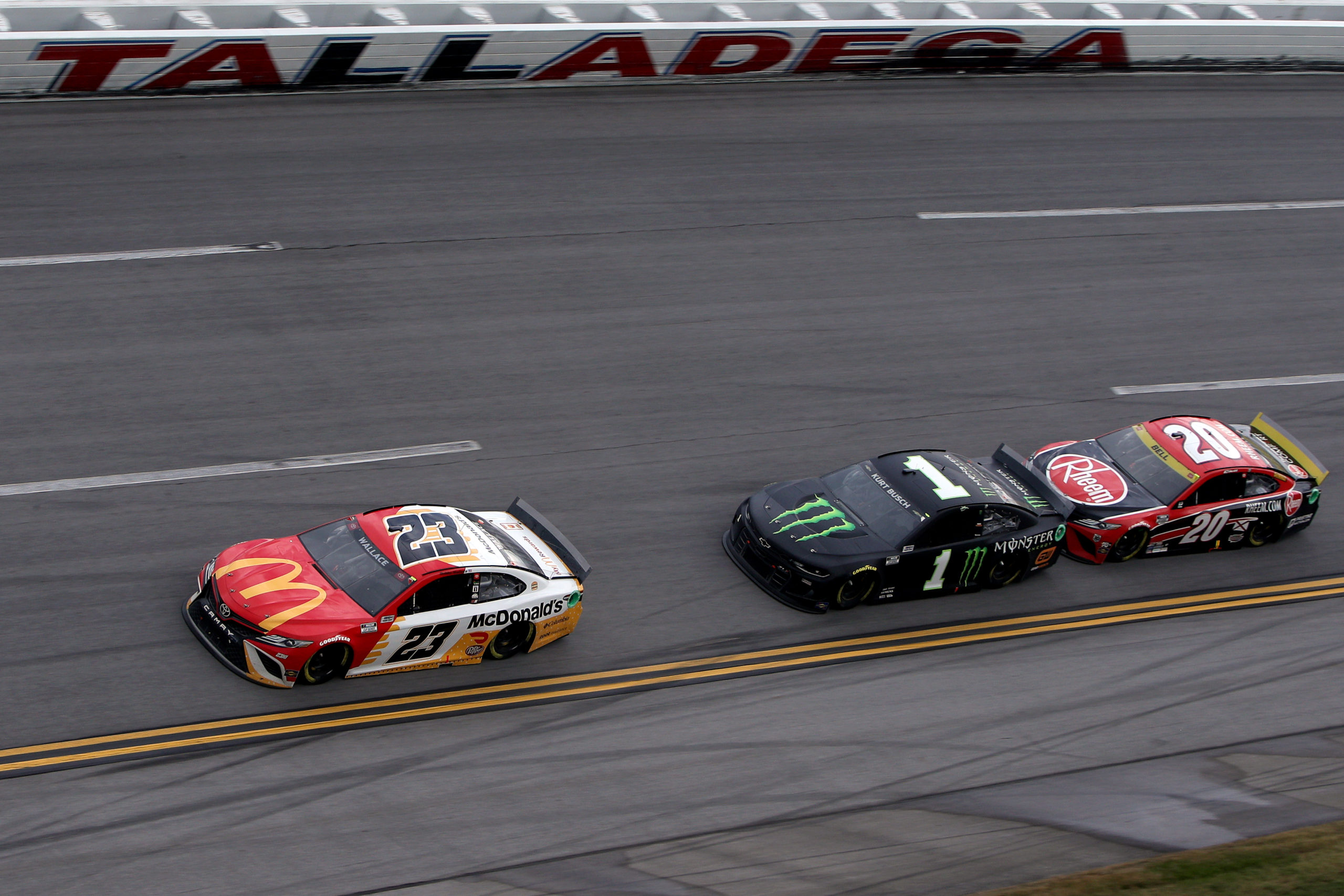 Three Drivers Earned First Career Victory in 2021 NASCAR Cup Series
Across the 2021 NASCAR Cup Series season, three drivers broke into victory lane for the first time. The year kicked off with two back-to-back drivers earning their maiden win. This included one journeyman winning the sport's biggest race, and also a young star upsetting on a road course. Later in the season, history struck in the Playoffs when a brand new team won in Talladega. Let's take a look back at these three driver's shining moments from 2021, and look ahead to their chances for 2022 and beyond.
Michael McDowell
Although the last lap of this year's Daytona 500 started with two Penske cars up front, it ended with Michael McDowell winning. After Brad Keselowski and Joey Logano wrecked coming to the checkers in the Great American Race, it was the No. 34 Ford left out front. In his 358th career start, the Arizona native took Front Row Motorsports to victory lane in the sport's biggest race. This sent the Ford team into the Playoffs, where McDowell would finish the year 16th in points.
The Daytona 500 win was far from McDowell's only 2021 highlight though. The underdog scored five top-10s, including opening the year with three-straight. February's Daytona victory would also be backed up with a third-place effort at Talladega in April. Once the Playoffs hit however, McDowell's luck turned south. An early crash in the Southern 500 would see the 34 plummet below the cut line, never to recover.
Just announced this week, McDowell will return to the 34 car at FRM. In the first year of the Next Gen era, McDowell could upset with his road course and superspeedway prowess. It's far from out of the question to see McDowell contend for wins again next season.
Christopher Bell
In week two of the year at the Daytona Road Course, Christopher Bell took command late for his first victory. Bell muscled his way by Joey Logano coming to the white flag, winning in only his 38th career start. This also marked just Bell's second outing with the Joe Gibbs Racing 20 team.
While Bell did not win again in 2021, he was close numerous times. Bell had 16 top-10s and an average finish of 15.8 en route to finishing the Playoffs 12th in points. Bell was especially stout on other road courses this year, finishing second at Road America and racing for the lead at Watkins Glen. New Hampshire marked another close runner-up for Bell, coming up just shy of Aric Almirola. Ultimately, Bell would be eliminated from his first Playoffs after the Round of 12.
Gearing up for year two at Joe Gibbs Racing, Bell will only get better with experience. With the resumption of practice and qualifying, the 20 team should be a regular at the head of the field many times throughout 2022. Now with the first win out of the way, Bell is on his way to NASCAR Cup Series stardom.
Bubba Wallace
Many eyes coming into 2021 were on Bubba Wallace, as he moved to the newly-formed 23XI Racing. After a trying regular season, Wallace was the big winner at Talladega after rain called the Playoff race short of completion. Wallace's triumph marked only the second-ever African-American NASCAR Cup Series winner, joining Wendell Scott. This Monday race also was the maiden victory for the team owned by Michael Jordan and Denny Hamlin.
Talladega was the third top 10 the 23 team earned in 2021, after finishing fifth at Pocono and second at Daytona in August. Bootie Barker will return to crew chief for Wallace, as gaining Kurt Busch as a teammate will only increase the competitive force of 23XI Racing.
There's no better chance of another first-time NASCAR Cup Series winner than the Daytona 500. February will be here before any of us know it, as the Next Gen car may allow for numerous new winners in 2022. Bubba Wallace became the 198th different driver to win a NASCAR Cup Series race, will we see number 200 in 2022?
Written by Peter Stratta
Be sure to follow us on Twitter
Be sure to follow the writer on Twitter
Photo by Sean Gardner/Getty Images for NASCAR