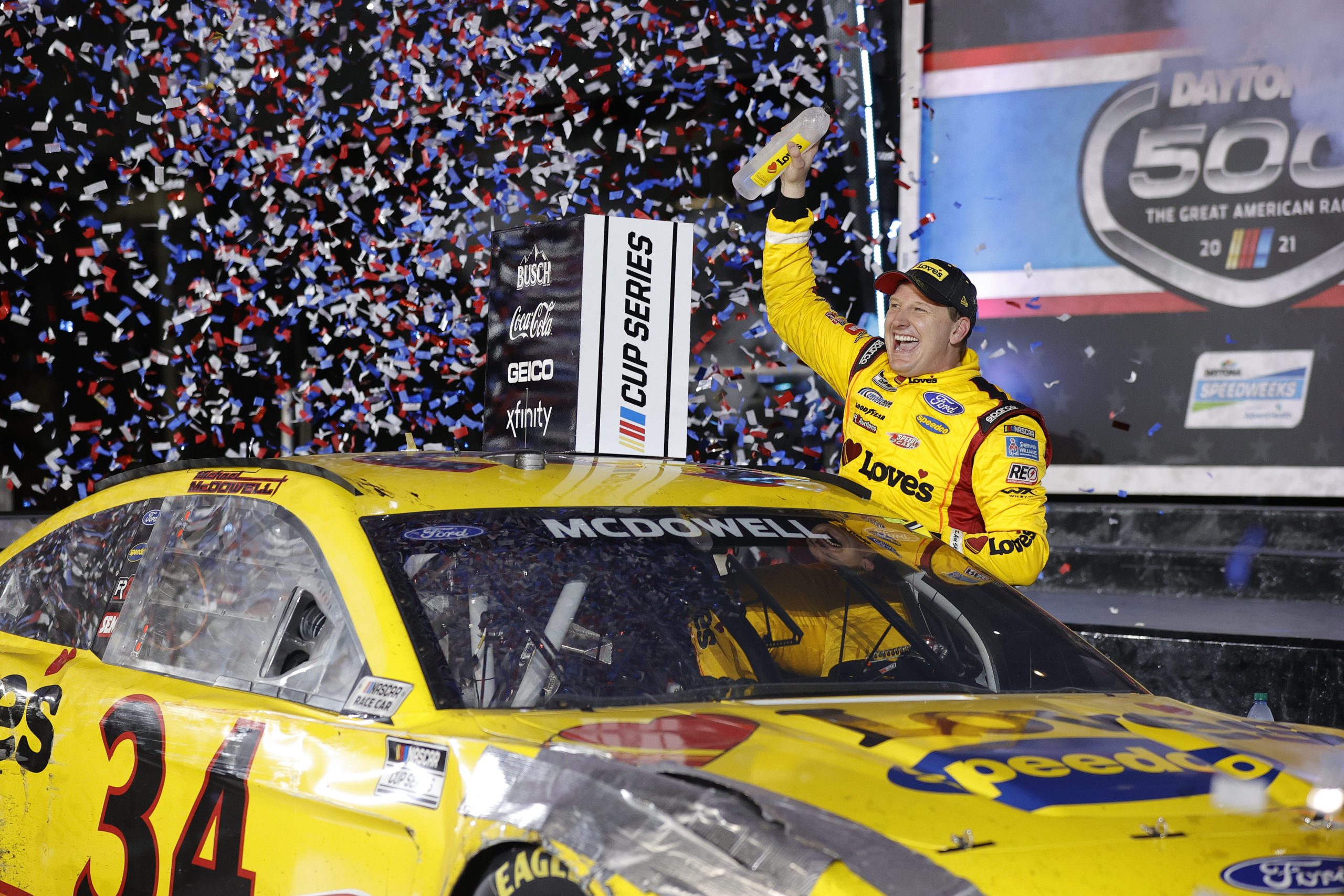 Front Row Motorsports Unveils Drivers for 2022, Adding Gilliland and Zane Smith
MOORESVILLE, N.C. – On Tuesday Front Row Motorsports made official their driver lineup for the coming 2022 NASCAR season. Their trio of drivers across both Cup and Trucks include three winners from this past season. While Daytona 500 Champion Michael McDowell remains in the 34, he will have some new teammates. Joining McDowell in Cup will be rookie Todd Gilliland in the No. 38 Mustang. Also going to the Truck vacated by Gilliland will be championship runner-up Zane Smith.
2021 was by all measures a great season for Front Row. McDowell kicked off the year in the best way possible by winning the Daytona 500, earning a Playoff spot and eventually finishing 16th in points with five top-10s. The 38, piloted by rookie Anthony Alfredo, also had a decent season with five top-20s, highlighted by finishing 10th at Talladega in the fall.
On the Truck side, Gilliland won at COTA, and would finish the year seventh in points with 16 top-10s. By all accounts, it was Gilliland's best season yet in NASCAR competition. Now, the third-generation driver will pilot the Cup car once belonging to his father, David Gilliland. At 21-years-old, Todd joins a Rookie of the Year class that already includes fellow Ford drivers Austin Cindric and Harrison Burton. After Alfredo last year and John Hunter Nemechek in 2020, Gilliland marks the third-straight rookie to drive the 38 Mustang.
Gilliland Gets Promoted to Cup
"I feel like I've found a home at FRM," said Gilliland. "I've been around the team when I was growing up and watching my dad race. I joined the Truck team here and it has been a good place for my career. Now I can't wait to step up into the NASCAR Cup Series. I know the challenges ahead, but I'm planning to be here and help grow with this team for a long time."
While Gilliland is skipping the Xfinity Series entirely in his driver development path, this move does make sense. The Next Gen car is a level playing field for all drivers and teams in 2022, so why not join Cup when nobody has an upper hand on the all-new car? Gilliland's crew chief will be Seth Barbour.
Zane Smith Back for More in Trucks
Zane Smith also returns to the Truck Series, after back-to-back years of finishing second in points. While Smith only had the lone victory at Martinsville in October, he was in position to take the 2021 title until Ben Rhodes nudged him out of the way late at Phoenix. Over the past two seasons in Trucks, Smith has three wins, 27 top-10s, and a 13.1 average finish. In the 38 truck that made the Playoffs in 2021, expect Smith to only contend for more wins and another Championship 4 appearance.
"I competed against Front Row for wins this past season and I know how competitive the team is," said Smith, the 2021 Most Popular Driver in the NASCAR Camping World Series. "Bob Jenkins has given me a wonderful opportunity to race for the Truck Series championship again. More importantly, there is an opportunity to grow with them in the future."
2022 will be the 22-year-old's first campaign in a Ford however. Chris Lawson will crew chief Smith's season in the 38. After struggling for much of 2021, Smith will certainly return to the Truck Series hungry and determined to win early and often.
FRM will announce their team partners ahead of the 2022 Daytona 500 and throughout next season. 2022 will surely be an interesting year to see how FRM adapts to the Next Gen car and also to see how well Zane Smith fares in the Truck Series again.
Written by Peter Stratta
Be sure to follow us on Twitter.
Be sure to follow the writer on Twitter.
Photo credit to Jared C. Tilton/Getty Images for NASCAR