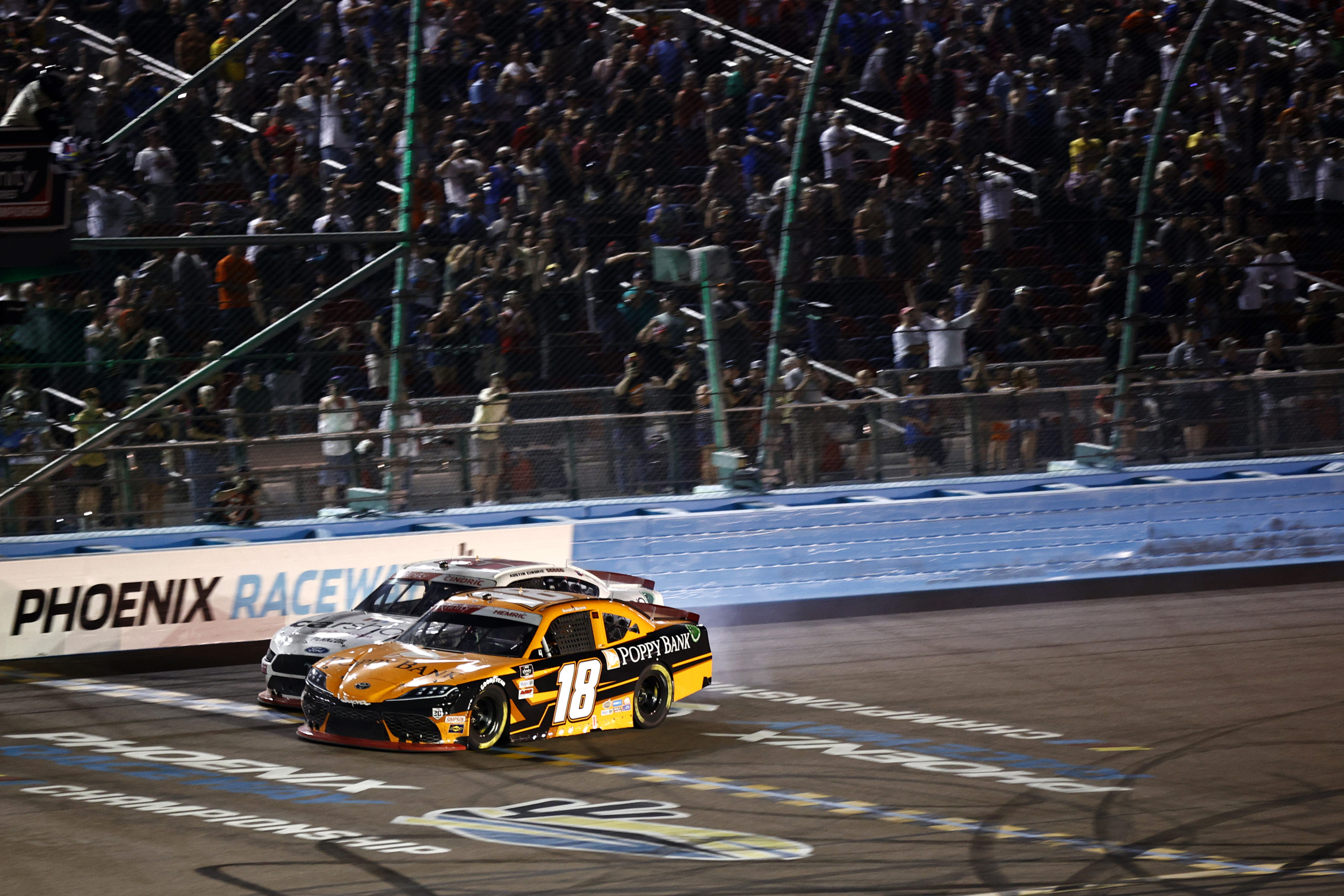 Which Names Were Made In Xfinity for 2021 as First-Time Winners?
In the second-tier NASCAR National Series, 2021 was quite the eclectic year for first-time winners. Xfinity brands this series as 'Names are Made Here,' and plenty of new drivers ended up in victory lane for 2021. In total, six drivers claimed career win number one over the past season. This group of drivers includes young phenoms, experienced veterans, and also the eventual champion in clutch fashion at Phoenix. Let's take a look back at each new Xfinity Series winner from the 2021 season.
Ty Gibbs
Little did anyone know, but the Daytona Road Course in February was the start of a truly unprecedented season. In his Xfinity debut, 18-year-old Ty Gibbs won and cemented his place as a future superstar. Gibbs became the sixth driver to win in their Xfinity Series debut, and also one of the youngest victors ever. In a part-time campaign, Gibbs would win three more races: Charlotte in May, Watkins Glen, and also the Kansas Playoff race. Through 18 starts in 2021, Gibbs would collect four wins, 10 top-10s, a 10.0 average finish, and also finish 13th in points.
After taking the ARCA championship in 2021, Gibbs will race full-time in Xfinity for 2022. Expect him to be fast week in and week out, and be a preseason championship favorite. Gibbs' National Series debut turned a lot of heads, his first full season in Xfinity could continue to surpass all expectations. Gibbs is potentially the next big generational talent in NASCAR, he could upset many with a 2022 Xfinity Series championship.
Myatt Snider
In his first full-season at Richard Childress Racing, Myatt Snider won early at Homestead. Snider's eventual victory came at the expense of Noah Gragson, who was wrecked out of the lead late by David Starr. After that, Snider held off a hard-charging Tyler Reddick on a few overtime restarts to claim this victory. This win propelled the Charlotte native to his first Playoff appearance. Snider would close out 2021 ninth in the standings, with 11 top-10s and an average finish of 17th.
For 2022, Snider will transition over to the No. 31 Chevrolet at Jordan Anderson Racing. After seeing a multitude of drivers in this seat for 2021, JAR has locked down a full-time competitor and hopes to contend for wins and a Playoff berth.
Josh Berry
In perhaps one of NASCAR's most popular moments of 2021, Josh Berry earned his first Xfinity win at Martinsville. The late model stock car star outdueled Ty Gibbs to take home the grandfather clock. Across 22 starts total in 2021, Berry would pick up another victory at Las Vegas in the Playoffs, as well as 12 top-10s. That win came while Berry was substituting for the injured Michael Annett.
Berry's season-long results would be good enough to land him in a full-time role at JR Motorsports for 2022. Berry could very easily be an Xfinity title contender in his first full season, especially on short tracks throughout 2022.
Jeb Burton
At Talladega in April, it was Jeb Burton doing a rain dance in victory lane as the race was called after just 90 laps. Burton's triumph marked the third-straight Alabama victory for Kaulig Racing, and put the Virginia native through to his first Playoffs. Aside from Talladega, Burton's 2021 saw 16 top-10s, a 13.6 average finish, and a 10th-place championship result.
Burton left the 10 team after this season, and his new plans are yet-to-be-announced. He has teased a return to Xfinity competition however. Should he remain in this division, Burton will always be a favorite on superspeedways and short tracks alike.
Brandon Brown
Once again, Talladega provided another first-time Xfinity winner. In October that honor would go to underdog Brandon Brown. The family-owned 68 team would be out front when darkness shortened the Playoff event. This led to one of the biggest Xfinity Series upset wins in recent time. The relative unknown took down all 12 Playoff contenders on the biggest stage. Talladega marked one of Brown's nine top-10s throughout 2021, as this was by far the biggest moment of his racing life.
Brown will return to the Xfinity Series with the Brandonbilt Motorsports 68 team. After making the postseason in 2020 and winning in 2021, the expectations are much different now for this driver and team.
Daniel Hemric
History was truly made in the Xfinity Series finale at Phoenix. Daniel Hemric secured his first-ever NASCAR victory in the final corner and also took home the championship. Hemric just edged out Austin Cindric to the line by five feet or so, taking victory number one in his 120th start. Hemric is the first driver in Xfinity Series history to earn a championship with a first career win. The Joe Gibbs Racing No. 18 was incredibly consistent all year long with 21 top-10s, but was seemingly snakebitten in closing out a full race. That all changed with a last lap bump and run on the Penske 22 car that silenced all Hemric doubters and earned him a championship.
Despite taking JGR to the championship stage, Hemric will move on to the No. 11 at Kaulig for 2022. With the monkey off his back for winning a race, Hemric could take Xfinity by storm next season. Much like Tyler Reddick a few years ago, it is not inconceivable to see Hemric win a championship for two separate teams.
2021 seemed to have a multitude of stories and drama every week for the Xfinity Series. 14 different drivers won, including the six above earning their first career victory. Do not expect 2022 to be lacking at all in this same level of intensity, unpredictability, and parity, as the number of quality Xfinity teams is only rising.
Written by Peter Stratta
Be sure to follow us on Twitter
Be sure to follow the writer on Twitter
Photo by Jared C. Tilton/Getty Images for NASCAR