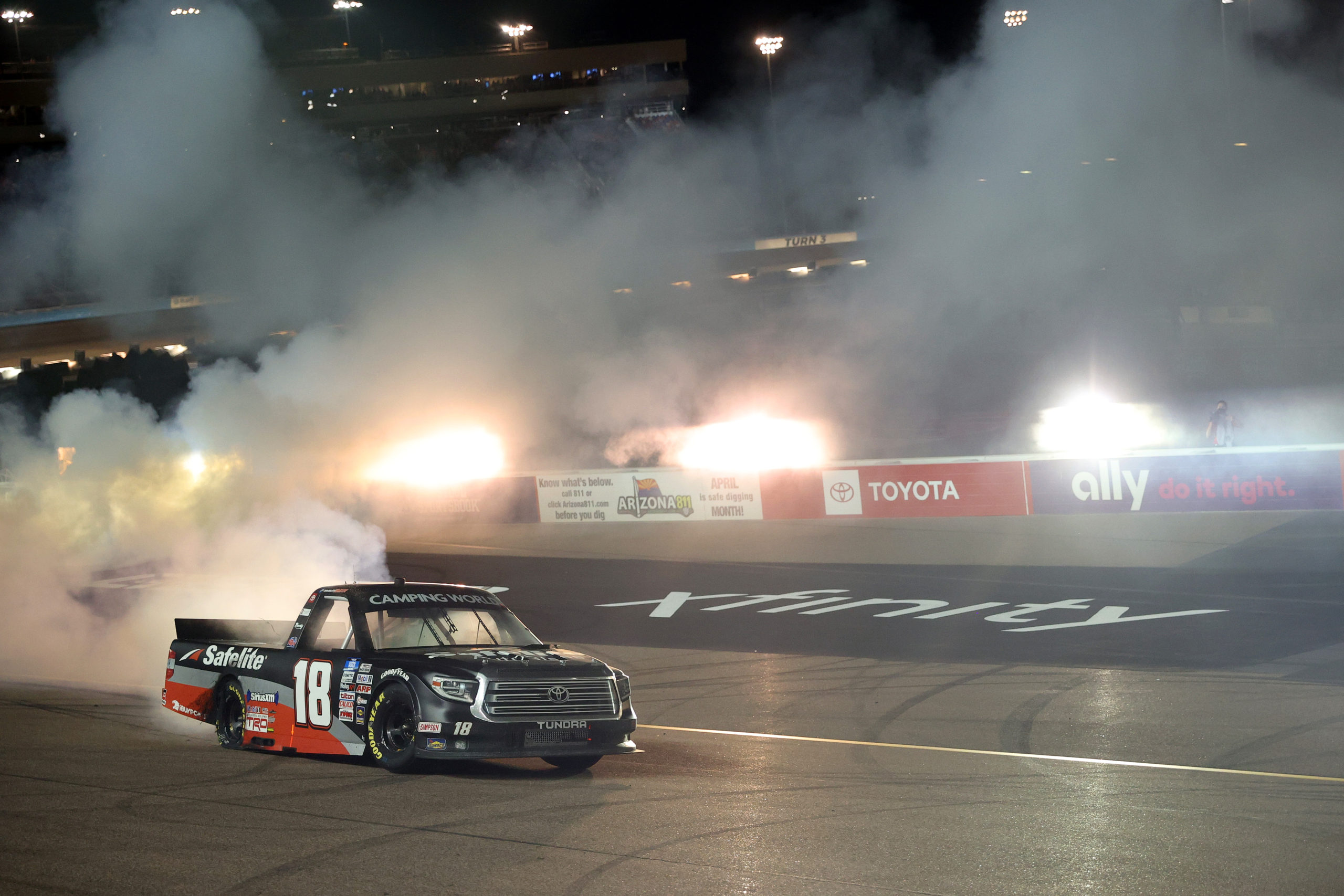 Who Were the First-Time Winners in the 2021 Camping World Truck Series?
Across 22 Truck Series races in the 2021 season, five drivers earned their maiden victory. Amazingly, three of these five first-time winners came consecutively in the Playoffs. Who are these five drivers, and how likely are they to get another checkered flag? Let's take a look back at who earned their first career Truck Series win in 2021.
Martin Truex, Jr.
In his first foray into the Truck Series in 15 years, Martin Truex, Jr. put on a clinic. The former Cup Series champion hopped behind the wheel of the Kyle Busch Motorsports No. 51 Toyota at the Bristol Dirt race in March. MTJ would start 15th but did not waste any time moving forward, as he led 105 of 150 laps. With this victory, Truex became the 36th driver to earn a win in all three National Series. Truex was one of a number of Cup drivers dropping down to the Trucks for extra seat time around Bristol Dirt. In the Cup race later that day, Truex would finish 19th. Don't necessarily expect to see Truex back in the Truck Series, unless he wishes to defend his Bristol Dirt win.
Ryan Preece
In NASCAR's return to Nashville, Ryan Preece went 1-for-1 in the Trucks, winning his series debut race. Piloting the No. 17 for David Gilliland Racing, Preece found himself on point after getting around Grant Enfinger late, holding on to claim the guitar trophy. Currently still on the free agent market, Preece could end up back in the Truck Series on a full-time basis. The Connecticut driver impressed in his maiden voyage in the Trucks, and would likely be a strong title contender given a full season opportunity. Preece is one of a few Cup drivers still searching for a new ride. Stay tuned for any news regarding the past Modified champion.
Chandler Smith
After making the Playoffs without a win, Chandler Smith changed that at Bristol. Smith got by teammate John Hunter Nemechek in the closing laps to secure career victory number one, and also move onto the Round of 8. Smith's first full-time campaign in the Trucks also ended with another victory in the Phoenix season finale. Both victories were enough for the Georgia native to lock up Rookie of the Year honors. Should he return to the 18 at KBM, expect Smith to be a strong title threat for 2022.
Christian Eckes
Only running a partial schedule this past season, Christian Eckes earned his first win at Las Vegas in September. That night, Eckes was part of a ThorSport Racing 1-2-3-4 sweep, the first of its kind in Truck Series history. Finishing just behind Eckes would be eventual champion Ben Rhodes, as Vegas marked his best Playoff finish. Eckes found the lead after getting around Todd Gilliland on a late restart and held on for the victory. While Eckes' 2022 plans are TBD, expect him to be a stout competitor wherever he lands.
Tate Fogleman
In perhaps NASCAR's biggest upset moment of 2021, Tate Fogleman stole the Talladega Playoff race. For the second time in three years, this fall wildcard event ended with a Young's Motorsports truck in victory lane. Many were introduced to Fogleman by this triumph, the 21-year-old standout late model racer from North Carolina. An as-expected chaotic event for the Trucks came down to an overtime finish, where Fogleman made contact coming to the checkers with John Hunter Nemechek. This sent the 4 truck spinning and ended with the 12 just edging out Tyler Hill at the line. Talladega marked the third-straight first-time winner in the Trucks, an unprecedented feat in the Playoffs. Youngs Motorsports has proven to be a very below-the-radar team on superspeedways, keep an eye on this team and Fogleman come Daytona in February.
2021 was full of plenty of surprise moments across the Camping World Truck Series. In total, 12 different drivers made it to victory lane this season, with five of them being first-time winners. There is no better chance for another first-time victor than the season opener at Daytona, which grows ever-so-closer as 2022 will be here before we know it.
Written by Peter Stratta
Be sure to follow us on Twitter
Be sure to follow the writer on Twitter
Photo by Christian Petersen/Getty Images for NASCAR