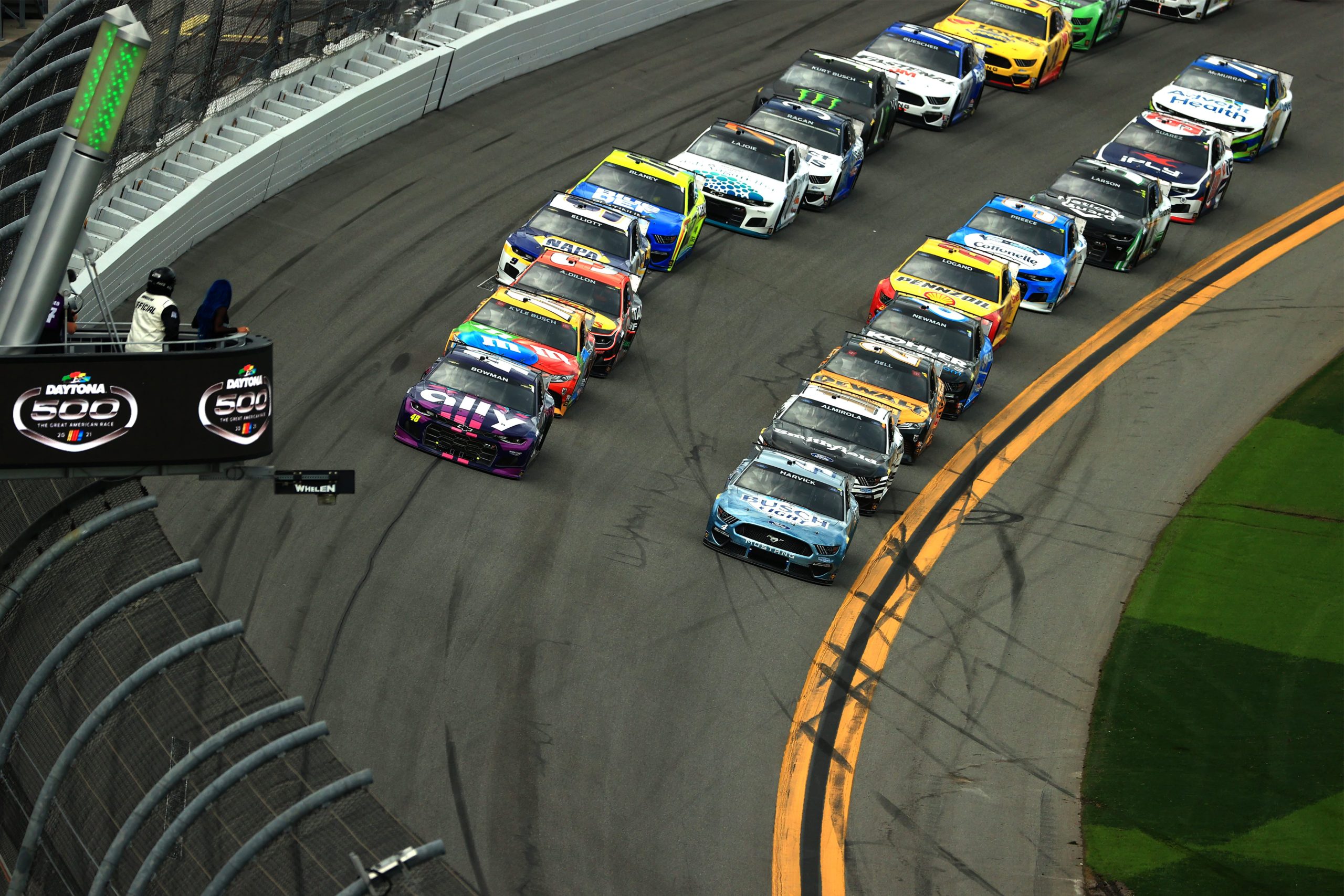 Looking at Each Free Agent Driver, New Faces at New Places after Silly Season 2021
While the racing season may be over, silly season truly is in full swing ahead of 2022. Many elite-level drivers and teams will see new combinations for the coming year to kick off NASCAR's Next Gen era. Some drivers changing teams include past champions, multi-time race winners, and also a few Rookie of the Year contenders. A few new teams will also populate the Cup Series grid in 2022, thus only further complicating silly season. A few free agents also remain on the open market. Let's take a look at some of the biggest moves from silly season.
Brad Keselowski
Perhaps the most significant move of NASCAR silly season is Brad Keselowski vacating the 2 car. After a 12-year run at Team Penske, Keselowski will move on to the newly-branded Roush Fenway Keselowski Racing (RFK) as a driver/owner. The 2012 champion will pilot the No. 6 Mustang vacated by Ryan Newman, only adding to this number's storied legacy. Keselowski will be a minority owner of the Roush operation, and is beyond excited to kick off 2022 in his new role.
A New Look for the 6
"It's been a work of love from a lot of different people to bring all of this together," Keselowski said. "Steve [Newmark – President] brings up the passion and the passion has really peaked out. All of us are super excited about what we have going on here, but with that we want to first acknowledge where we've been. The 6 car has been in this sport now for almost 30 years or just past 30 years with Jack Roush and I think you see this car. It plays some homage to the 6 logo. It's inspired by the original 6, which means a lot to me with Mark Martin and what he's done to get this company started as a driver."
"But that passion that started this team is the DNA that will live on to me forever and that we aim to have, so it's with that DNA that we're reinvigorating and trying to find that next step and making the commitment to the future because we believe and I believe in the future of NASCAR, and so there's a heavy emphasis on where we're going."
Keselowski Anxiously Awaits Start of Season
"I think getting on the racetrack and actually competing will be a whole different experience. There's the off the track stuff, which is sinking in and we made this announcement that we were gonna work together here and create this partnership, I guess, four or five months ago now and that's given me a little bit of a runway, so to speak, to work through that.
"But getting on the racetrack will be a whole other piece, especially whether it's the Clash or the Daytona 500, standing on the grid before the race. That's gonna be a whole other level for sure, but my excitement level is very high and the pieces that we're doing I feel really good about. We've got a lot of pieces moving and we're kind of playing our cards one at a time here intentionally so that we don't kind of bury all the good things we have happening. But there are a lot of great pieces moving and I have a lot of confidence that although there are some people that question the things we're gonna be able to do, I have a lot of confidence that we're gonna do some great things and we're not gonna skip a beat with respect to performance on the track."
While the reorganized Roush operation is a step down from Penske, Keselowski could still contend for multiple wins in 2022. Roush has been especially stout on superspeedways in recent years, as has Keselowski. Aside from those four races, a strengthened RFK Racing could make noise in the Playoffs once again.
Kurt Busch
Another veteran making a big silly season move is 2004 champion Kurt Busch. After the sale of Chip Ganassi Racing, Busch will go to the expansion team at 23XI Racing, piloting the No. 45 Toyota. Busch has the opportunity to race in the Cup Series with Toyota for the first time, as he has taken three other manufacturers to victory lane.
With the decades of experience Busch brings to this sophomore team, expect a step up in performance from Bubba Wallace as well. This team recently announced the purchase of StarCom Racing's old charter, so they certainly are ready to contend for race wins. Busch has won a race in all but three of his full-time seasons, that streak could extend with 23XI and the 45 team.
Matt DiBenedetto
After two seasons behind the wheel of the famed Wood Brothers No. 21 Ford, Matt DiBenedetto currently tops the free agent market. In two year's span in the 21, DiBenedetto made the Playoffs once (2020) and also earned 20 top-10s. DiBenedetto's brightest moment of 2021 was at Talladega in April, as he had the lead at the white flag only to fade to fifth. After some controversial comments in recent weeks however, DiBenedetto's stock as a brand ambassador has taken a hit.
Regardless of any off-track drama, DiBenedetto is still a very talented racer who can contend for wins in solid equipment. While the list of opportunities in the Cup Series are dwindling, the California native could still land a great ride in Xfinity or Trucks. Stay tuned for any updates regarding Matt DiBenedetto's future, as he is a fan-favorite driver.
Ross Chastain
After one season in the Chip Ganassi Racing 42, Ross Chastain will move on to the No. 1 at Trackhouse Racing. In his first season in an adequate Cup car, Chastain certainly had some bright moments. Chastain finished 2021 at 20th in points, with eight top-10s and an 18.6 average finish. Chastain's best showing of 2021 was a runner-up at Nashville. With Trackhouse buying Ganassi's NASCAR operation, Chastain is moving to a new team, but remaining in the same building. He will also be gaining a new teammate in Daniel Suarez.
"Looking at where they're at, the step next year to come into what we've built at CGR is the future," Chastain said. "The future is taking the foundation that is Chip Ganassi Racing and seeing where we can go. They've learned stuff, and we have a wealth of knowledge inside our shop and we're staying in there. I know Justin [Marks] and Ty [Norris] see that, the value there, and we'll grow with what they have as Trackhouse. This year though, Trackhouse is very small, and we're going to grow into a two car powerhouse Chevrolet team."
Chastain and Suarez's Budding Friendship
Chastain also talked about his previous relationship with Suarez and how that's changed in the weeks since their teammate announcement. "I didn't even have his number. We weren't super close, just buddies around the track. We didn't hang out off-track by any means. Now we do have each other's number, and we're going to go get fitted up for some custom suits coming up soon with Justin. That's going to be our first bit of team bonding. We're going to grow into Trackhouse together. Daniel and I are very similar despite our heritage differences. We're both at similar career points where it all could have been over several times. Now that we've both got this great opportunity, it could be the best one yet."
Only expect the Florida native to have more breakout runs in the coming season, as all of Trackhouse is geared up for bigger and better results in their future.
Austin Cindric
Perhaps the early favorite for Rookie of the Year, Austin Cindric will replace Brad Keselowski in the flagship Penske car. The new driver of the 2 comes off of two exemplary years in the Xfinity Series. Cindric won the 2020 title and finished a close second to Daniel Hemric this past year. In a limited 2021 Cup schedule, Cindric turned many heads with standout runs at many road courses. Cindric may be the most highly-touted Cup Series rookie in several years, as it would not be out of the question to see the 2 win next year.
Harrison Burton
Another Xfinity graduate to Cup, Harrison Burton will be the new driver at Wood Brothers Racing. Though Burton was winless this past season in Xfinity, he did have 22 top-10s and finish eighth in points. After winning four times in 2020, 2021 was a bit of a letdown year for Burton. Now at the age of 21 though, Burton will take on his rookie season in the Cup Series. The Virginia driver is paired with racing's oldest team, also hailing from the Old Dominion State. Burton's progression as a Cup driver will be an interesting story to follow all season long.
Ryan Preece
Free agency is still a big question for Ryan Preece, as JTG Daugherty Racing downsizes to just one car for 2022. Preece's 2021 Cup campaign had few high points with four top-10s. However, he did go 1-for-1 in his Truck Series debut at Nashville, taking that victory for DGR. Similar to John Hunter Nemechek's step back to Trucks, could Preece drop down and dominate? Currently his 2022 NASCAR plans are unknown, but he is a very talented racer who would contend in either Xfinity or Trucks.
Ryan Newman
After three years in the 6 at Roush-Fenway, Ryan Newman's future is also at a crossroads with Keselowski coming in. After 20 years of Cup Series competition, Newman also leads the current free agency talent pool. The 18-time Cup winner had five top-10s and an average finish of 22.5 across 2021. If Newman is to go to a new team, he will bring with him a nearly-unmatched resume and wealth of knowledge. If Phoenix was the final curtain on Ryan Newman's NASCAR career, he will be remembered as one of the best of his era.
Ty Dillon
Following a 2021 season largely spent on the sidelines, Ty Dillon returns to the Cup Series, now with a new team at GMS Racing. Driving for multiple teams, the younger Dillon only made 16 starts across all three series in 2021, picking up three Xfinity top-10s. Despite the off year, Dillon does have over four years of Cup experience. In an all new situation for GMS Racing, this team is ready to hit the ground running in February.
Justin Haley
Kaulig Racing is now going Cup racing on a full-time basis, with Justin Haley tabbed to drive the No. 16 Chevrolet. While Haley has competed the past few years for the Xfinity championship, he also ran 31 of 36 Cup races in 2021. With this experience, Haley has high expectations for his first full-time Cup campaign. Kaulig stunned many at Indianapolis in 2021, do not be surprised if Haley has a few breakout runs in 2022.
Many question marks still remain at all levels of NASCAR ahead of the 2022 season. Newman, DiBenedetto, Preece, and other talent are currently searching for the next opportunity. In year one of the Next Gen era, many new faces will be in new places for the 64th Annual Daytona 500. That first points race grows ever-so-closer, stay tuned for any other silly season news and updates.
Written by Peter Stratta
Be sure to follow us on Twitter
Be sure to follow the writer on Twitter
Photo by Mike Ehrmann/Getty Images for NASCAR