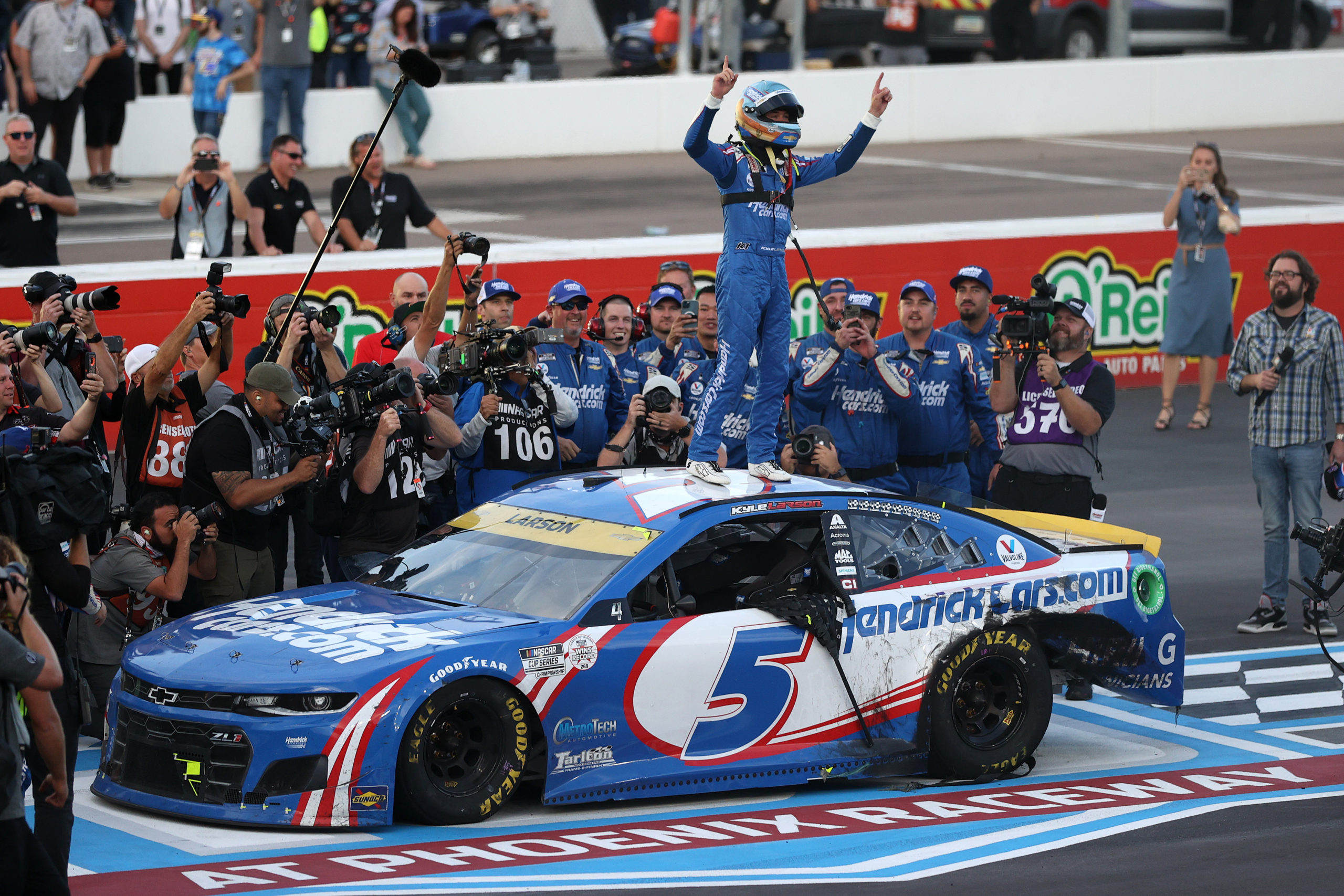 Kyle Larson Takes First Cup Series Title, Earns 10th Victory of 2021 at Phoenix
AVONDALE, Ariz. – One of the most dominant seasons in NASCAR history ended in spectacular fashion. Kyle Larson earned victory number 10 of 2021 at Phoenix Raceway, securing his first Cup Series Championship in his maiden Championship 4 appearance. Larson's 5 team had to battle adversity all race long to end on the championship stage though. At the end of the day however, this is championship number 14 for Hendrick Motorsports.
After starting the worst of the Championship 4 in 12th, it was Martin Truex, Jr. winning Stage 1. Larson pitted from the lead under an early caution, but would rally to finish this opening run in fifth.
Chase Elliott, Truex, and Larson all took turns leading throughout Stage 2. At the green and white checkers however, it was the 5 ahead of the 9. During this run, tight racing between the 5 and 9 resulted in slight damage to Larson's right quarter panel. Despite the contact, Larson was still lights-out.
Cautions Change Everything Late
The opening run of the final Stage saw Denny Hamlin slowly begin to reel in the top Hendrick duo. Nevertheless, a caution in the midst of pit stops would shake up the running order. Right as Truex pitted from fourth with 66 to go, Anthony Alfredo pounded the wall. Truex was able to cycle out to the lead, with Hamlin right behind him. The two Toyotas would stay ahead of the Chevrolets until a late debris caution.
Under this final caution, Kyle Larson regained the top spot with a blistering-fast pit stop. Once the race restarted, Larson held off all challenges to stay out front and take his 10th checkered flag of 2021. At the ripe age of 29, the Elk Grove, California native became the 35th different NASCAR Cup Series Champion.
Martin Truex, Jr. would finish a close second to Larson, while Hamlin was third and Elliott faded late to fifth.
Larson's Winning Reaction
"To win a championship is crazy," Larson said. "I just got to say first off, thank you so much to Rick Hendrick, HendrickCars.com, Jeff Gordon, NASCAR, every single one of my supporters in the stands, watching at home, my family. I got so many of my friends and family here, my parents, my sister, my wife and kids."
"There were so many points at this race where I did not think that we were going to win. Without my pit crew on that last stop, we would not be standing right here. They are the true winners of this race, they're the true champions, I'm just blessed to be a part of this group. Every single man and woman at Hendrick Motorsports, this win is for all of us. This is unbelievable. I'm speechless."
The biggest win of Kyle Larson's storied and eclectic racing career fulfills his NASCAR return. Last year, Larson was still suspended for the iRacing racial slur incident and out of NASCAR entirely. A year later Larson has taken the Cup Series by fire, putting together one of the most perfect seasons in the modern era.
Cliff Daniels is also champion in only his second season atop a Cup Series pit box. Daniels ended 2020 on a strong note with Jimmie Johnson at Phoenix, finishing fifth. Now, the sophomore crew chief has achieved the sport's ultimate prize, the Bill France Cup.
Larson Stamps His Name in Racing Lore
Kyle Larson's 2021 stat line is 10 wins, 20 top-fives, 26 top-10s, an average finish of 9.1, and 2,581 laps led. Five of Larson's 10 wins also came in the Playoffs, tied for most in the postseason era. This season is one for the record books, as it truly is one of the strongest year-long efforts in NASCAR history.
How will Larson fare as defending Cup Series Champion for 2022? With the NextGen car coming, the drawing board truly is reset for all dominant drivers and teams. While the offseason is now upon us, the Busch Light Clash at the Coliseum will be here before we know it. Stay tuned to TSJSports throughout the coming weeks for all breaking NASCAR news and stories.
Written by Peter Stratta
Be sure to follow us on Twitter
Be sure to follow the writer on Twitter
Photo by Christian Petersen/Getty Images for NASCAR