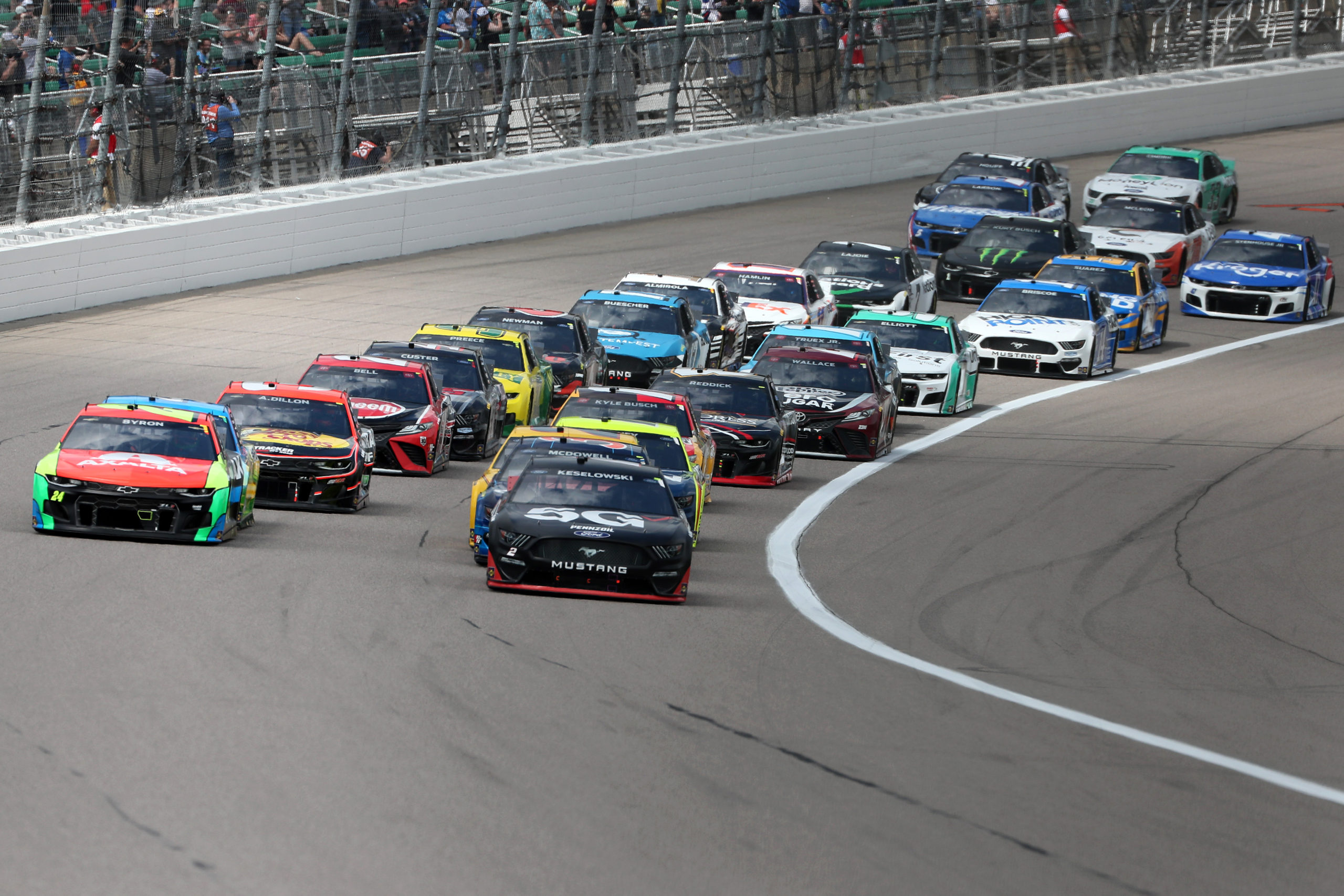 Who Can Clinch Championship 4 Spot at Kansas Speedway?
KANSAS CITY, Kan. – After Kyle Larson's lights-out performance at Texas, three spots remain in the Championship 4. With the NASCAR Cup Series heading to Kansas, who can solidify a Phoenix berth in the heartland? Kansas in the spring was dominated by Larson's 5 car, but Kyle Busch swept in late to take the victory. With past Kansas winners on both ends of the Playoff standings, the odds for an upset are high this weekend.
Kyle Larson
While Kansas ultimately means very little for Kyle Larson, the 5 may just be the team to beat yet again. After winning the last two races, Larson is going for a third-consecutive Playoff victory. In May at Kansas, driver 5 led 132 laps before a bad restart relegated him to finish 19th. After Texas was "the best intermediate car we've had all year," expect the 5 to be the class of the field again at another 1.5-mile track.
"My mind is on Kansas," Larson said. "I want to go there and win. I have led a lot of laps there and come close to a couple of different wins. I want to go there and lead a bunch of laps and try and get another win and then look forward to Martinsville. I don't want to change up what we have been doing; still take it week by week and do a great job every weekend and carry some momentum into Phoenix. I think it would be bad if we went to Kansas and Martinsville and had a couple of DNFs because we are 'relaxed.' Hopefully we can go through these next couple of weeks, have a few good runs and head into Phoenix with some good momentum."
For the second time this year, the 5 team is going for three-straight victories. As the Texas winner, Kyle Larson will start from the pole in Kansas. Starting with prime track position, Larson will be tough to topple for his seven Playoff competitors.
Denny Hamlin
Aside from Larson, Denny Hamlin may just be the favorite heading into Kansas, as a three-time winner at this track. Hamlin's most recent heartland wins came in 2019 and 2020, with the Playoff victory coming two seasons ago. Hamlin is very hit-or-miss at Kansas though, as the 11 has finished 15th and 12th in the two most recent races here. In spite of this, Hamlin heads into this weekend confident for a third win on the season.
"It was a crazy day," Hamlin said of Texas. "The way these cars race where we are packed up for a couple of laps, you just never know. It's going to be the same way at Kansas. Hopefully, we bring a fast piece there, and we can go there and compete for a win."
"We found a set-up that really works well there for me. I'm not really sure what has clicked, but the last four races have been really good for us. I really like that racetrack. It's smooth, it's wide, you can really work the lanes when you need to. It's a fun racetrack and one that we've got circled that we could possibly win and punch our ticket."
Hamlin will roll off sixth Sunday, going for a series-best fourth Kansas win. While Kansas is not a must-win for the 11 team, they must not run into troubles like at Texas. Aside from the 5, the 11 may just be the heaviest favorite heading into the heartland.
Kyle Busch
While Kansas used to be his kryptonite, Kyle Busch is the most recent winner here. In May, the 18 led 20 laps en route to his first victory of 2021. Now in the Playoffs, how does Busch feel about returning to the site of a recent win?
"Even the last few times before we won there for the first time in 2016, we had some really strong runs there," Busch said of Kansas. "We finished in the top-10 a lot there over the last 12 or 13 races. We seem to have gotten a setup or a hold of this place, I'd say. Hopefully we don't screw that up this time around and we can continue our strong runs and our fast pace of being able to have a shot to win. Looking forward to getting back in our M&M'S Halloween scheme and getting them a win in a car that always looks great every year."
Was Texas a Sign of Things to Come for Kansas?
"Being able to be fast with the 550 (horsepower) package for the most part this year, Texas was tough, for sure. We obviously won earlier this year at Kansas and really look forward to going back again this weekend. It's been a good place for us more recently. Excited to have the opportunity to go back there and run up front all day and mind our P's and Q's and get some points. Scoring a win would be even bigger, but ultimately having another solid day to keep our point total up will be important, as well."
"[Kansas will be] a little bit similar since it's the 550 package, but it's not going to be as one groove-ish fighting for the first lane of that (traction) spray, like it was at Texas. You are going to be able to widen out and race all over the track, so hopefully that should be a little better and we can stay up front and have a shot there."
Kyle Busch's No. 18 Toyota will take Sunday's green flag from fourth. With only an eight-point cushion above the cut line, Busch must perform well at Kansas. As the Kansas spring winner, Busch is hoping for a season sweep on the intermediate track.
Chase Elliott
Currently fifth in points, Chase Elliott is one of the most consistent drivers at Kansas. Only twice since 2017 has Elliott finished outside of the top 10 here; this span also includes the 2018 Playoff victory. The 9 car was fifth in the spring at Kansas. Now in need of a strong run to break into the Championship 4, what's Elliott's level of concern for Sunday?
"We've been hit or miss at Kansas, really," Elliott said. "I've had some good runs and even some of those good finishes we haven't been as solid as I feel like we want to be, but it's a place where I know we can go and have success at. I feel like it's a place where we have a decent notebook, so to speak, to build off of and make ourselves better.
"The great thing is we're able to be in this Round of 8. Another thing about that is a win anywhere in this round is an opportunity to race for a championship. Obviously, we want to win – that would be the best way to lock ourselves in. Last year was certainly that way and kind of how it all played out. I would love to do that this weekend at Kansas and be able to go ahead and lock into Phoenix and set our eyes on that one. We're going to fight through it either way and see where we end up."
Elliott's Napa 9 Chevrolet will start Sunday's 400-mile event from fifth. At fifth in points, Elliott must be up front in both Stages Sunday and finish there too in order to break into the top four in points.
Martin Truex, Jr.
Perhaps the only driver more consistent at Kansas than Elliott is Martin Truex, Jr. After a 2017 season-sweep at Kansas, MTJ has only finished worse than ninth here once. Truex will need much more than a top 10 to be satisfied Sunday though, as he is seventh in points after the late crash in Texas. Knowing he likely must win either Kansas or Martinsville, Truex enters Kansas feeling hopeful of taking the victory.
Truex In Need of a Strong Rebound Run
"It's obviously not the position you want to be in, but we're not out of it," Truex said. "We have two shots to win at tracks we've had success in the past. There's an outside chance of making it on points, but you can't count on that with how strong the teams we are racing are. At the end of the day, I'm not going to give up and our team isn't going to give up, so we're going to do all that we can these next two weeks and see what happens."
At seventh in points, Truex will also start seventh in Kansas. Already in a must-win scenario after his Texas crash, the mission Sunday for MTJ is simple, get the checkered flag. While Truex has been inconsistent all season long, Kansas is a strong track for him. The 19 could upset the Championship 4 with a victory on Sunday.
Can one of the above drivers find the right path down the yellow brick road for the Playoff win? One driver's championship hopes could rest entirely on a Kansas triumph. Coverage of the Hollywood Casino 400 will be Sunday at 3:00 p.m. ET on NBCSN, MRN, and SiriusXM NASCAR Radio Channel 90. Which of the seven remaining Playoff drivers can capitalize to join Larson as a lock for the Championship 4 on Sunday? Out of the seven drivers, six of them have seen past victories at Kansas.
Written by Peter Stratta
Be sure to follow us on Twitter
Be sure to follow the writer on Twitter
Photo by James Gilbert/Getty Images for NASCAR