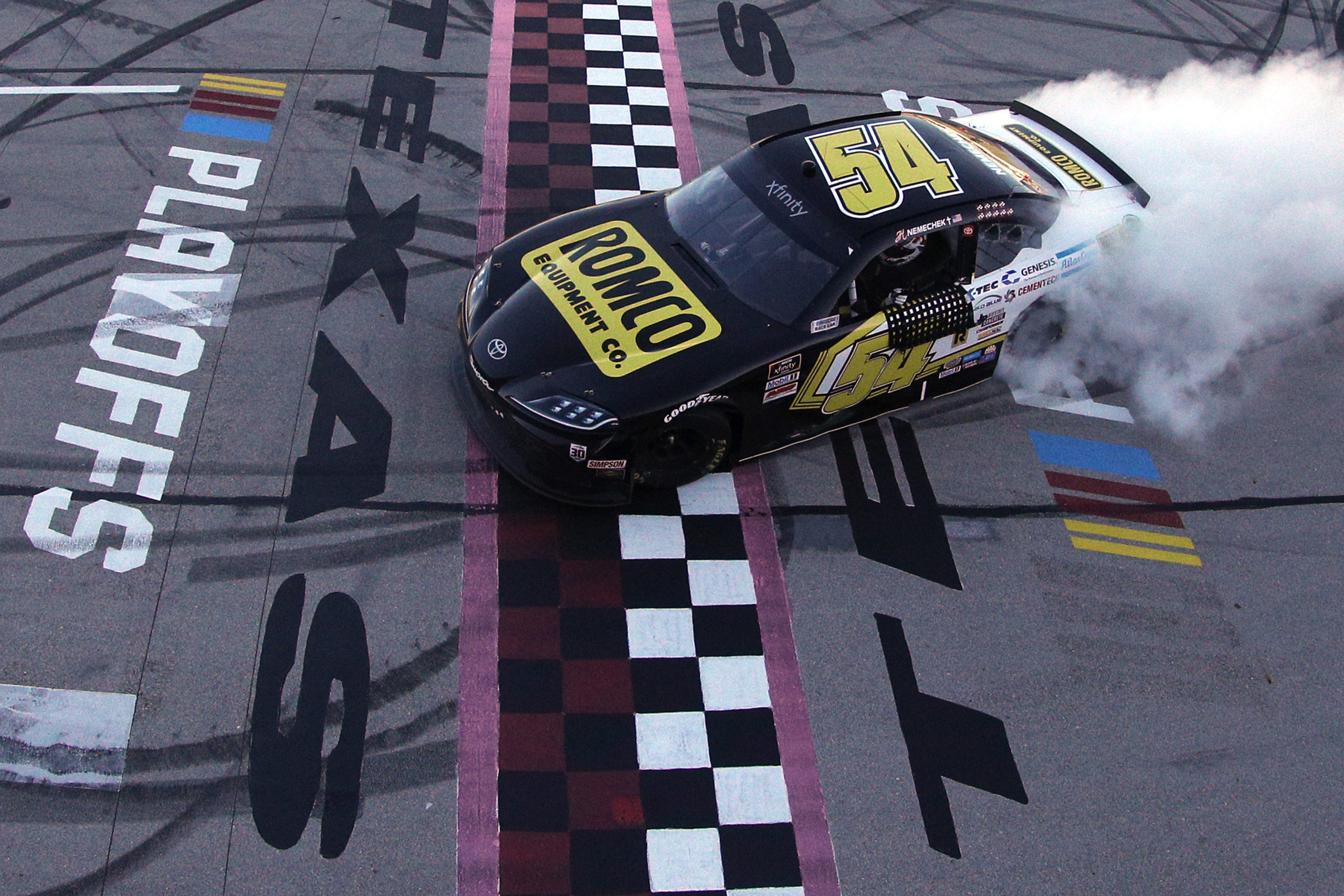 John Hunter Nemechek Battles Back for Xfinity Texas Win, Upsetting Playoffs
FORT WORTH, Texas – While Texas marked the opening race of the Xfinity Series Round of 8, it was a non-contender who stole the show. John Hunter Nemechek led a race-high 92 laps in his second start in Joe Gibbs Racing's No. 54 Toyota. Even after a late pit road penalty, Nemechek rallied to get around Daniel Hemric in the closing laps. This marks the second career Xfinity Series victory for the Truck Series standout.
After starting 10th, it took Nemechek 72 laps to find the lead. Although he was in position to score points in Stage 1, Nemechek short-pitted the opening stint. While Stage 1 went to Austin Cindric, Nemechek would take a dominant Stage 2 win.
Late Setback for 54
The 54 appeared to be on cruise control to a seemingly-easy victory in Texas, until a caution with 59 to go. On pit road, a tire changer on the 54 went over the wall too early, sending Nemechek to the tail for the final 50 laps. This handed the lead to Daniel Hemric, who was trying to win his way into the Championship 4.
Hemric took off on the restart, only for a spinning Brandon Brown to trigger another caution. In a span of about 20 laps, Nemechek had rallied from deep in the field to run seventh. On pit road, Nemechek leapfrogged all competition with a two-tire stop. Although he would come out first, Nemechek restarted second to Harrison Burton, who stayed out on older tires.
After a few laps of trading the lead, Nemechek pulled away for good with 18 laps left. Hemric would only recover to finish runner-up, a distant one second away from his first NASCAR victory. For the third time in four Xfinity races, a non-Playoff driver pulled into victory lane, so nobody locked up a Championship 4 spot in Texas.
Nemechek's Winning Reaction
"Stevie Reeves (Spotter) and Chris Gayle (Crew Chief) kept me calm," Nemechek said of his late pit road penalty. "I think this year, I've grown a lot as a driver. I've been put in positions like that in the Truck Series as well. Man, I can't say enough about this whole team. The 54 has been fast every single week, and my goal coming in was to win. I had to win to prove to myself that I could do this. It's just like taking the step back to the Truck Series, I wanted to get back to victory lane.
"It's an amazing accomplishment to get this one done, beating a teammate as well, and we're racing for an Owner's Championship. I'm back in the 54 at Phoenix, so going for double championships there when we go."
Texas marks win number two for Nemechek in the Xfinity Series, the first since Kansas in 2018. Also that day, JHN beat a hard charging Daniel Hemric. This win also comes just days after Nemechek announced that he will return to the Truck Series, going for another championship in the KBM No. 4.
Nemechek is also the fourth different driver to take the 54 to Xfinity victory lane this season. He joins Kyle Busch, Ty Gibbs, and Christopher Bell in this club. The 54 team will race for the Owner's Championship in three weeks at Phoenix, as they now have 10 wins in 2021.
Top 10 from Texas
Behind Nemechek and Hemric, Noah Gragson, Justin Allgaier, and Austin Cindric were the top five. AJ Allmendinger, Justin Haley, Harrison Burton, Michael Annett, and Brandon Jones rounded out the top 10. All eight Playoff drivers did leave Texas in the top 10.
Playoff Standings Update
Allmendinger still holds a slim points lead over Cindric, but the cut line battle tightens past there. Allgaier is only four points to the good, while Gragson is +2. Despite the second-place finish in Texas, Hemric is the first man out by two points. Justin Haley is also only six points out of the top four. Meanwhile, both Harrison Burton and Brandon Jones are approaching must-win territory after just one race in the Round of 8.
What's Next in Xfinity
Race two of the Round of 8 will see the Xfinity Series take to Kansas Speedway, for the Kansas Lottery 300. Amazingly, Kansas has been an unusually-chaotic Playoff race for Xfinity for the past three seasons. Coverage begins Saturday, October 23 at 3:00 p.m. ET on NBC, MRN, and SiriusXM NASCAR Radio Channel 90. Expect only more madness this year, as 10 points separate four drivers on either end of the cut line.
Written by Peter Stratta
Be sure to follow us on Twitter
Be sure to follow the writer on Twitter
Photo by Sean Gardner/Getty Images for NASCAR