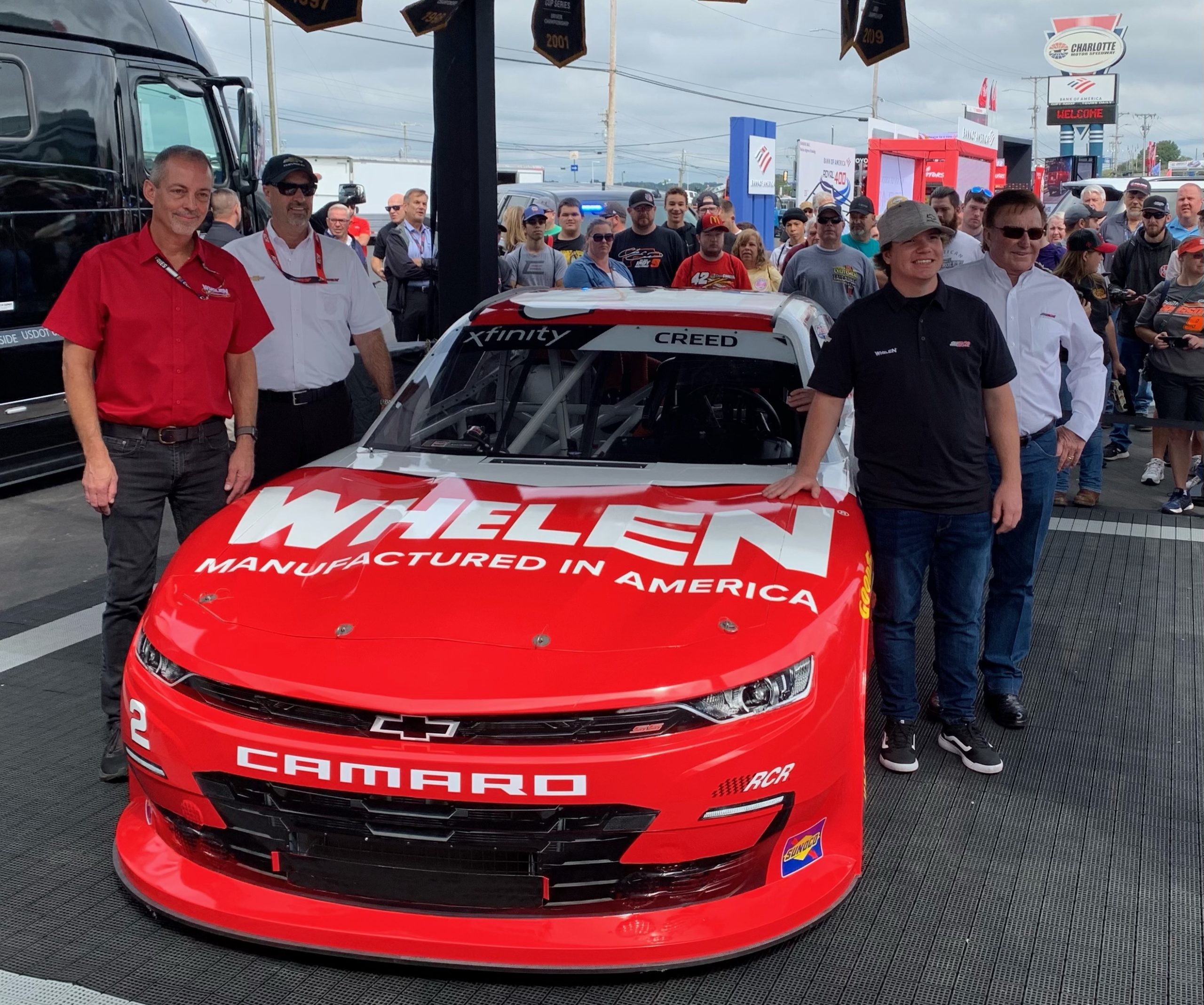 Whelen Engineering To Be Full-Season Sponsor for Sheldon Creed
CONCORD, N.C. – Richard Childress Racing and Sheldon Creed have announced a new partnership for the 2022 NASCAR Xfinity Series season. Whelen Engineering, a global leader in the emergency warning industry, will be on the No. 2 car for all events.
"Whelen Engineering takes pride in our long-standing involvement in motorsports," said Peter Tiezzi, III, General Manager of Motorsports and Project Manager for Whelen Engineering Company, Inc. "We know that our relationship with an iconic team in Richard Childress Racing and a young, talented racer in Sheldon Creed illustrates our commitment to auto racing, while simultaneously increasing the public's awareness of our presence and capabilities."
Sheldon Creed, 24, is currently the defending NASCAR Camping World Truck Series champion and is looking to keep that title at season's end this year. With eight career wins in his 73 Truck Series starts, Creed caught the eye of RCR to move up in 2022.
"Whelen is a name synonymous with motorsports so it is truly an honor to represent them as I start my first year of full-time competition in the NASCAR Xfinity Series," said Creed. "I'm going to do my best to make Whelen Engineering, its employees and the entire Whelen community proud, and I'm looking forward to doing so with a competitive team like RCR."
During the sponsorship announcement, there were talks of Creed being developed and moved into the Cup Series sometime in the future. The process was compared to that of Tyler Reddick, where RCR won the Xfinity Series title with him and moved him into the No. 8 Cup Series ride the next season. To that, Creed says he just needs to perform.
"It all comes down money and how I run next year," Creed said on the plans. "If I don't win any races and go run 10th to 15th every week, you're probably not going to go drive a Cup car the next year, right? I just need to go win races and put ourselves at a shot at winning the championship. If we can go do that, win races, and make the final four, I think that I can show that I'm maybe ready for a Cup car."
Team owner Richard Childress is excited for Creed to join the program and credits his car control as a big reason they wanted him in the No. 2 car next season.
"If you just watch his driving talent and ability," Richard Childress said. "Car control is a huge thing to me and watch the car control he has and being really aggressive. Controlled aggression is what you want. Being just aggressive isn't very good, but you have to have control of your aggression and he does."
Myatt Snider is the current driver of the No. 2 car and Childress said the team is trying to fit Snider into a program with one of their affiliated teams. Big Machine Racing and Kaulig Racing are two of RCR's biggest aligned teams at the moment. Plans are still being worked out and will be released at a later date.
Written by Noah Lewis
Be sure to follow us on Twitter.
Be sure to follow the writer on Twitter.
Photo credit to Noah Lewis at TSJSports.