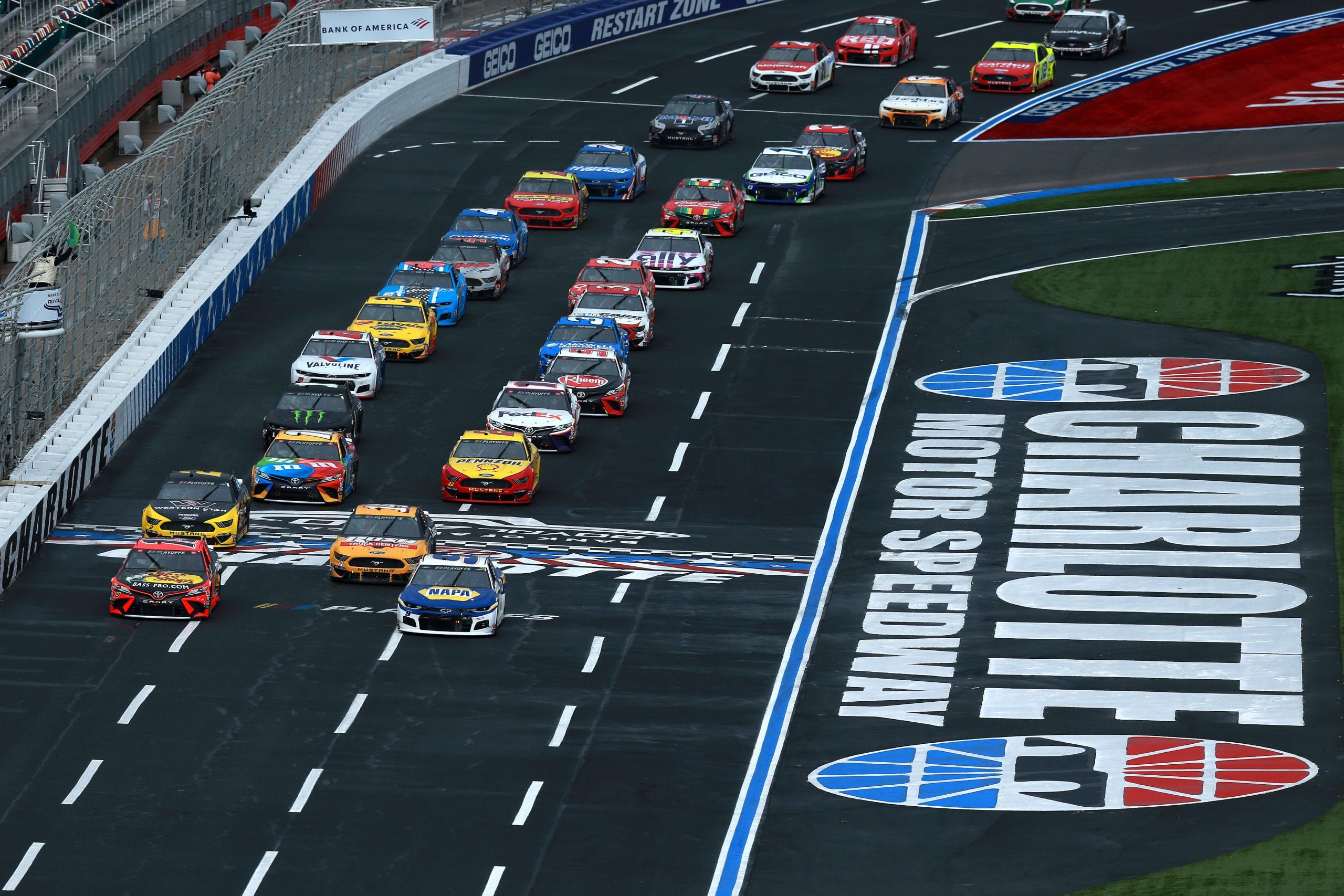 Who Can Master the Twists and Turns of the Charlotte Roval?
CONCORD, N.C. – For the fourth-straight year, the NASCAR Playoffs have an elimination race at the Charlotte Roval. In the final road course race of the season, who can come in clutch and score a major postseason win? Through six road course races, Hendrick Motorsports has been stout, with four victories. However, the Playoffs have seen many surprises already, so the field of potential winners is big. With some prolific road course racers below the cut line, can anyone win their way into the Round of 8?
Kyle Larson
Winner of two road course races this season, Kyle Larson still searches for his first Roval top 10. Larson won at both Sonoma and Watkins Glen this summer, beating Chase Elliott straight-up both times. Trying to reassert himself as the championship favorite, how does Larson feel about the Charlotte Roval?
"We've run first and second a lot this year on road courses. That team and Chase set the bar – you pay attention to how he's doing and where he's running. It's been fun to compete with him on the road courses and we both have a couple wins. Hopefully, we're battling with all our teammates for stage wins and the victory this weekend."
The 5 of Larson will start 10th on Sunday. Larson was in contention to win the Roval in 2018 before crashing late. Now in a Hendrick car, Larson is poised very well for a third road course win of 2021, where he likely will battle Chase Elliott again. Sunday may just be another 5 vs. 9 dogfight for the victory.
Denny Hamlin
The lone driver already locked into the Round of 8, can Denny Hamlin earn another victory at the Roval? The FedEx 11 team has four top-10s through six road course races in 2021, but Hamlin does not have a top 10 at Charlotte. With no pressure this weekend though, Hamlin is ready to attack this track that has left him scratching his head in years past.
"There are a lot of interesting things about the Roval," Hamlin explained. "How narrow the track is, so there's a lack of passing zones. There's not really a lot of run-off areas. So, there are a lot of challenges with the track itself and why it's such a wild card. It's very intricate in that sense. We don't have as many Playoff points as we've had in the past, so we're going to have to be very smart with how we race that track.
"We have to make sure we put ourselves in a very smart position in hopefully getting a good starting spot, and that goes into how we prepared the week before. It's been a track that's been tough on me and my results. But, in general, we're better on road courses this year than what we've been in the past, so I'm pretty optimistic."
Starting from the pole, Hamlin will surely be a contender for the Stage 1 win and potentially the victory. However, the Roval is far from a must-perform race for the entire 11 team, as the final road course event of the year.
Martin Truex, Jr.
Always a contender on road courses, can Martin Truex, Jr. finally capture the one that got away from him in 2018? In the inaugural Roval race, MTJ was a corner away from the victory. After being hit by a spinning Jimmie Johnson, Truex had to settle for 14th. Three years removed, Truex's best Roval result is seventh each of the last two years. Can the 19 battle for Sunday's win and reassert himself in the title fight?
"I think the biggest challenge with the Roval is that you have to somewhat set up your car to run on the oval, especially turns three and four of the oval," Truex said. "It kind of keeps you from setting up the car the way you want to for the infield, so it just makes it a big challenge. It always seems like the infield is pretty bumpy. It's pretty narrow. There is a lot of undulations up and down. The car is never in the racetrack very good because the tires are hard for the oval. It's just a big compromise. It's really hard to get your car working right and it's a real challenge to get around there."
Truex will take Sunday's green flag from fifth, trying to earn his fifth win of 2021. Since winning at Richmond, Truex has yet to lead more than five laps in any race. If the 19 is to contend for a Championship 4 berth again, he may just need to show out at the Roval against his title foes.
Chase Elliott
All eyes will be on Chase Elliott and the Napa 9 car this weekend. The Hendrick team is going for their third-consecutive victory at the Charlotte Roval. After back-to-back dominant runs at the Roval, can Elliott score his third road course win of 2021? Elliott is the odds on favorite to earn Sunday's victory, as only his teammates may stand between him and another victory.
"I feel like we have just have had a good road course package," Elliott said. "Like I've said for years now, I don't feel like what I do is anything special. I just think we have a good package. Alan (Gustafson) has done a really good job of honing in on the things that matter at a road course and we've just kind of hit on things that work."
Hendrick's Elite Road Racing Status Predates Elliott
"When you are a young guy and you come in to new situations and the foundation is built there for you, it makes it a lot easier for a guy to learn. I think I came in to a great foundation and I was able to really work on myself because we have a solid package. As we improve, the cars and I improve, I think we just landed in a solid place. Does that mean we will be good there forever? No, but I certainly feel that we can improve upon where we've been and I can do a better job. We will see where we shake out."
Elliott will start eighth in his quest for a Roval hat trick. So far in 2021, nobody has been better on road courses than the 9 car, with five top-fives in six races, including two wins. The Charlotte Roval last year was when Elliott's championship surge truly began, can the 9 team repeat this run to the title? All of Hendrick Motorsports is poised well to win the Roval; one of their four bullets will likely end Sunday in victory lane.
Christopher Bell
The one road course race this season without Chase Elliott in the top 10 was the Daytona Road Course, won by Christopher Bell. After a tough opening race for the Round of 12, Bell enters the Roval 28 points below the cut line. To put it simply, Bell is all but win or get eliminated from his maiden Playoffs. Aside from Daytona, the road courses have been a strong point for Bell throughout 2021. The 20 has three road course top-10s, including second at Road America. With this history, Bell has confidence facing a must-win scenario.
"Definitely being good at the road courses have me feeling a lot better about the Roval, so that's good," Bell said. "I don't think the Roval has statistically been a great racetrack for Joe Gibbs Racing though, so that's got us a little bit worried. But I think it'll still be one of our better races this round. Not the points position we want to be in, but we are going to a place where we should be really competitive. We have a great starting position and are expecting to run well at the Roval this weekend."
Out of all drivers below the cut line, Bell has the best starting position at fourth. Bell was in contention to win Talladega a week ago, can his team put him in the right setting to capitalize at the Roval? Do not count the 20 out of scoring an upset on Sunday, as he's been incredibly stout on all road courses this year.
Alex Bowman
Another driver in a do-or-die position for Sunday is the Hendrick 48 car of Alex Bowman. After finishing outside of the top 20 at Las Vegas and crashing at Talladega, the 48 is 12th in points. With an insurmountable 52-point deficit, Bowman must win if he is to survive in these Playoffs. At the Roval, a Bowman win is very possible. Through three years, Bowman has three top-10s at Charlotte, including second to Elliott in 2019. While Elliott is historically the best driver at the Charlotte Roval, Bowman is only a step behind the 9. Driver 48's average finish at the Roval is an impressive 4.7.
"We are going into this weekend's race at the Roval knowing that we most likely need to find victory lane in order to advance," Bowman said. "We have finished well here before, so we really need to focus on what we can control. The Ally team has been working hard on this road course Chevrolet and I know we will have a shot at it on Sunday."
Bowman will have to rally early on Sunday, starting last of all Playoff drivers in 12th. Should Bowman pull off this victory, it would be a most clutch moment facing near-impossible odds. Bowman winning is not out of the question, the 48 could upset many on Sunday.
Four drivers will end their championship hopes Sunday, after the fourth running of the Bank of America Roval 400. Coverage begins at 2:00 p.m. ET on NBC, PRN and SiriusXM NASCAR Radio Channel 90. Harvick, Bowman, Byron, and Bell all enter under the cut line; can any of them pull off a championship-caliber rally at the Roval? The Round of 8 is sure to vary all day long, especially with rain in Sunday's forecast.
Written by Peter Stratta
Be sure to follow us on Twitter
Be sure to follow the writer on Twitter
Photo by Sean Gardner/Getty Images for NASCAR