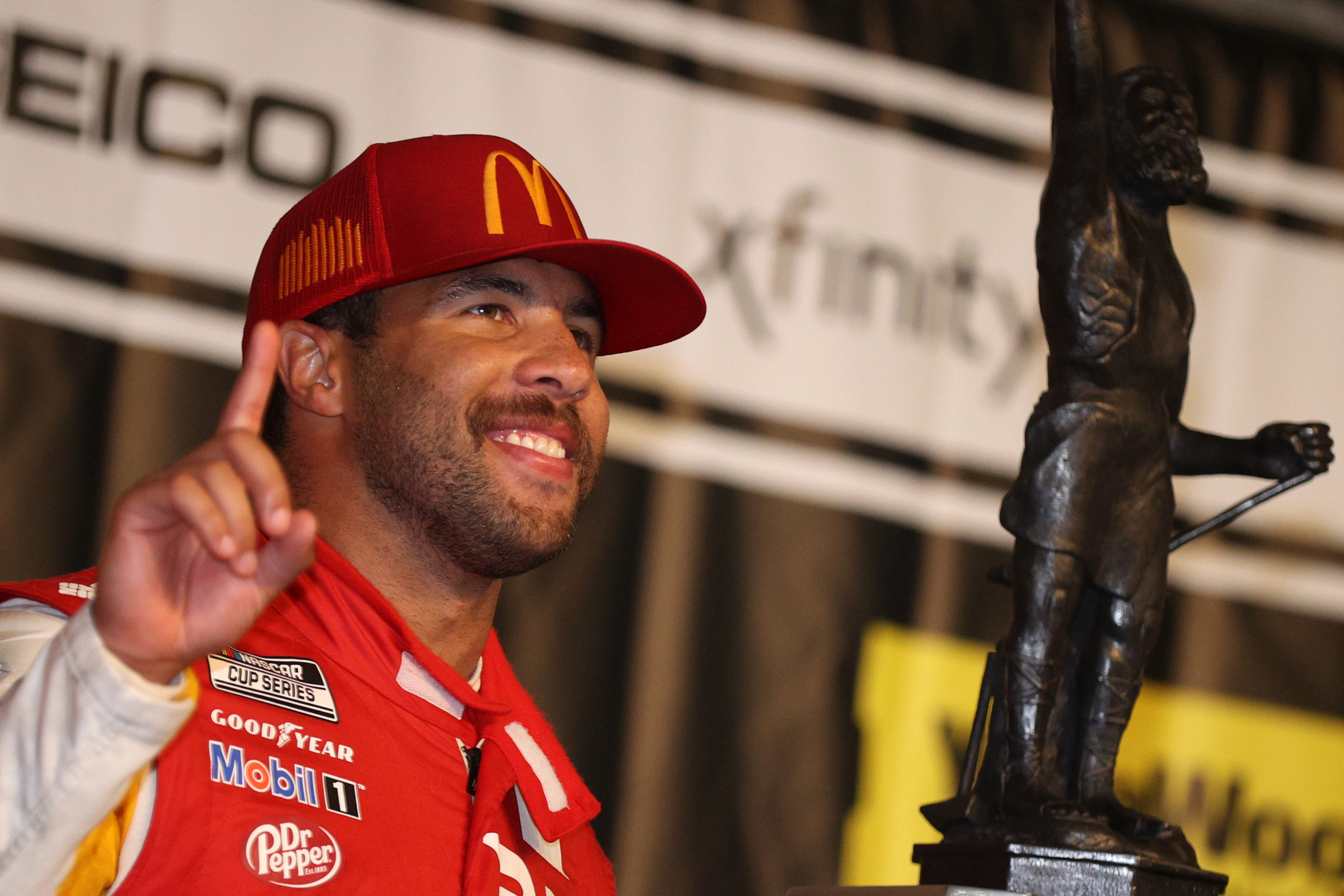 Bubba Wallace Earns First Career Win at Talladega
TALLADEGA, Ala. – Capping off a weekend full of upset winners at Talladega, Bubba Wallace was out front when rain fell on Monday. Wallace, a Mobile, Alabama native, took 23XI Racing to victory lane for the first time in their young history. Wallace also marks only the second-ever African-American race winner in the NASCAR Cup Series, joining Wendell Scott. Talladega saw an upset among all Playoff drivers, as Wallace stole this pivotal race.
Ford Partners Play Nice in Stage 1
After persistent rain Sunday, Talladega was pushed to a Monday start. From the drop of the green flag, intensity was pegged as weather still plagued the area. Manufacturer games were also prevalent early, as Fords shoved their way forward. A few Mustangs would decide Stage 1 amongst themselves, as Chris Buescher took it from title hopefuls Keselowski and Logano.
Stage 1 would end under caution, as Justin Allgaier and Kyle Larson wrecked late. The 77 of Allgaier got hooked by William Byron in the trioval, right into the path of Larson's 5. Both Larson and Allgaier's days were done after just one Stage. Allgaier would finish last, while Larson only mustered a 37th-place result.
Ford teamwork would show its hand again in Stage 2, only to be halted by a brief rain shower. The race would resume roughly 20 minutes later, but rain was still in the area.
Playoff Drivers Taken Out
The first true big one of the afternoon would strike on lap 98. While racing for the top spot, Alex Bowman got a big shove from Ricky Stenhouse, Jr., sending the 48 hard into the outside wall. Fellow Playoff drivers Kyle Busch and Martin Truex, Jr. also suffered damage. As a result, Bowman faces a must-win scenario next week in the Round of 12 finale.
With weather now fast-approaching, the pressure kicked up once racing resumed. Stenhouse, Christopher Bell, and Kurt Busch all took turns at the head of the pack. Charging ahead though in the outside lane would be Bubba Wallace, as the 23 took over on lap 112. Not long after, another caution came out when Ryan Preece spun, collecting William Byron and Matt DiBenedetto.
Once the caution flew, rain rolled in once again. Cars would be brought down pit road, and then a lightning hold ensued. All the while, Bubba Wallace was anticipating the biggest day of his life. It was only a matter of time before the track became too wet. NASCAR eventually called the race early, handing the win to Wallace.
Wallace Makes History on Multiple Accounts
Bubba Wallace is only the second-ever African-American to win a NASCAR Cup race. He joins Wendell Scott on this most-exclusive list, becoming the first Black driver to win since 1963. Talladega also marks the first win for 23XI Racing, in their first year of competition.
In only their third race together, Wallace also takes crew chief Bootie Barker to victory lane for his first Cup win. In addition, the McDonald's curse is over, as the golden arches win again for the first time since 1994.
Wallace's Winning Reaction
"Part of me is sitting there waiting, knowing it's not over with, just biding our time until we go back racing," Wallace said. "Just ready to put ourselves in position. But it was so cool to have so many fans with us at the pit box, just cheering for it to rain. It amped up the intensity a little bit. Just so proud of everyone at 23XI, a new team coming in and getting a win late in the season. Kind of reminds me of 2013, waited so long to get that first Truck win."
"I know a lot of history was made today, which is really cool, but it's about my guys, about our team and what we've done. I appreciate Michael Jordan and Denny for believing in me, giving me the opportunity. It's pretty fitting that it comes here at Talladega."
"It's pretty damn cool," Wallace went on. "Just proud to be a winner in the Cup Series. This is to all those kids out there, that want to have an opportunity in whatever they want to achieve and be the best at what they want to do. You're going to go through a lot of bulls–t. But you always have to stick true to your path, and not let the nonsense get to you. Stay strong, stay humble, stay hungry. There's been plenty of times where I've wanted to give up. You just surround yourselves with the right people, and it's moments like this you appreciate."
Talladega Top 10
Behind Wallace were the Penske duo of Brad Keselowski and Joey Logano. Both drivers fell just short of an all-important Round of 8 ticket-punching win. Kurt Busch and Christopher Bell were also in the top five. Chris Buescher, Denny Hamlin, Kevin Harvick, Erik Jones, and Anthony Alfredo rounded out the top 10.
Playoff Standings Update
With no Playoff driver winning at Talladega, seven Round of 8 spots remain open. Heading into the elimination weekend, arguably nobody is safe. Kyle Larson only has a 22-point cushion above the cut line. However, three of the bottom four drivers just about face must-win scenarios to move onward.
What's Next in Cup
The Round of 12 eliminator will take place in the fourth-annual Bank of America ROVAL 400 at Charlotte. The Roval has been Chase Elliott's house in recent years, but Kyle Larson has also been strong this year on road courses. Coverage begins Sunday, October 10 at 2:00 p.m. ET on NBC, PRN and SiriusXM NASCAR Radio Channel 90. Which four drivers will kiss their title hopes goodbye after next Sunday? The ever-unpredictable course will decide Playoff fates.
Written by Peter Stratta
Be sure to follow us on Twitter
Be sure to follow the writer on Twitter
Photo by Chris Graythen/Getty Images for NASCAR