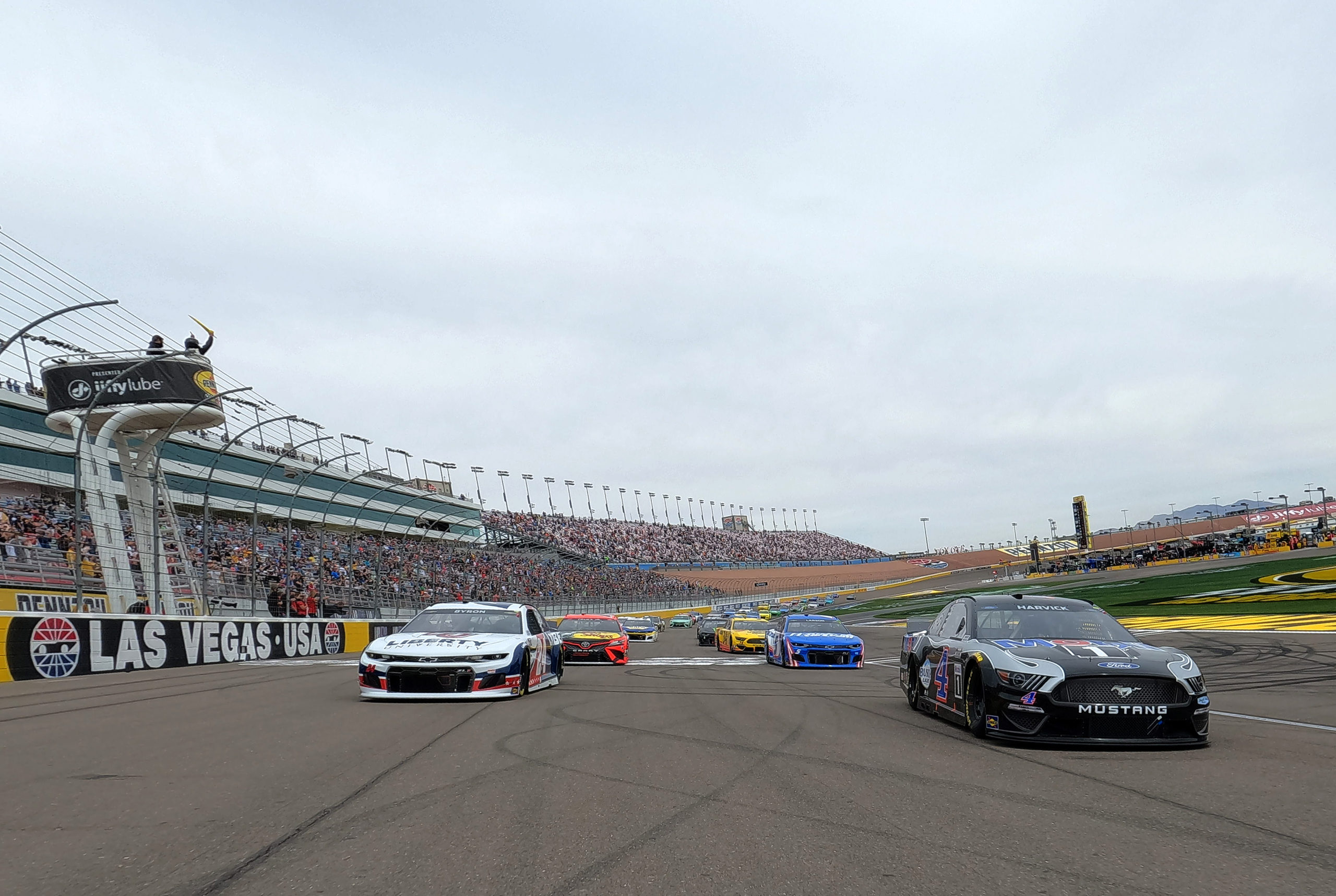 Who Will Cash in Big at Las Vegas Round of 12 Opener?
LAS VEGAS, Nev. – After an intense Round of 16 for the NASCAR Cup Series, the Playoffs reset down to 12. With four fewer championship contenders, who can take a step closer to Phoenix with a Las Vegas victory? The Round of 12 is a ruthless three weeks; after Las Vegas are two treacherous wildcard races at Talladega and the Charlotte Roval. Who can have a stress-free two weeks with a desert win?
Kyle Larson
The winning ways of Kyle Larson started this season at Las Vegas. That March day, the Hendrick 5 car led 103 laps in a dominating victory. Now returning to the site of his first 2021 win in the Playoffs, can Larson pull off a sweep? The 5 team has been lights-out at intermediate tracks this season. As a result, there is little reason to doubt his chances Sunday. Not only would this mark a seventh win on the 2021 campaign, it would also mark back-to-back victories for the 5.
"It's nice going back to a track we've won at before," Larson said. "We were really good at Vegas earlier this year. So definitely excited to go back and hoping we have similar speed. The temperature will be much warmer this weekend, so that changes things but our team has been really good at adapting to every situation this year. Hopefully, we can prepare well and have another good car and battle for the win."
As last week's Bristol Night Race victor, Larson will lead the field to green Sunday as the polesitter. Expect the 5 to be one of the hardest cars to beat. Larson has only gotten better in the six months since his last visit to Las Vegas.
Martin Truex, Jr.
After three-straight top-10s in the Round of 16, can Martin Truex, Jr. earn another Las Vegas win? The New Jersey native and 2017 champion has a pair of desert victories, most recently this race in 2019. With wildcard races at Talladega and the Roval in the coming weeks, Truex wants to erase any stress from those two tracks with an early Round of 12 win. MTJ knows better than anyone just how volatile this round of the Playoffs can be; this point marked the end of his title hopes in 2016.
"It's one of those rounds where everybody is a little bit nervous about it," Truex said. "Because a lot can happen with a road course and Talladega. Obviously, I think everybody is looking at Vegas and circling that one. There's going to be a lot of emphasis on winning there and a lot of importance on winning there. We're no different in that perspective."
The 19 will roll off fourth Sunday, hoping for a second Playoff win and fifth checkered flag of 2021. MTJ placed sixth at Las Vegas in the spring. The 19 should be a heavy threat against Larson this time around.
Denny Hamlin
Amazingly, Denny Hamlin is 0-for-19 at Las Vegas Motor Speedway, as he's previously called it his worst intermediate track. However, the 11 was third in the South Point 400 a year ago, and also fourth in the spring at LVMS. With two-straight top-fives, can the 11 knock this track off the bucket list? Hamlin has been arguably the best car all three weeks of these Playoffs, but has only mustered out one win. Much like Truex, Hamlin knows how treacherous the Round of 12 can be, and has Las Vegas circled as a must-perform weekend.
"That is the track where you can control your own destiny the most," Hamlin said. "So that is the one you have to put the most emphasis on. If you do a good job as a driver and your car is fast and the team does their job, that is where you can get your best result. The other two tracks you are more likely to be caught up in someone else's issues. I'm sure that race will be the most nervous the entire 12-car Playoff field is going to be, hoping that they perform well, because there are just no givens after that."
Hamlin Feeling Better about Round of 12
"The second round, for many years, terrified me because Las Vegas was by far my worst mile-and-a-half racetrack. So, we found a set-up that really works for me there, and we've been really good. We've had good internal meetings about what I need to do to be the best car. I've been the second- or third-best car on the mile-and-a-halves this year – (Kyle) Larson obviously being the stand-out best. As a team, we've got a plan, and I've got a plan, to take the next step to be a dominant car every week."
Hamlin will start sixth on Sunday, hoping for another strong performance in the desert. While Las Vegas is not a must-win for Hamlin, he must survive this race and stay ahead of the cut line.
Kyle Busch
Hometown hero Kyle Busch hopes to put on a show-stopping performance Sunday. The two-time champion in the No. 18 Toyota only has one career Cup victory on his home turf, coming way back in 2009. While Busch is not in need of a win this weekend, he does know the bigger picture goal is staying above the cut line before the unknown of Talladega and the Roval.
18 Trying to Rebound in Round of 12
"I think everyone heads to Las Vegas putting a lot of pressure on themselves to make sure they run well in that event," Busch said. "Because they know what the next two races have in store for them. If you asked any crew chief what race are they are most focused on in that round, they would all tell you Vegas to try and have a good race."
"With having that much focus on that race, it's going to make that one tough, as well. You just go out there and do the best you can do. We ended up throwing a bit of a Hail Mary at the Roval and it ended up costing us a bit. That's just the unfortunate nature of those two races being in the round together. We certainly want to get off to a strong start at Vegas with our M&M'S Camry. We'll have our friends at Ethel M with their logos on our car, as well. They are located right there in Henderson and we are hoping to give them a great run."
Las Vegas has been a surprisingly consistent track for Kyle Busch of late. In the past seven races here, the 18 has five top-10s, with a best result of second. The 18 will roll off 10th in the South Point 400.
Chase Elliott
In nine career Las Vegas starts, Chase Elliott has yet to find victory lane, and has not had the highest luck. Driver 9 only has three top-10s here, with a best finish of third. However, Hendrick cars have been nearly unbeatable on all 1.5-mile tracks this year, so Elliott heads to Vegas eyeing a potential win.
"We haven't had the best results at Las Vegas," Elliott said. "The good thing is I feel like we have been fast out there at times. That's the frustrating thing. Terrible results. I feel like every time I leave out there I'm mad and ready to go home, but I'm looking forward to this trip. Vegas is a place that I don't have any ill will toward and again, I feel like we have had pace there. We have just really struggled to get the results. Hopefully, this time is a little different. It would be nice to get a win out there. That would be even better."
Elliott will take the green flag from 11th on Sunday. With his past prowess on superspeedways and road courses though, does the 9 team need to win at Las Vegas? Not necessarily, but Elliott has not won since July. If Elliott is to make it back to Phoenix to defend his title, he does need to find victory lane again.
Joey Logano
The Round of 16 was very up-and-down for the 22 team of Joey Logano. As a two-time Las Vegas winner, can the 22 rebound this weekend and find victory lane again? Logano has a top 10 in all but one of the last 11 races in Sin City, including two spring wins in 2019 and 2020. Logano's Playoffs so far have featured two top-10s, and also an 11th-place run at Bristol. Logano has not shown race-winning pace so far this postseason, but has not been far off. The 22 will try and win a second race of 2021, after starting ninth on Sunday.
Brad Keselowski
A distant second to Larson in the spring at Las Vegas was the 2 of Brad Keselowski. The Penske machine was the second-fastest car that day, eventually finishing three seconds behind the 5. Las Vegas has been a quietly great track for Keselowski in the past, with three wins since 2014. In addition, the 2 has finished inside the top 10 on this intermediate in all but one race since 2013. Much like Logano, Keselowski has not been a front runner so far in these Playoffs, with a best result of sixth in Bristol. Going for a fourth Las Vegas checkered flag, the 2 will roll off eighth.
Kevin Harvick
At the center of all postrace fireworks in Bristol, Kevin Harvick was livid over a tough loss. Can the 4 put such a devastating defeat behind them and reel off another win at Las Vegas? The 4 team has won in the desert twice, but not since 2018. In the spring, Harvick placed a dismal 20th here, finishing a lap down to Larson. Now in the Playoffs and with fire in his eyes, how does Harvick feel about heading back out to Nevada?
"Las Vegas has a lot of tire fall off, so it'll be important to have a good-handling Subway Delivery Ford Mustang," Harvick said. "It's also a track where you're constantly moving around trying to find the right grip. Right now, we're just taking it one week at a time. That's really the best way to go about it, and see where it all falls in the end."
Has Pressure Changed for the 4?
"For us, there's no intensity dialed up. It's exactly the same as it would be for the first race of the season, the second race, the third race. We try to approach things the same way, whether we're running well or running badly, and whether or not it's a cutoff race. You try to dot all the I's and cross all the T's and control all the things that you can control. Perform at a high level and do the things that you know how to do. Whether it's me in the car or Rodney (Childers, crew chief) on the pit box or everybody around us, it just takes the execution of a complete race. Our team has done a great job of that all year."
"Obviously, our cars have not performed to the level that we'd have liked them to perform. But we've been getting the finishes that we have and keeping ourselves around. We just keep plugging away and keep trying to reach out and do what we can by getting good finishes and not making any mistakes. That's really what it boils down to this time of year. It doesn't matter how you get there, it just matters if you advance or you don't advance, and a lot of times it comes by controlling the things that you can control."
Harvick is Not Happy
Now riding a year-long winless streak, Kevin Harvick will start fifth in Las Vegas, aiming to reel forward as the 12th seed. An angry Kevin Harvick may just be dangerous for the competition, so don't be shocked if the 4 pulls off a stunner.
The South Point 400 is the next step one driver will take towards being crowned 2021 NASCAR Champion. Coverage from Las Vegas Motor Speedway begins Sunday at 7:00 p.m. ET on NBCSN, PRN, and SiriusXM NASCAR Radio Channel 90. As the lone non-wildcard event in the Round of 12, many drivers will be desperate for the victory at Las Vegas. Can one of the above drivers capitalize and move even closer to Phoenix?
Written by Peter Stratta
Be sure to follow us on Twitter
Be sure to follow the writer on Twitter
Photo by Chris Graythen/Getty Images for NASCAR