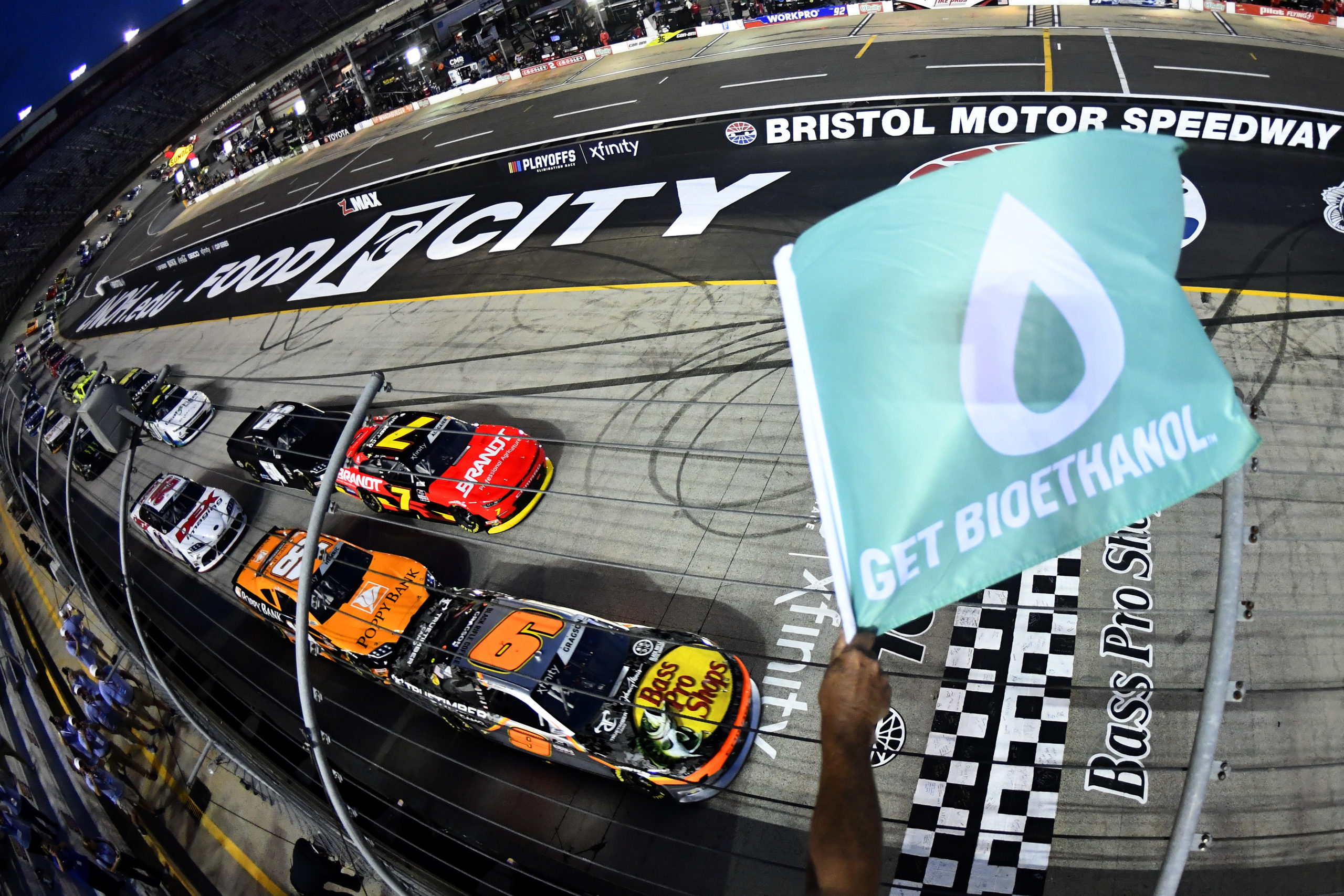 Who are the Top Contenders in the 2021 Xfinity Series Playoffs?
CHARLOTTE, N.C. – Playoff season is here once again for the NASCAR Xfinity Series. 12 drivers will battle over the next seven races to be crowned Xfinity Series Champion. This year's Playoff field in particular is quite the eclectic mix of drivers. Roughly half of the contenders can be classified as favorites, while the other half truly are underdogs. Let's take a look at the title favorites, and preview the coming races for the top drivers in Xfinity competition.
AJ Allmendinger
Over the past month or so, nobody has been more well-rounded in all aspects than AJ Allmendinger. The Kaulig No. 16 team has a top-2 result in five of the last seven races, including two wins. Allmendinger's most recent of his four wins this year was at Bristol in the regular season finale. This dramatic win locked up the regular season championship over Austin Cindric. As a result, the 16 and the 22 are tied for the top seed heading into these Playoffs. Allmendinger is absolutely a top-tier threat for the championship this year with this run of momentum. However, perhaps AJ is as surprised as anyone at this team's coming into form so quickly.
AJ is Amazed at Recent Run
"Quite honestly I didn't know what to expect coming into this year," Allmendinger said. "With what we had done in the limited schedule over the last couple of years I thought we could be pretty good, but Kaulig Racing itself has been growing as well. Going into this year, Kaulig had won one race besides a road course or a superspeedway. That was in Atlanta last year. I knew we had room to grow at each type of racetrack. We continually kept working on it and had good and bad weekends when it came to speed in the racecar."
"But really since the Olympic break, between winning Indy and Michigan and now Bristol and the regular season championship, I'm just trying to enjoy it all. In my career, we've seen when I can get down, just how low of a point that is. I'm really loving every minute of it, and I'm trying to celebrate and be happy about all of these moments. I've experienced lows, and I'm loving what's happening right now. So with all these great things that are happening, I'm going to enjoy them."
Allmendinger is firing on all cylinders as a driver, and Kaulig is as strong as ever organizationally. The opening round of the Playoffs lays out especially well for the 16. AJ won at Las Vegas in the spring, Kaulig will be strong at Talladega, and AJ has also won the last two Roval races. If Allmendinger can just be clean and not have a catastrophic failure, the 16 should make it to Phoenix.
Austin Cindric
To be the best you must beat the best, and defending Xfinity champion Austin Cindric has been lights-out this year. Despite losing out narrowly in the regular season championship, Cindric leads all drivers with five victories on the year. The Penske 22 team is dangerous in this year's Playoffs because Cindric truly has nothing to lose. The 23-year-old is already well aware of his future, as he will be a Cup Series rookie next season. With his plans already determined though, has Cindric lost any fire or motivation to win it all again in Xfinity?
Cindric Wants to Leave Xfinity on Top
"With the exception of some upcoming NextGen tests, I haven't even thought of 2022," Cindric said. "Otherwise, I'm pretty focused on this year, for myself and my own personal reasons and my team as well. I've been with the same group of guys for the majority of my Xfinity career. I wouldn't be the driver I am without them. I'm excited to try and finish this out on the highest note possible."
"Thinking about growing together, my crew chief Brian Wilson just had his first kid a couple days ago. A lot of fun things are changing and happening for us as a group. At the same time though, there's no better motivation than something like last week. Bringing fast racecars to try and go out and do our jobs, I think there's a lot to fight for."
As defending champion, Austin Cindric knows exactly what the 22 must achieve to survive the opening two rounds. With his large bonus point total, the first round should be of little worry to the Penske team. Beyond Allmendinger, Cindric is the only true 'lock' to make it all the way to Phoenix. However, Kevin Harvick showed us all last year that even favorites can be eliminated. Cindric must eventually return to his winning ways if he is to repeat as Xfinity Series champion.
Justin Allgaier
Veteran Xfinity contender Justin Allgaier won twice across the regular season in 2021: Atlanta in March and Darlington in May. Since his last win, the JR Motorsports No. 7 team has only finished worse than 10th four times. The 7 has been a step behind the top dogs in Xfinity this year. With the points reset though, Allgaier is now the third seed. With no wins in four months however, how does Allgaier feel about his title chances?
"Something very funny about [no wins since Darlington] is I look at the points for the regular season and I'm disappointed we weren't closer to the 16 and the 22," Allgaier said. "I look at the beginning of the year, and just how atrocious it was with how many bad finishes we had. Things just seemed to go any way but the right way. Then you make that transition and get some momentum on your side. We had those baby crawls before we could start walking, and we still had some stumbles here and there. But once we got our team firing on all eight cylinders, we were 100% right. Not only did we win the two races, but we were also in position to win almost every one other than those."
Is Consistency Enough for the 7?
"I think with the competition level this year in the Playoffs, the amount of drivers and teams capable of winning races and the championship, those levels of consistency we showed over the summer are going to be a big part of these Playoffs. I think that you're going to have to try and win. But, consistency has shown to be really really important as well. That's the goal for the team, we're going to go and be consistent, give it everything we've got. Hope we put ourselves in contention each and every week. If we do that I think we'll for sure be in that final four when it comes time for Phoenix."
No wins since May is definitely an issue for the 7 team, but the effort and consistency has been a constant. As the third seed, Allgaier is in position to defend for the opening two rounds to make the Championship 4. Short of a streak of bad luck, little is stopping Allgaier from another championship run at his favorite racetrack.
Noah Gragson
Perhaps the unluckiest driver in NASCAR for 2021 has turned on the heat in recent weeks. Noah Gragson earned his first win of the year at Darlington over Labor Day weekend. He would then go back-to-back at Richmond. Gragson also closed out the regular season with a 12th-place run at Bristol. Now though, he is ready to attack the Playoffs as the fourth seed. The 9 team went on an unprecedented run in last year's Playoffs, which they hope to replicate this year.
"Just having clean, solid days, not making mistakes and not over-pushing it, knowing where my 100% is," Gragson said of his Playoff mentality. "Not going 105% and putting myself in bad positions. Speeding on pit road, that's something that cost us a lot last weekend. I made a few mistakes this past weekend. Just not overdoing it and trying to get too much. Managing that if we have a third-place racecar, let's get third. Let's not try and get first place and jeopardize our chances at getting points."
"It all just kind of depends on how races play out," Gragson said of his chances at making it to Phoenix. "But based off our run last year, six top-three finishes out of seven races, I'd say our cars are very capable."
The 9 team enters the Playoffs with momentum at a season-long high, which could be dangerous for the competition. Last year's seven-race chase saw Gragson finish second or third in all but one race. If not for crashing out early at Kansas, Gragson would have made the Championship 4 with that level of consistency. If that tier of performance comes back, the 9 could upset with a title-stealing run.
Justin Haley
Another car out of the Kaulig Racing stable, Justin Haley's horrid season turned around at Daytona, with his first victory of 2021. Since Daytona, the 11 has not finished worse than sixth. With Allmendinger taking the regular season title, is Kaulig rising to the occasion at the right time? Haley made the Championship 4 in under-the-radar fashion in 2020, and is hoping for more in 2021.
"Obviously we want to repeat making the final 4," Haley said. "That's the key. I think the competition in the Xfinity Series this year is tougher than it's ever been. That's a difficult task, there's a lot of good drivers, 12 really fast drivers. I think now that we have that championship race under our belts, we can do what we learned last year and be better at it."
"The team goes through a little different technical process, I go through more media, and it's just more pressure. I've made the final 4 in both Trucks and Xfinity. So we need to take that and learn what we can do to be better and win Matt Kaulig a championship. Obviously last year's championship race didn't go how we wanted it to, we messed with it a good bit. Having practice this year will be a huge part to go out there and be a little better."
Haley's 11 team made the Championship race a season ago on the heels of a Talladega win and four top-10s in six races. Should Haley have his back up against the wall heading back to Alabama, expect this Kaulig Chevrolet to be tough to beat on the superspeedway yet again. Past Talladega however, if Haley is to return to Phoenix, he must survive an always-chaotic and attrition-filled Round of 8.
Daniel Hemric
2021 has been quite the puzzling year for the Joe Gibbs Racing Xfinity program. While the 54 has won aplenty, Daniel Hemric and the 18 team are still searching for victory lane. Hemric has nine top-fives this year, finishing second twice, but is still winless in his Xfinity career. However, consistency has seen the 18 remain among the top five in points all season long. If Hemric cannot finally win in the Playoffs, he may just be able to make the Championship 4 on consistency. In his two prior Xfinity seasons, Hemric made the finale both times.
Can History Repeat itself for Hemric?
"I was fortunate enough in my first two full-time years in the Xfinity Series to make the Championship 4," Hemric said. "Each scenario was their own. Each year had their own little differences than the other and different opportunities. For me, I look at the strengths of this race team and my own strengths mentally and physically of where I'm at as a person, as a racecar driver now than I was then."
"I think just keeping myself centered and humbled about the opportunity that I do have in front of me. Just attacking each week for what it is. Your biggest competitor is yourself in these scenarios right? You've got to go and compete to know that every spot does matter. Every scenario as well, so every decision that you make are going to be different but they are going to matter. I think kind of going through this experience in '17 and '18 hopefully will make me better now than I was then. I feel confident that I am."
Hemric is perhaps the greatest unknown in this year's Playoffs. The North Carolina native has made the finale with consistency before, but can he finally earn that first career win? The 18 has been close numerous times this year to victory lane, but just cannot seem to catch any break. Now in the midst of a championship battle, can the tides turn in Hemric's favor?
Harrison Burton
Much like his teammate Hemric, Harrison Burton has been oh so close to victory lane multiple times this year. The 20 has a whopping 19 top-10s in 26 races, but execution and luck have not been on this team's side. A season ago, Burton entered the Playoffs with two wins, how different is 2021 being winless heading into crunch time?
"I feel really good about it," Burton said of the coming Playoffs. "Obviously there's a big kind of frustration with myself because we haven't won. For me that's frustrating, I feel like we should've won multiple races by now, we've run good enough to. Not coming through and winning those races is frustrating. But on the other hand, we've had the speed to do it. We have the confidence to go out and do it. There's no better time than now to go out and make it happen."
Close But No Checkered Flags for Burton
"We've run really well these last few races, other than Bristol where we actually struggled quite a bit. But leading up to Bristol we ran pretty fast out of the box just about every weekend for a few races in a row there. Even at Bristol we kind of scratched and clawed a decent finish out of it. I feel really confident going in that we'll have fast Supras. Now it's just time to go execute on them. This first round is a big challenge, as I'm sure everyone's said. It's really important for us to get off to a good start."
As a lame duck both in the Xfinity Series and at Joe Gibbs Racing, Harrison Burton wishes to leave with a bang. While he also has yet to win this year, a Playoff win or two may be on his horizon. After being eliminated a season ago, Burton won back-to-back races at Texas and Martinsville. A team at the caliber of the 20 this season cannot be kept down for long. Winning is just a matter of capitalizing on every opportunity.
The Xfinity Series Playoffs begin Saturday at Las Vegas Motor Speedway, with the Alsco Uniforms 302. Catch all of the action on NBCSN, PRN, and SiriusXM NASCAR Radio Channel 90 at 7:30 p.m. ET. With Cindric and Allmendinger making up the front row, expect both of them to be contenders late.
Written by Peter Stratta
Be sure to follow us on Twitter
Be sure to follow the writer on Twitter
Photo by Logan Riely/Getty Images for NASCAR