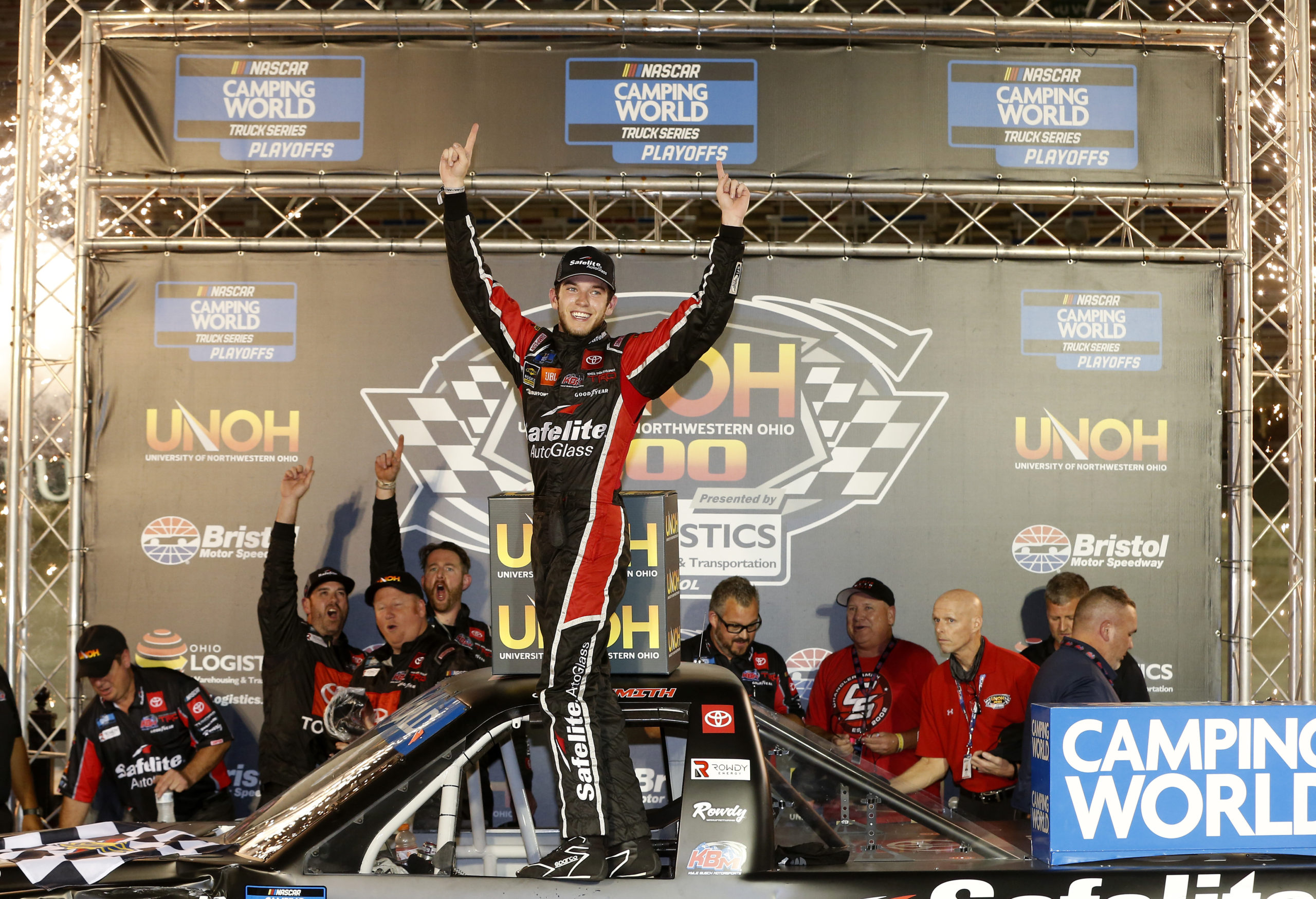 Chandler Smith Earns First Career Truck Series Victory in Must-Win at Bristol
BRISTOL, Tenn. – Playoff elimination races are never over until the checkered flag waves. Although Sheldon Creed appeared to be on his way to a dominant third-straight Truck Series win, fate had other plans. In the final five laps at Bristol, Chandler Smith got ahead of the 2 and held on for career victory number one. The 19-year-old entered the Bristol elimination race below the cut line, and now advances onto the Round of 8. After such an up-and-down season, the 18 Truck finally parked it in victory lane.
Creed Claims Both Stages
Much like both prior Truck Series Playoff races at Gateway and Darlington, Sheldon Creed was the show early on. The GMS Racing 2 machine dominated both Stages after starting from the pole. Creed led all but six laps in this time, eventually taking five of six Stage victories in the Round of 10. While John Hunter Nemechek was the talk of the regular season, during the Playoffs Creed has emerged as a true title threat as well.
Hill's Playoff Run Comes to a Halt
With 10 laps to go, a championship contender would find trouble and eliminate themselves from the Playoffs. Austin Hill would turn across Josh Berry's nose, sending the 16 hard into the inside wall. As a result of this carnage, which collected four other trucks, Hill's Playoff run ended at Bristol. The Hattori No. 16 would finish 24th, and as a result missed out on advancing by eight points.
Late Restart Leads to Fireworks
Although Creed was far and away the best Truck in Thunder Valley, the restart with five laps left would change everything. Creed was swarmed by two Kyle Busch Motorsports trucks, the already-advanced John Hunter Nemechek as well as Chandler Smith. Smith, who came into Bristol seven points below the cut line, needed to win to secure his spot in the Round of 8.
Creed was just about perfect on every restart all night long, but not on this final run to the checkers. Smith was able to stay on Creed's inside on the restart, and both KBM trucks squeezed by the 2. Creed eventually suffered a flat tire, ending his shot at a decent result. Chandler Smith was able to hold off Nemechek's late charge to earn his first career NASCAR victory.
Chandler Smith's Winning Reaction
"Wow, God's time is never wrong," Chandler Smith said in victory lane. "I've had my faith tested many times, been praying and working extremely hard, putting in countless hours trying to get this first win. Came in tonight basically in a must-win situation and here we are. It's unbelievable. What an amazing night."
Top 10 Results From Bristol
Non-Playoff driver Grant Enfinger got by John Hunter Nemechek for second in the closing laps. Contender Stewart Friesen and non-championship driver Johnny Sauter rounded out the top five. The rest of the top 10 were Playoff drivers, with Carson Hocevar, Matt Crafton, Zane Smith, Ben Rhodes, and Todd Gilliland.
Even with a top 10, Todd Gilliland subsequently fell just two points shy of advancing onward in the Playoffs. The 38 joins the 16 of Austin Hill as those eliminated after the Round of 10.
Playoff Standings Entering Round of 8
And now just eight drivers remain alive in the 2021 Camping World Truck Series Playoffs. Once again John Hunter Nemechek has a sizable points lead over the field. Past just him however, there are not many points separating the rest of the field. The bottom five in the seeding are only eight points apart. One more three-race round stands between these eight Truckers and the Championship finale at Phoenix.
What's Next for Trucks
The next stop for the Truck Series is the Round of 8 kickoff at Las Vegas Motor Speedway. Coverage of the World of Westgate 200 will be Friday, September 24 at 9:00 p.m. ET on FS1, MRN, and SiriusXM NASCAR Radio Channel 90. Earlier this season in the desert, John Hunter Nemechek held off Kyle Busch for the win. Now in the Playoffs however, the KBM team will have stiffer competition.
Written by Peter Stratta
Be sure to follow us on Twitter
Be sure to follow the writer on Twitter
Photo by Brian Lawdermilk/Getty Images for NASCAR