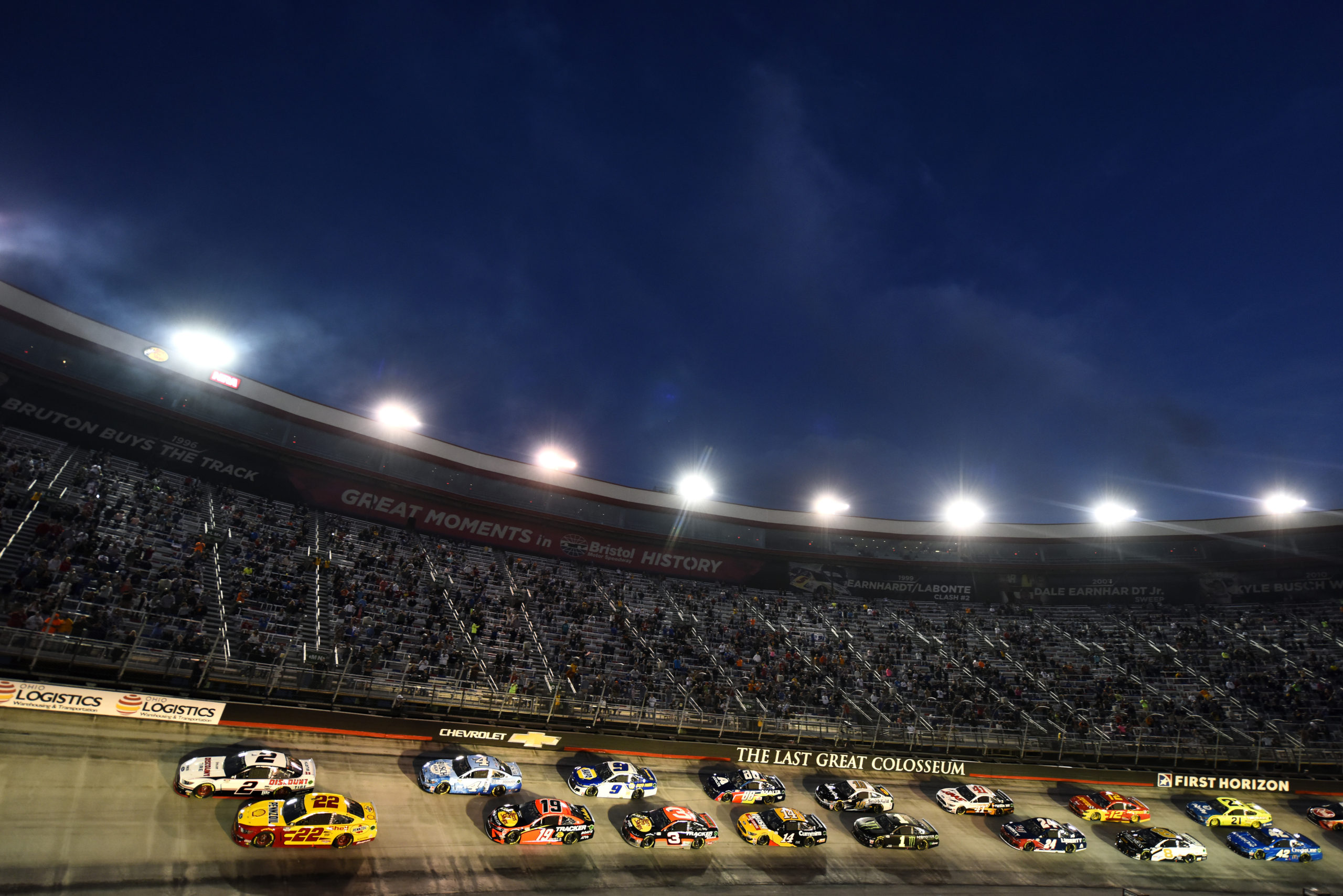 Which Playoff Titan will Reign Supreme in Bristol Night Race?
BRISTOL, Tenn. – Race three of the NASCAR Cup Series Playoffs is upon us. The Round of 16 finale will see the sport head to the foothills of eastern Tennessee, to compete at Bristol Motor Speedway. The world's fastest half-mile is the end of championship hopes for four drivers. Who can step up to the plate and be victorious at the Coliseum? Drivers up and down the Playoff grid are favored at Bristol, so let's take a look at some of the heavy-hitters for Saturday night.
Kyle Larson
Perhaps no driver has been closer to a Bristol victory but struck out every time than Kyle Larson. In 13 career Bristol starts, Larson has seven top-10s, including second place twice. The California driver has led over 600 laps around the half-mile, but hasn't quite closed one race out yet. At Bristol Dirt in the spring, Larson got wrecked out early after rallying from the back. The Bristol Night Race is one of Larson's favorite NASCAR events, and the regular season champion is eager to arrive in Tennessee.
"Bristol is cool all the time," Larson said. "But the night race, to me, has a little bit more meaning than the spring race because of the atmosphere around it. The lights, the crowd, the energy is just up for the night race. It makes me excited, and it makes me want to win there even more."
Larson may be Hendrick Motorsports' best shot at a Bristol Night Race victory. The 5 will start fifth Saturday night, going for a sixth win of 2021.
Denny Hamlin
The short-track ace, Denny Hamlin holds two prior Bristol wins, both coming in the fall race in 2012 and 2019. Hamlin was a few laps shy last week of opening the Playoffs with back-to-back wins. Now heading into Bristol, how will the 11 fare? On tracks under a mile in length, Hamlin leads the series in points scored in 2021.
"Yeah we've really performed well at [short tracks]," Hamlin said. "It's something we've put a lot of emphasis on after getting our teeth kicked in at the Final 4 last year at Phoenix."
For the third-straight race, Denny Hamlin will start second. A front row start has resulted in the 11 winning at Darlington and being just shy of the Richmond win. Can Hamlin keep this momentum alive in the Round of 16? With the incredible speed shown at Richmond, the 11 should be a favorite Saturday night.
Martin Truex, Jr.
Coming off one short track win at Richmond, can Martin Truex, Jr. go two-for-two with a first Bristol win? MTJ has done seemingly everything but win at Bristol. While Truex has six recent wins at the other two short tracks, Martinsville and Richmond, he's 0-for-31 at Bristol. Coming off the Richmond victory though, how does Truex feel about Bristol this time around?
"It's definitely a relief to have that win and not have to worry about Bristol this week," Truex said. "I enjoy racing there and we've had some great cars. But for whatever reason, we have had no luck whatsoever on the Cup side. Whether it's flat tires, loose wheels, speeding penalties, getting caught up in crashes, you name it and it's happened to us at Bristol. So, from that standpoint, it hasn't been our best track, but we're capable of running well there if we can just have a smooth night. It would mean a lot to have a good run because it's a big night for Johnny Morris and everyone at Bass Pro sponsoring the race, so we're going to give it our best shot and see if we can get a few more Playoff points before the next round."
Thanks to the Richmond win, Truex will start from the pole at Bristol. Can the 19 team's Tennessee turmoil turn around now that they're locked into the Round of 12? Much like Richmond, expect all of Joe Gibbs Racing to be strong at another short track.
Joey Logano
The winner of the Bristol Dirt race in the spring, can Joey Logano rebound for his first victory in six months? Aside from March's dirt win, Logano also has two fall Bristol victories. Logano is also one of five Playoff contenders with a top 10 in both opening races. As a result, the 22 is 40 points ahead of the cut line. Admittedly lacking speed, Logano has dug in for solid results in both prior Playoff races. If the 22 can stay clean for 500 laps, expect another top 10 run if not a win for Logano.
Going for the most unprecedented Bristol sweep ever, Joey Logano will roll off third Saturday night. The 22 machine may just be Ford's best shot at a Playoff victory, trying to upend Hendrick and Joe Gibbs Racing.
Kevin Harvick
As shocking as it may be, Bristol marked Kevin Harvick's last win a season ago. Can the 4 end a year-long losing drought at the Last Great Coliseum? A year ago, Harvick led 226 laps en route to his third Bristol triumph. Harvick's last trip to the concrete at Bristol ended in victory lane, can the 4 repeat that feat?
"The vibe at the Bristol Night Race is always over the top," Harvick said. "It's always a great event. You really never know what to expect at the Bristol Night Race. It can go completely smoothly or it can be complete chaos. Usually, it's somewhere in between those two and you just have an exciting night. Bristol is intense every lap. There's just a lot happening every single corner to make good lap times at Bristol. There's always something happening in front of you, so you try and look as far ahead as you can to keep yourself out of trouble. But the best way to keep yourself out of trouble at Bristol is to be on offense and going forward, so hopefully we can do that."
Harvick has been incredibly under-the-radar through these opening two Playoff races. The 4 entered as the 16 seed, and is now sixth, 25 points ahead of the cut line. Starting eighth, Harvick may just be primed to take his first victory of the year at Bristol.
Brad Keselowski
In his final trip to Tennessee as a Penske driver, can Brad Keselowski earn another win? Bristol is arguably Keselowski's best track on the circuit, with three victories. The 2's most recent trip to Bristol victory lane came last spring. Keselowski is trying to earn Ford their fourth-straight victory in Thunder Valley, and his first win since Talladega. The 2 machine will take the green flag 10th on Saturday. While Penske has been behind on speed, Keselowski could muster out a blue-collar, gritty victory.
Kyle Busch
There's few places better suited for Kyle Busch than Bristol, as Rowdy has eight Cup victories on the concrete. After leading late before a speeding penalty last week, the 18 may be out for blood in search of victory lane this week.
"I would like to get back to victory lane at Bristol, no doubt," Busch said. "We've had some decent runs there the last several years and hope we can do the same there this year. We were obviously there earlier this year but that was a completely different kind of race on the dirt surface. We have not shown the short-run speed at Bristol, but we've always kind of been good after about 30 laps or so, and our cars seems to really come in and run strong. It's always a great racetrack to circle on the calendar and know it's a time where we can shine. We also have M&M'S on board again this weekend, so hoping we can have a solid finish and get us through to the next round."
Busch's most recent Bristol win was in the spring of 2019. Since then, the 18 has not finished worse than fourth. Kyle Busch will start ninth in pursuit of a ninth Bristol sword trophy.
Kurt Busch
Currently the last man in the top 12, can Kurt Busch go from last in Richmond to first in Bristol? The elder Busch does have a six-pack of Bristol trophies, most recently the 2018 night race. If not for losing a tire early on, the 1 would have certainly been among the contenders at Richmond. Due to the crash and poor finish, Kurt Busch will start 15th at Bristol. However, Busch and Bristol are a very dynamic driver-track combination that have yielded great results for years. The 1 has a top 10 in four of the last six Bristol races, so don't think he will stay buried mid-pack for long.
The first elimination race of the NASCAR Playoffs is sure to be hectic, chaotic, and unpredictable. The Bass Pro Shops NRA Bristol Night Race is a fan-favorite event every season, the same should reign true this year as the gladiators take on the coliseum. Coverage of the Bristol Night Race begins Saturday at 7:30 p.m. ET on NBCSN, PRN, and SiriusXM NASCAR Radio Channel 90. Playoff drama could not be higher with a tie at the cut line.
Written by Peter Stratta
Be sure to follow us on Twitter
Be sure to follow the writer on Twitter
Photo by Jared C. Tilton/Getty Images for NASCAR