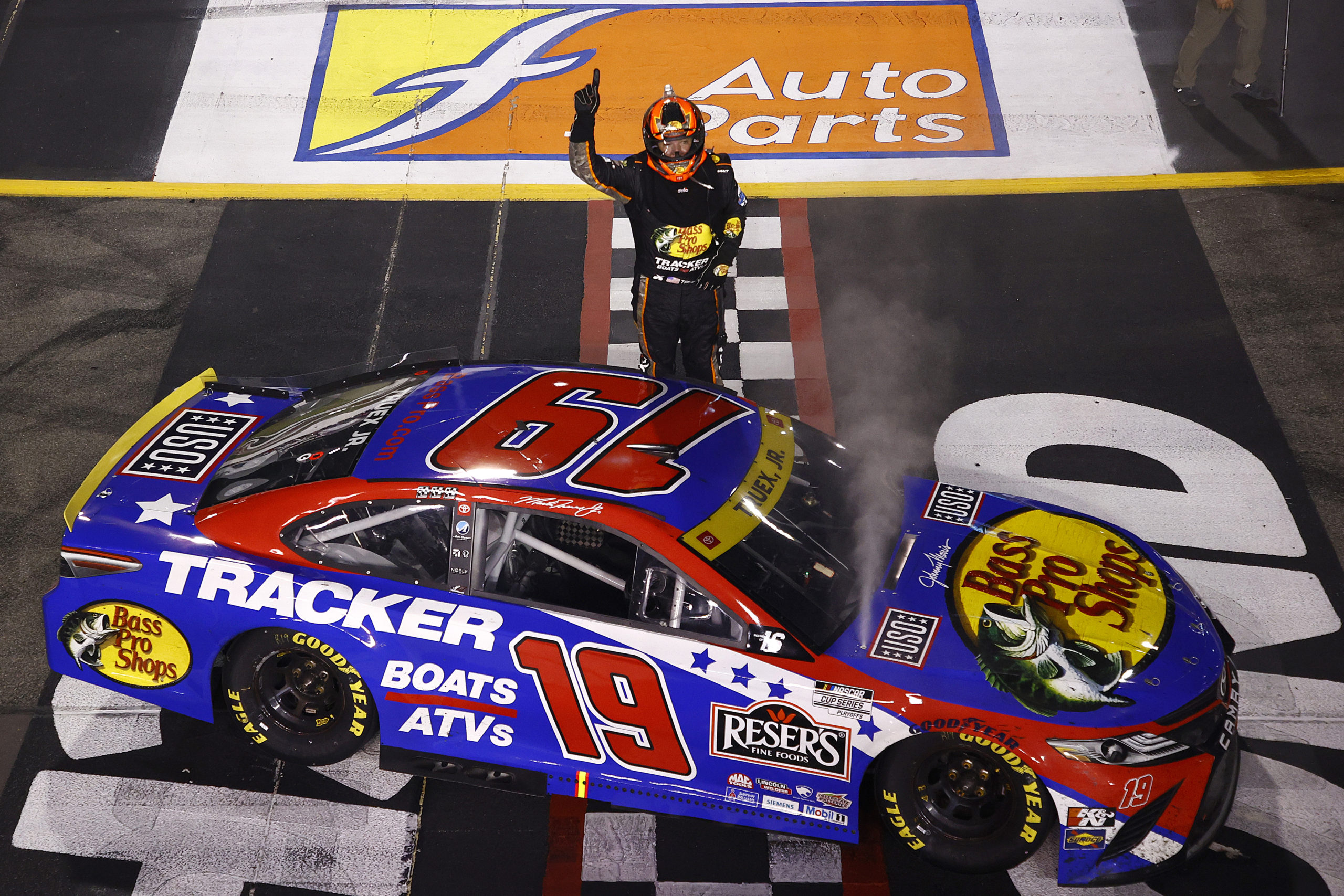 Martin Truex, Jr. Earns Third Win at Richmond, Locked into Round of 12
RICHMOND, Va. – Saturday night at Richmond Raceway was a Joe Gibbs Racing showcase. One of their four Toyotas led a whopping 326 of 400 laps in Playoff race two. While Denny Hamlin led a race-high 197 circuits and won both Stages, the 11 would not go back-to-back. Rather, the win would go to Martin Truex, Jr. The 19 beat the 11 on a late pit cycle and held off every charge from his teammate. MTJ now joins Hamlin as locked into the Round of 12, thanks to his fourth win of 2021.
Hamlin Hopes for Hometown Win
After starting second, Denny Hamlin was lights-out fast early. After Truex got busted for jumping the start, the 11 led all but four laps in the opening Stage.  Hamlin was untouchable in Stage 1, as he took the victory by five seconds. The one lowlight of Stage 1 affected Kurt Busch. A flat tire sent the 1 from third on track to finishing last.
Stage 2 would be much of the same for Hamlin, as he remained out front and largely unchallenged. Chase Elliott did pass the 11 on track, but a botched pit stop took the 9 out of contention. For Hamlin, this marked his eighth Stage win of the year and fourth-straight at Richmond. By the end of Stage 2, only 13 cars were left on the lead lap.
After the start penalty, Martin Truex, Jr. found the lead again around Hamlin early in the final Stage. For much of these laps, Joe Gibbs Racing ran in the top four spots, flexing their muscles with the 750 package. Pit strategy would see Kyle Busch cycle ahead of Truex for the lead, but that would not last long.
On his final pit stop from the lead, Kyle Busch got busted with a speeding penalty. This handed the lead back to Truex for good, as Hamlin tried erasing a big deficit. By the checkers, Hamlin trailed Truex by just 1.4 seconds. The 11 was the faster car over the closing laps, but ran out of time to catch the 19.
Truex's Winning Reaction
"Yeah, it's a big day," Truex said. "It's an important day in our history. I think all of us here – yeah, we're proud to win, and this car is amazing and there's so many people to thank. But what a day to win on. It reminds you of the honor and the privilege it is to get to come out here and do this. All these great fans that come out here. We couldn't do any of these kind of things without the men and women that take care of us and all the first responders, police officers, firefighters, the military, you name it. NASCAR is very patriotic and we're very proud, and Johnny Morris is very patriotic; that's why this thing is red, white and blue. So very proud of everybody to be able to do this today."
For Truex, Richmond marks his fourth victory of 2021, and also his first since May. The 19 has won three of the last five trips to Richmond Raceway, as MTJ seems to be the new short track king.
Top 10 Results From Richmond
Behind Truex and Hamlin, the top five were Christopher Bell, Chase Elliott, and Joey Logano. Kyle Larson, Ross Chastain, Kevin Harvick, Kyle Busch, and Ryan Blaney rounded out the top 10. By virtue of such a strong run, regular season champion Kyle Larson also clinched a Round of 12 spot on points.
Playoff Bubble Update
One race remains in the Round of 16, and the cut line is currently a tie. Kurt Busch holds the tiebreaker over Alex Bowman, while Tyler Reddick, William Byron, and Michael McDowell all have work to do next week. Nine spots in the Round of 12 remain open heading into elimination week.
What's Next in Cup
The next stop for the NASCAR Cup Series is the Round of 16 finale from Bristol. The Bristol Night Race is a fan-favorite every year, and it will be the end of four driver's title hopes. Coverage of the Bass Pro Shops NRA Night Race will be Saturday, September 18 at 7:30 p.m. ET on NBCSN, PRN, and SiriusXM NASCAR Radio Channel 90. Can one of the drivers below the cut line pull off a Bristol miracle? Tune into the elimination race to find out.
Written by Peter Stratta
Be sure to follow us on Twitter
Be sure to follow the writer on Twitter
Photo by Jared C. Tilton/Getty Images for NASCAR