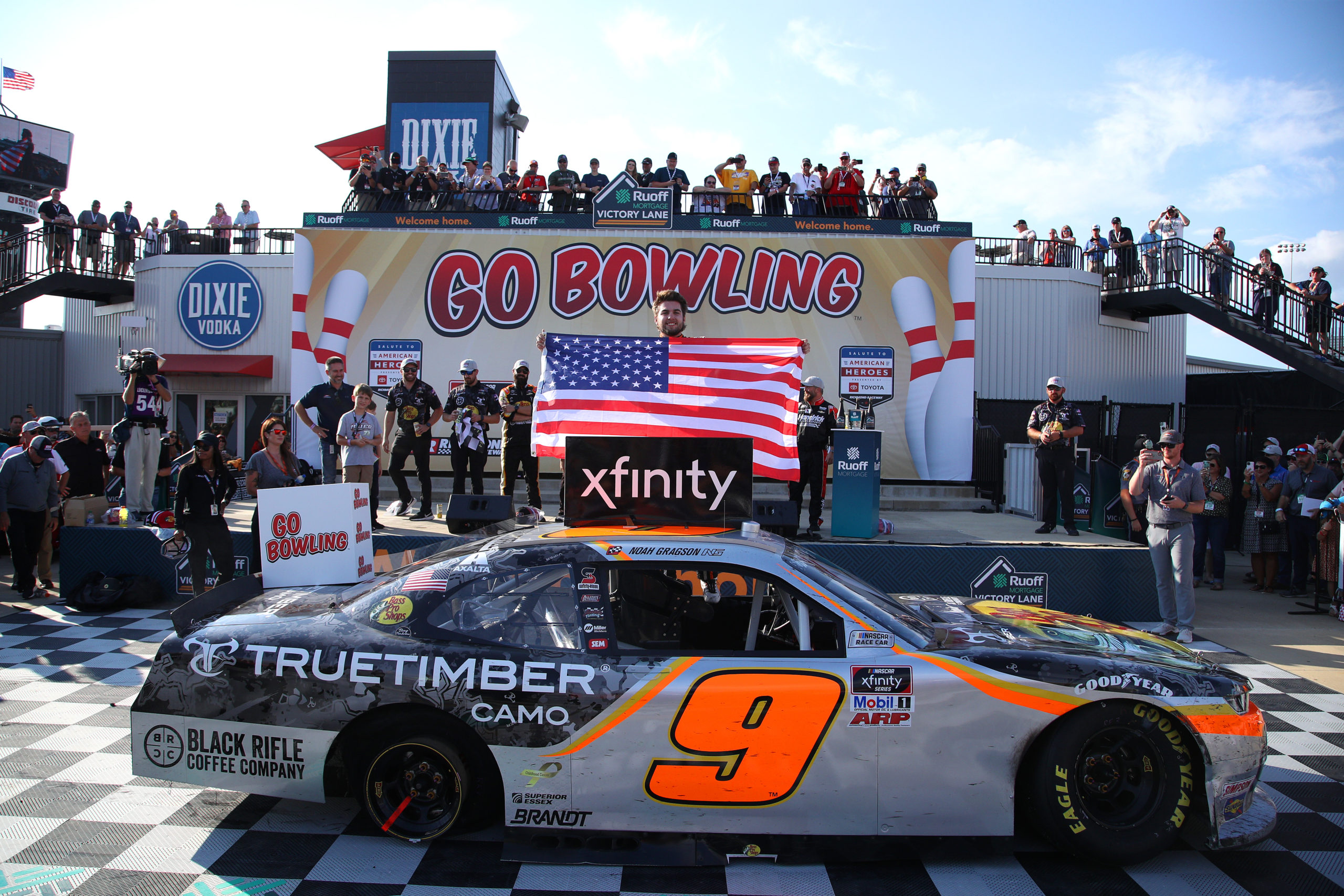 Noah Gragson earns Second-Straight Victory at Richmond
RICHMOND, Va. – After ending a 49-race winless drought a week ago at Darlington, Noah Gragson found victory lane again at Richmond. As the Xfinity Series Playoffs loom, is the JR Motorsports No. 9 a sleeper for the title? Despite Saturday's action from Richmond, the entire sport recognized the larger meaning of the 20th anniversary of the 9/11 attacks.
Miraculous Run in Stage 1
Although Austin Cindric started from pole, he was not the showstopper for Stage 1. Rather, that honor went to underdog Tommy Joe Martins. Under the lap 35 competition caution, the No. 44 was one of very few to pit on fresh tires. On Richmond's abrasive surface, the 44 took off like a rocket, taking the lead on lap 70.
Martins' amazing strategy gamble came close to paying off, as a lapped car on the last lap of Stage 1 cost him the lead. The 44 would finish a very close second in Stage 1 to AJ Allmendinger.
Martins' bubble would soon burst in Stage 2, as further back in the pack the 44 went around on the restart. The remainder of Stage 2 was mostly clean and green, until the closing laps. A spinning CJ McLaughlin ended Stage 2 prematurely, giving the win to Ty Gibbs.
Tires Win Out in Closing Laps
As proven in Stage 1, tires at Richmond were just about worth their weight in gold. As laps wound down, Harrison Burton was on fresh tires ahead of Gibbs, but ensuing cautions would seal both of their fates.
AJ Allmendinger stayed out in a last-ditch effort to steal the win with 25 to go. Once again, fresher tires did prevail. Noah Gragson took command with 14 to go and never looked back. Even though Justin Haley had fresher tires, the 11 ran out of time. After going all season long without a victory, the JR Motorsports No. 9 now has two-straight heading into the regular season finale.
Gragson's Winning Reaction
"I had tires, but the thing that really kept us alive were those two cautions at the end," Gragson said. "Today's not about this team or this win, it's about everybody who lost their life 20 years ago. We got a lot of heavy hearts, at least in America we can come together on this day. Appreciate all you race fans for coming out! It's an emotional day, a special day, but it's not about us today."
Gragson is absolutely a contender for this year's Xfinity Series championship. Across all seven Playoff races a year ago, the 9 finished second or third six times. If Gragson can put together that level of consistency again, the other three contenders in Phoenix should be concerned.
Top 10 Results from Richmond
Behind Gragson on fresher tires late was Justin Haley. John Hunter Nemechek, Justin Allgaier, and Riley Herbst rounded out the top five. Hear from the top finishers below.
The rest of the top 10 were Daniel Hemric, Ty Gibbs, Brandon Brown, Harrison Burton, and Jeb Burton.
Earnhardt Had Fun at Richmond
Richmond also marked the lone Xfinity Series start of 2021 for Dale Earnhardt, Jr. After starting 30th, the JR Motorsports No. 8 ran as high as the top 10, but tires and a late pit speeding penalty set him back. Earnhardt, a four-time Richmond Raceway winner, would finish 14th. Hear his thoughts below.
What's Next in Xfinity 
The next stop for the Xfinity Series is Bristol Motor Speedway, to close out the regular season. The final three Playoff spots are for the taking at The Last Great Coliseum. Coverage of the Food City 300 will be Friday, September 17 at 7:30 p.m. ET on NBCSN. Can anyone capitalize at such a treacherous short track for a last race to make the 2021 Playoffs?
Written by Peter Stratta
Be sure to follow us on Twitter
Be sure to follow the writer on Twitter
Photo by Sean Gardner/Getty Images for NASCAR