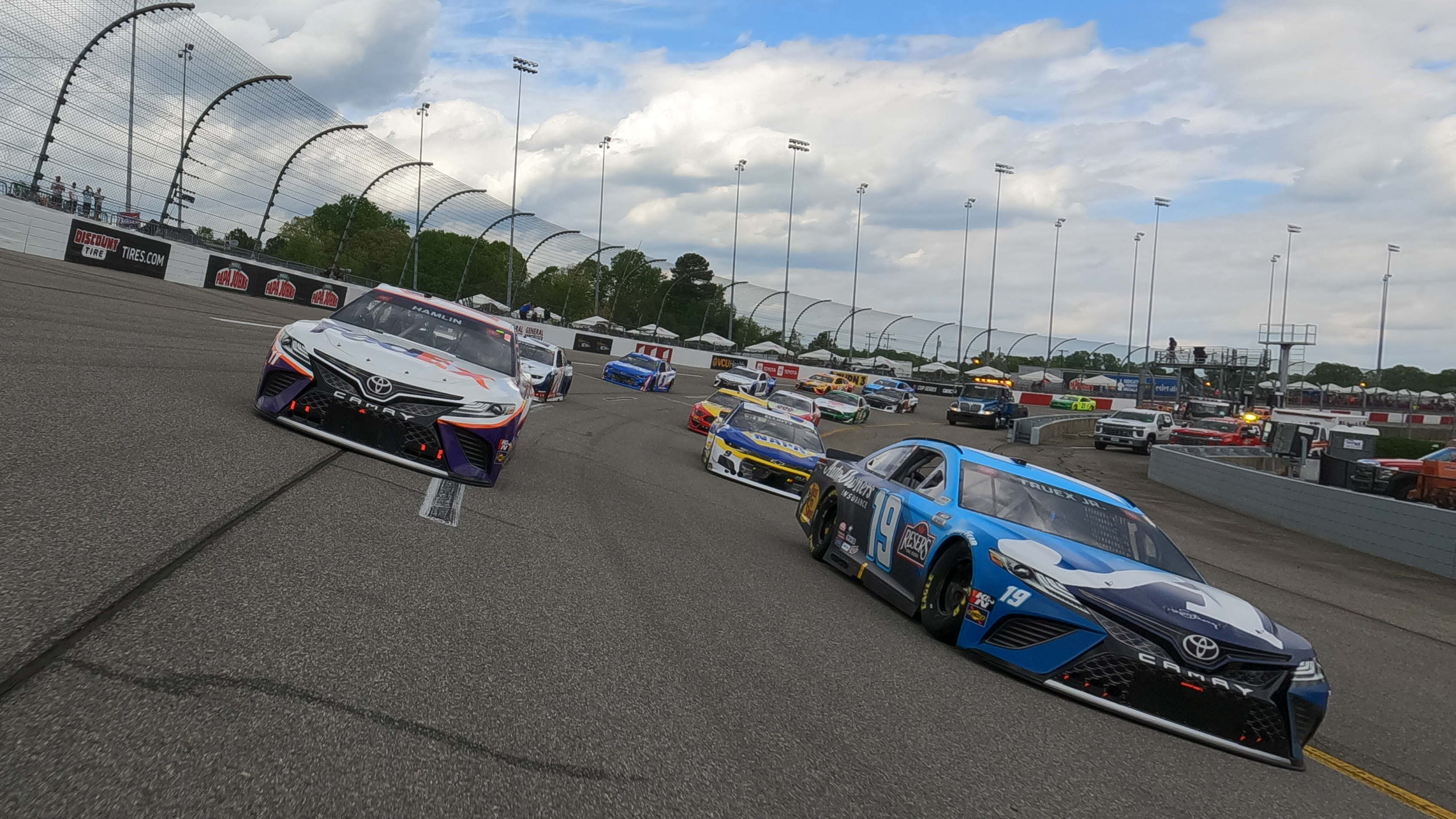 Ones to Watch for Saturday Night at Richmond Raceway
RICHMOND, Va. – Race two of the NASCAR Playoffs will see the Cup Series take to the first of three short tracks. The 3/4-mile Richmond Raceway is the venue for Saturday night's show, and for 15 drivers holds a ticket to the Round of 12. After so many contenders ran into issues at Darlington, can anyone turn their postseason around with the win? We saw the April race at Richmond go to Alex Bowman on a late restart, will another upset occur Saturday night?
Denny Hamlin
The lone driver locked into the Round of 12 is arguably the best active competitor at Richmond. Denny Hamlin has three career wins at his home track, and was close to a fourth just months ago. Despite earning his first win of 2021 last week at Darlington and being safe for this round, don't expect Hamlin to race any differently.
"We want to win these next two races, too," Hamlin said. "We're not going to take these next two weeks off. We want to keep this momentum going. That way, when we get to the treacherous second round, we're ready and we're in Playoff form."
Jut like at Darlington a week ago, the 11 will start second at Richmond. Finally over the winless hump for 2021, Hamlin has to be seen as a favorite for Saturday's win. The 11 very easily could earn back-to-back victories.
Kyle Larson
Despite a 2017 Richmond win, the Virginia track has not been the best track for Kyle Larson. Earlier this year, the Hendrick 5 team placed a dismal 18th at Richmond, never truly being relevant that day. After coming just one spot shy of the win last week, can Larson have a better race this time at Richmond?
"Richmond was really the only bad race from start-to-finish we've had this year," Larson said. "I know we'll be better this time around because we learned a lot. Alex (Bowman) won there and we have their notes, but we learned a lot even from how we ran in the spring."
This time at Richmond should be a much better showing for Larson and the 5 team. The regular season champion is the polesitter for Saturday night's 400-lap race, as he hopes to earn a sixth win of 2021. Aside from the lone Richmond win though, Larson only has one other top five here. If there is any chink in the 5 team's armor, it may be this commonwealth track.
Martin Truex, Jr.
The man who completed a Richmond sweep in 2019, Martin Truex, Jr. could end Saturday in victory lane. The past five Richmond races have ended with the 19 in the top five, as Truex is one of the best on short tracks period. With the momentum of a fourth-place run at Darlington, can MTJ keep this high rolling in Richmond?
"We have a lot of confidence going to Richmond," Truex said. "It's a place we feel like we can go run up front and have a shot to win. Right now, that's the biggest thing – trying to win races and win stages and advance yourself in the Playoffs. This is a great opportunity for us at a track we have ran well at the last handful of years. So yeah, we're going to try to go there and do all that we can to run up front and be there at the end of the night."
Richmond Raceway has been a Joe Gibbs Racing playground in recent years. All four Toyota Playoff drivers from the JGR camp should have great shots at the win on Saturday. Truex is perhaps the favorite among them, as the 19 will start third.
Joey Logano
Maybe the best non-Toyota driver who could pull off the win at Richmond, Joey Logano enters this weekend a bit under-the-radar. Despite a streak of four races outside of the top-20 to enter the Playoffs, the 22 placed eighth last week. Logano finished third at Richmond in April, after challenging Denny Hamlin late for the win. With one previous Richmond victory, Logano could make it two with the right circumstances. The 22 will roll off sixth Saturday night, trying to further advance Penske in the Playoffs.
Kevin Harvick
Back in April, Richmond Raceway was a glimmer of hope for Kevin Harvick. The 4 ran well inside the top 10 almost all day, until a late tire failure in turn one. Despite no Richmond victory since joining Stewart-Haas Racing however, Harvick has a top-10 here in five of the last six races.
"Through the years we've figured out how to get some solid finishes," Harvick said. "We had a really good Hunt Brothers Pizza Ford Mustang there earlier this year and wound up blowing a tire and not getting a very good finish. I'm looking forward to going back just because of the fact that we ran so well there at the beginning of the year."
"Richmond is a little bit like Darlington just in the tire fall-off and the way the cars slow down. The line doesn't move around very much at Richmond anymore, for whatever reason. So you have to grind away at one particular spot on the racetrack and make your car work as well as possible. It's definitely a unique short track. It's got enough speed to where you have to be good under braking and have a good-handling car in order to make it through the long runs that you know you're going to get throughout the night. Hopefully, we can have a good night. Based upon the first race, we should run well."
Much like Logano, Kevin Harvick may be all that stands between the JGR Toyotas and another Richmond win. The Stewart-Haas No. 4 Mustang will take the green flag from fifth in Playoff race two.
Chase Elliott
After crashing out late at Darlington, can Chase Elliott rebound for a strong finish at Richmond? In 11 career starts at Richmond Raceway, the 9 car has four top-10s. However, he put in a 12th-place effort in the spring. Starting off the Playoffs with a 31st-place finish, Elliott knows that Richmond must be a better showing.
"It's a cutthroat 10 weeks," Elliott said. "Unfortunately, the more the rounds go on you just can't have poor races. A lot of times having a poor race doesn't mean you did a bad job or you weren't fast, it just means something didn't go your way. Unfortunately, that could be the end of your season. Do I necessarily agree with that all the time? No, but at the same time we had 26 weeks to win races and to accumulate Playoff points. The more of those you accumulate, you're hedging your bet to make it further in the round. That's the best thing you can do, try and build that buffer and get those points and get yourself in a better position to where if you do have a bad day you can still recover."
Scoring points is exactly what Elliott must do in order to ward off potential elimination. The 9 will take Saturday's green flag from the 13th position.
Alex Bowman
April's Richmond winner, could Alex Bowman stun many again with a season sweep? The Ally 48 took over on a late restart, leading the final 10 laps en route to his first win of 2021. This clutch win was amazingly the first for Hendrick Motorsports at Richmond since 2008. While Hamlin, Logano, and others dominated much of the day, Bowman put himself in the right spot at the right time. How does Bowman feel about his chances now amidst the Playoffs?
"Going back to Richmond is something to look forward to this week," Bowman said. "Richmond is a track where our No. 48 team feels really strong at. We are bringing the same car from earlier this year when we ended up in victory lane. After last week, we need to rebound and capitalize on a good night on Saturday. There's not a lot of comfort going forward the next two weeks. But, we are going to two places we know we can be strong at and have good runs."
Among all Playoff drivers, perhaps nobody had a more disappointing Darlington than Bowman. The 48 hit the wall before lap 20, eventually limping home many laps down to finish 26th. Now starting 12th, Bowman hopes to turn around his postseason with another shot at victory lane.
Kyle Busch
Another driver hoping for a Richmond rebound is six-time winner Kyle Busch. After crashing out of Darlington early in Stage 2, the 18 left South Carolina in 35th, and with a hefty penalty announced this week. Busch's most recent Richmond victory was a 2018 sweep. Since then, he has results of eighth, second, sixth, and eighth back in April. As one of his most successful tracks, Busch enters Richmond with confidence high for another victory.
"Richmond is a great place for us and our M&M'S team," Busch said. "You've really got to be mindful of the bottom of the racetrack and also mindful of your brakes and how you use them. Just because the track is so hard on brakes, especially getting into turn one, that you can really overheat your brakes. That overheats your tires and makes you slide around more. Having good cars there has certainly been something we've been fortunate with at Joe Gibbs Racing over the years. I've won there six times and I've been in the top-five about every time we go there. So I would like to think that we can keep that string going and, more importantly, get a win. It would certainly be a good time for it, so we look forward to Richmond being one of those places where we can do that."
Busch Must Rally Early
Due to the poor result from Darlington, Busch will be buried in the field for the start, as he rolls off 15th. Do not expect the 18 to stay back there for long however, as a hungry Kyle Busch may be trouble for the field.
This year, Richmond has a much greater meaning than anything Playoff-related. Saturday marks the 20th anniversary of the 9/11 terrorist attacks. NASCAR will honor the fallen with many patriotic paint schemes across both Cup and Xfinity races. The Federated Auto Parts Salute to First Responders will start Saturday night, at 7:30 p.m. ET on NBCSN, MRN, and SiriusXM NASCAR Radio Channel 90. Can one of the above drivers clinch their spot in the Round of 12 with a huge Richmond victory?
Written by Peter Stratta
Be sure to follow us on Twitter
Be sure to follow the writer on Twitter
Photo by Sean Gardner/Getty Images for NASCAR