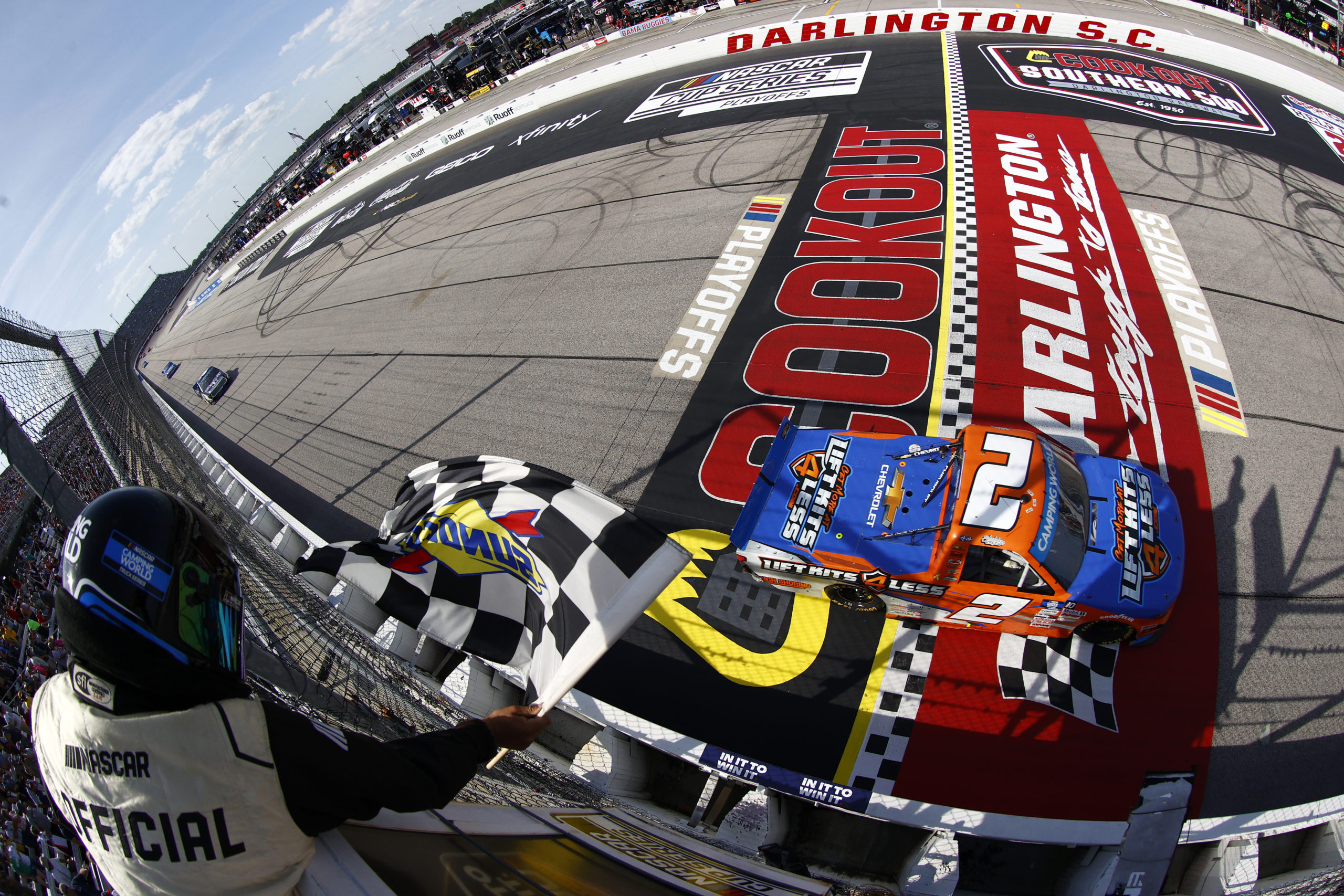 Sheldon Creed Continues To Impress with Win at Darlington
DARLINGTON, S.C. – Sheldon Creed picked up the win at Darlington Raceway on Sunday, going back-to-back in the Truck Series. Just a few weeks ago, it was Creed in victory lane at Gateway, showing up when the time was right for the playoff opener. Now, the defending Truck Series champion has proven his bid for another championship trophy is a very serious one.
"What a way to open the playoffs," Creed told FoxSports after climbing from his truck. "Started our day really, really loose. I was like oh no, we're in trouble here but the guys worked on it. Pit crew killed it all day…This one is for the family of the 13 service members we lost last week. Just want to thank everyone for our freedom and letting us race like this…We've had a tough season but we're shining at the right time. Feels so good to go back-to-back wins."
John Hunter Nemechek Comes Up Just Short
John Hunter Nemechek was certainly the favorite heading into the NASCAR Camping World Truck Series playoffs, but now has steeper competition than he's had all season with Sheldon Creed resourging. Today's finish does move JHN to the next round of the Playoffs on points.
"Second place is second place," John Hunter Nemechek told me post-race. "We're locked into the next round which is good. All eyes are focused onto the next round now. Bristol doesn't mean anything to us other than to go try and win, scoring some playoff points for the next round. But all eyes are set on that next round to go to Pheonix. Second place hurts, but could be worse."
When I asked where Creed had him today, Nemechek said: "Clean air. Clean air is king. I'll preach that till the day I die."
Where to Catch the Next Truck Series Race:
The NASCAR Camping World Truck Series will next take to Bristol Motor Speedway on Thursday, September 16th, at 9 p.m. ET on FS1, MRN, and SiriusXM NASCAR Radio Channel 90. The race will mark the completion of Round 1 for the Truck Series playoffs, eliminating two drivers from championship contention.
*NOTE* Check Noah_Lewis1 on Twitter for additional post-race coverage and comments from other drivers.
Written by Noah Lewis
Be sure to follow us on Twitter.
Be sure to follow the writer on Twitter.
Photo credit to Jared C. Tilton/Getty Images via NASCARMedia.