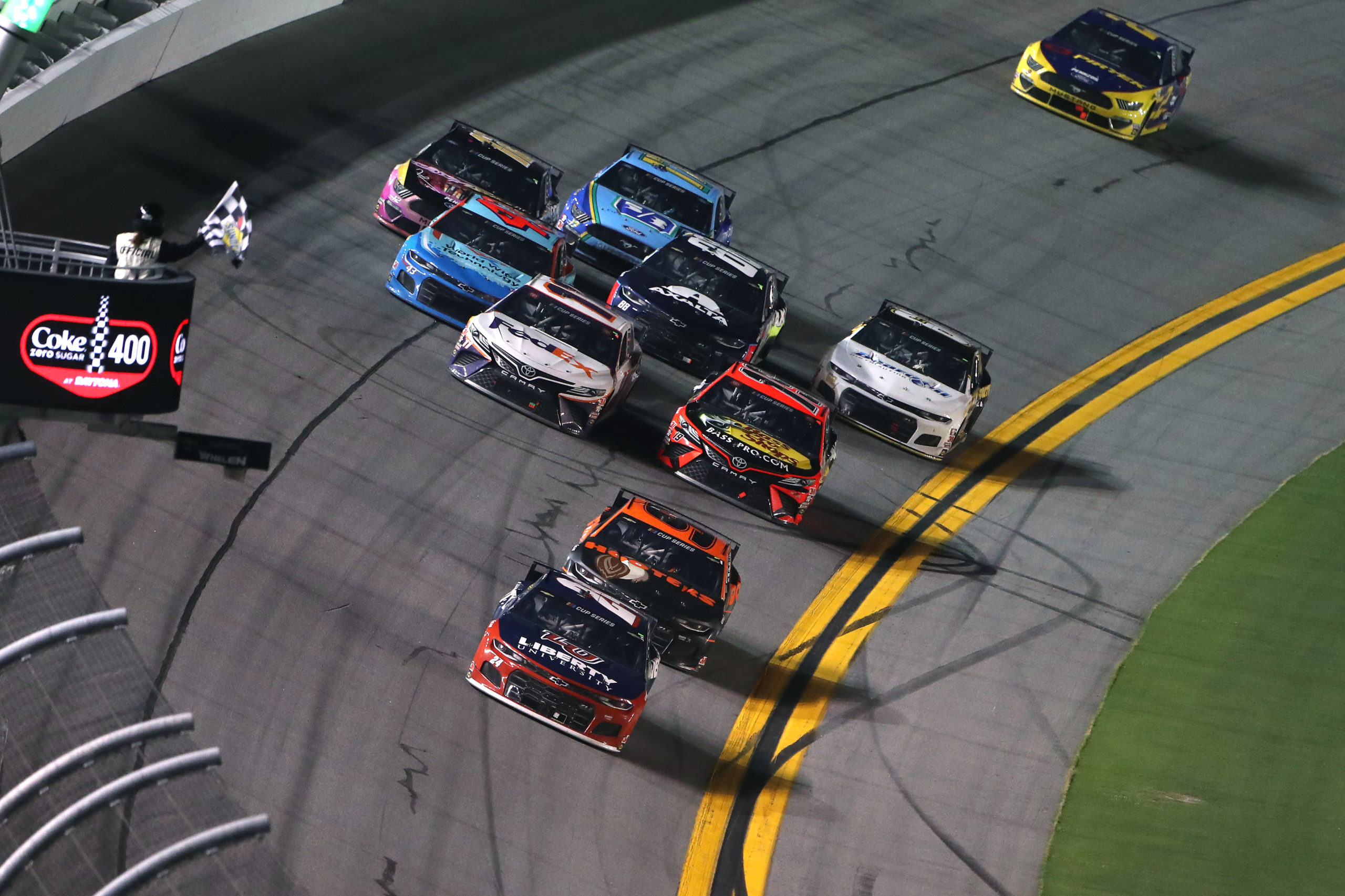 Can an Underdog Driver Win their Way into the Playoffs at Daytona?
DAYTONA BEACH, Fla. – After 25 races spread out over seven months, it all comes down to Daytona. The regular season finale for the NASCAR Cup Series offers one more shot to make up the 16-man Playoff field. Only one of the 16 coveted spots remain up for grabs on the superspeedway. Can we see a Playoff-upsetting performance Saturday night? A few drivers outside of the top 16 do have a great chance at stunning the racing world.
Daniel Suarez
In the first year of Trackhouse Racing's existence, Daniel Suarez has impressed. Through 25 races, the No. 99 Chevrolet is ranked 25th in points. Can Suarez earn his first career win and the maiden win for Trackhouse Saturday night? Daytona Speedweeks in February was kind to Suarez, as the 99 was a contender across both his Duel race and the 500.
"Daytona is going to be fun," Suarez said. "Superspeedways are a lot of fun. Actually, I enjoy that type of racing now. I didn't always like it, but now I do. Hopefully we can have a good, strong weekend."
"No more pressure than any other race. We want to win every weekend. Our team knows what it has to do. We have been working to be more consistent and put ourselves in the right position. We know we can win this race. Even after Saturday night we still have three months of racing left and we are going to keep working and improving."
"We are proud of what we have done this year. It has been a little bit of a struggle of late, but we are in a good position for the future. We keep growing and getting better and we are looking forward to continuing on that path. As you know (team owner) Justin (Marks) has a lot of exciting plans for 2022 by getting us bigger and stronger and I see good things for us. I believe that we will win."
Trackhouse's No. 99 team enjoyed much of the summer being just on the fringe of Playoff contention. However, a string of bad luck since Pocono has not seen Suarez finish better than 20th. In his last chance at making the 2021 Playoffs, Suarez will start 26th in Daytona.
Ross Chastain
The melon man may just smash another one after Saturday night. Ross Chastain's superspeedway prowess is stout, with his level of aggression. Chastain cannot be counted out of a puncher's chance at Daytona. Ganassi wants both cars in the Playoffs in their final season, and the 42 could deliver a win to the boss. Two years ago, Chastain earned a Daytona summer victory in the Xfinity Series. If the 42 stays clean and near the front of the pack, a daring move could end with Chastain winning or wrecking. Ross Chastain will roll off 29th Saturday night.
Matt DiBenedetto
Perhaps the fan-favorite to win his way into the Playoffs, Matt DiBenedetto hopes to put the Wood Brothers No. 21 back into the postseason. Racing for his future in a lame-duck deal, DiBenedetto may just put it all on the line in hopes of a victory. The past few superspeedway races have seen DiBenedetto contend at the head of the pack, including the last two Talladega races. Both races in Alabama were heartbreaking losses for the 21, can luck turn around for Matty D? The 21 car will be ninth at the start of Saturday's 400-mile last chance effort to make the Playoffs.
Austin Dillon
The first man outside of the top 16, Austin Dillon hopes for a strong night on the high banks. After an early crash last week in Michigan, Dillon eyes a strong run and potential win at Daytona. Daytona Speedweeks was very kind to the 3, with a Duel win and finishing third in the 500. Dillon will bring the same car back to Daytona, eyeing a second Florida win. Dillon does boast eight Daytona top-10s; if the 3 remains clear of chaos, he should be a contender late.
"Yeah, that gives the confidence to you as being the last race of the year," Dillon said of his Daytona history. "And the situation I am in right now, I think I've been in other situations down the road, it would probably be more stressful. But for me, we're in a little bit of a nothing to lose attitude right now because we've got to gain on our teammate, and if not, we've got to win somehow. So, Daytona is that place and it gives us an opportunity with our ECR horsepower. I don't know. We've just had the ability to keep that No. 3 at the front when we go to Daytona. I like it. It's a magical place and I've had some great runs there. I'm pumped that it's the last race of our regular season."
The 3 car is not necessarily in a must-win scenario, but must out-point Tyler Reddick and also hope for no new winner. Dillon will gun for his his fifth Playoff appearance after starting 27th.
Tyler Reddick
In the midst of a tight battle against his teammate, Tyler Reddick has to play defense. A 25-point cushion may be a lot at most races, but certainly not Daytona. Reddick enters Daytona in a very unique situation, having past wins on the superspeedway in both Truck and Xfinity competition. Can any of that past experience winning at Daytona translate to Saturday night's pressure?
"When I've won at Daytona, it's been the first race of the year and you're just getting started," Reddick said. "The year I won Daytona in the Truck Series, that was before stage racing for the Trucks. That was before the Playoff format, if you will, too. So, every race really mattered. But the first race of the year, you don't really know how your year is going to shakeup, so you're just out there racing hard."
"The same thing at Daytona when I won with JR Motorsports. It was the first race of the year. We had kind of had a crazy day to start the thing off. Our car wasn't even really running. So, for me in those situations, there wasn't really anything holding back. But in the Cup Series, it's just totally different. You have a lot of really good drivers out there that have been through the ranks and have won in other series; and have the laps and experience, know what to do and what to stay away from, and know what moves to not fall for."
Reddick Must Race Carefully
"With that being said, we've won races a lot harder because of that and we can all get away with a lot more. But when the moment finally happens when one mistake is made or two drivers don't understand what the other is doing and you end up in the same place because we race so tight – a lot of chaos unfolds."
Reddick will certainly put it all on the line to make his first Playoffs. In this race a year ago, the 8 made a daring move for the lead that ended in him wrecked. Reddick will hope for a better result after taking the green flag from 17th.
Joey Logano
A perennial championship contender, Joey Logano is at risk of entering the Playoffs with only one win. Logano should be seen as a favorite for Saturday's win, due to a recent personnel change with the 22. Logano gained spotter Coleman Pressley in Michigan, who has plenty of experience assisting Brad Keselowski to victories. One of Pressley's wins as a spotter was Talladega back in the spring. The 22 never lacks aggression on superspeedways, as he was in position for the victory in the final corners of this year's Daytona 500. Logano will go for another major Daytona win from the 22nd starting spot.
Denny Hamlin
The points leader for most of the regular season, Denny Hamlin is still 0-for-25 in 2021. Can the three-time Daytona 500 champion earn his first summer win at The World Center of Racing? After leading 98 laps only to finish fifth in this year's Daytona 500, Hamlin enters Daytona with high confidence.
"Daytona's been one of the best tracks for me," Hamlin said. "I've won the 500, and I'd love to win the Coke Zero 400. I'm a Coke driver and I have not yet won that race. We seem to put ourselves in contention each and every year at Daytona, so we always look forward to racing there. And because my Playoff spot is clinched, I can go on offense. I've got nothing to lose."
With nothing to lose, can Hamlin secure his first win of the season? Daytona may just be kind to the Fedex 11 again, as he's seemingly always in the mix late at superspeedways. Hamlin will start third on Saturday night, hoping to build up momentum entering the Playoffs.
William Byron
A year ago, the Daytona regular season finale was the first career win for William Byron. Can the 24 go back-to-back on the biggest stage? Byron said how he relished in the do-or-die Playoff pressure of last year's Daytona race. Now well locked in, can the 24 earn another win?
"Last year was stressful for most of the race," Byron said. "It was one of those Game 7-type moments that you go into knowing it's do or die. I actually really like that sensation. You know exactly what you need to do to get the job done instead of trying to count points. It was interesting how that race played out, though. With things that happened on track with other guys, I was in a position that I could make it in on points as long as I finished."
"So, during that red flag, it was really a mindset change for me of, 'Okay we don't need to win, but if we can, we will to seal the deal.' It's nice to not be in that bubble situation this year. Now I can watch and see how it plays out. We're still in a similar situation of going into this race with a clear objective – secure playoff points and a win to set us up better moving forward." Byron will start second, alongside teammate Kyle Larson
Ryan Blaney
Superspeedway ace Ryan Blaney enters Daytona coming off a win at Michigan. Can the 12 earn two-straight victories to close out the regular season? Blaney does boast two past victories at Talladega, but is winless at Daytona despite four top-10s here.
"I think any speedway race, it's up in the air," Blaney said. "You can do your job to the best of your ability all day, just get caught up in someone else's mess. Those things just happen. The biggest thing we can do is try to control what we can control, try to get as many stage points as we can, try to get a win, just try to finish that thing and get a good starting spot for Darlington. Yeah, good momentum, just try to survive all day at Daytona.
"Like I said, just try to rise to the occasion at the end because it benefits you next week, too, to start the Playoffs. Josh and I had all we could handle the last 10 laps, that's for sure. It's going to be the same thing. Yeah, like you said, a good warmup for Daytona, calling runs, things like that. It's definitely a nice warmup. Hopefully we can repeat the process there."
Blaney will go for two wins to enter the Playoffs after starting sixth on Saturday. The 12 has seen many Daytona races fall out of their grasp in recent years, is luck on their side for this trip to Florida?
Chase Elliott
Defending Champion Chase Elliott surprisingly does not have the best history at Daytona, can 2021 change that? The 9 did place a close runner-up in the season-opening Daytona 500. Trying to pad his Playoff points total, can Elliott earn an elusive Daytona triumph? Thankfully, Elliott is more than locked in this weekend and can simply race for the victory.
"Yes, Daytona is the cutoff race, but it has always been on the schedule before the Playoffs," Elliott said. "Whether it is at the beginning of the year or last race before the Playoffs, you are either in it or you're not. You have 25 other races to solidify your spot before then. It's nice to go into the weekend and be locked in because anything can happen at Daytona."
The 9 will start fifth at Daytona, going for a third win on the year. Surprisingly, Elliott has yet to win on an oval in 2021. Can that change on the Florida superspeedway?
A lot will be decided at the Coke Zero Sugar 400 at Daytona International Speedway. Not only is the last Playoff spot for the taking, but so is the regular season championship. Drama, excitement, and unpredictability are pegged heading into Saturday night. Coverage begins at 7:00 p.m. ET on NBC, MRN, and SiriusXM NASCAR Radio Channel 90. TSJSports will also be on location to cover all of the action.
Written by Peter Stratta
Be sure to follow us on Twitter
Be sure to follow the writer on Twitter
Photo by Brian Lawdermilk/Getty Images for NASCAR