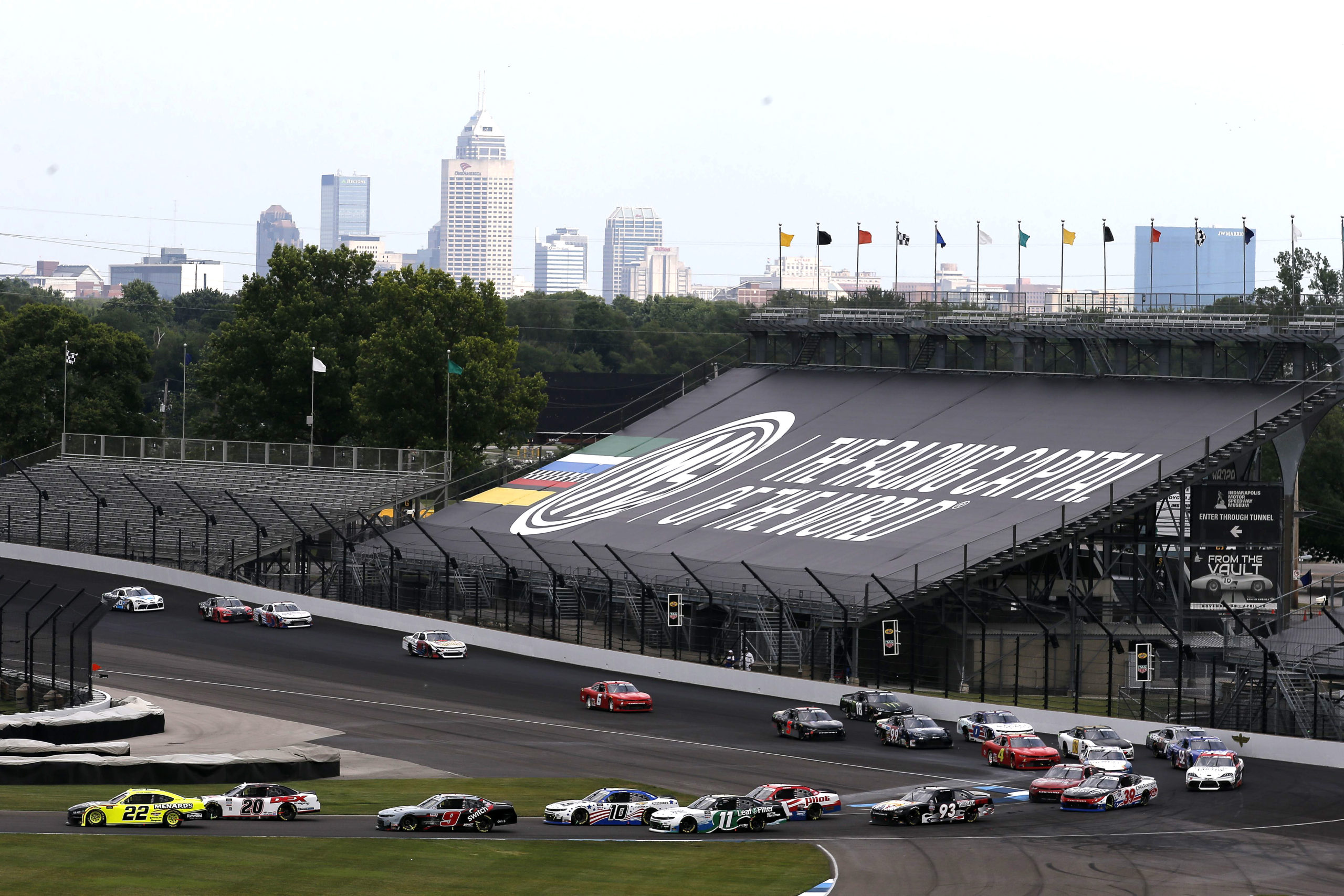 Who Will Figure Out The Indy Road Course for Inaugural Verizon 200?
SPEEDWAY, IN. – For the third time this year, the NASCAR Cup Series will hold an inaugural event on a new road course. Rather than competing on the famed Indianapolis Motor Speedway oval, the Cup cars will take to the Indy Road Course. The Xfinity Series ran on this circuit a year ago, delivering an amazing finish. In road course race number six on the year, who can tame an all-new circuit? Can this 14 turn, 2.439-mile track lead to a Playoff-upsetting performance?
Ross Chastain
Perhaps the most underrated road course racer all season long, Ross Chastain enters the Indy circuit eyeing a Playoff-upending win. In five road course starts already in 2021, the 42 car has three top-10s. One of few drivers entering Sunday who ran last year's Indy Road Course Xfinity race, Chastain placed sixth in 2020.
This year on the Indy Road Course, the 42 should be a strong contender for a top 10. With the right strategy or circumstances, Chastain could press the attack for a higher position. At 18th in points, the 42 faces a must-win scenario to make the Playoffs. Out of winless drivers, Chastain is one of the favorites to earn their maiden win Sunday.
Tyler Reddick
Another winless driver favored Sunday is Tyler Reddick. Facing his first Playoff appearance, Reddick has also been an underdog on road courses all year long. The past five road courses have yielded three top-10s for the 8, including 10th last week at Watkins Glen. With a top 10 in four of the last five races, can the 8 ride this momentum wave into a Playoff berth?
"I think track position will be everything for Sunday's race at the Indy Road Course," Reddick said. "I found that out at Watkins Glen. I've always seen it but really didn't understand the magnitude of it until this past weekend. For example, stack-ups on a restart when you're farther back, if someone runs into the back of your car and damages it, the next thing you know you're flying around trying not to crash other people as well. When you get back there in that mix of guys who stayed out and you're on tires, it's chaotic. Having the right track position and having the strategy to not only maintain it, but also advance it, will be a challenge but it's going to be so important to having a great race."
Reddick is currently the 16th seed, with a 15-point buffer over teammate Austin Dillon. The Indy Road Course favors Reddick over Dillon, where the 8 must capitalize if he is to remain above the cut line. The regular season closes out at two of Dillon's best racetracks, so a Playoff berth may depend on Reddick's ability to perform or even win this weekend.
Christopher Bell
The lone 2021 road course winner not from Hendrick Motorsports, Christopher Bell earned his first victory at the Daytona circuit in February. Since then, the 20 has placed second at Road America and seventh at The Glen. Bell would have certainly been a factor for the win at Watkins Glen, except he got spun by Kyle Larson. After a strong run set back to seventh, can Bell rebound at Indy?
"We had another great road course showing last week at Watkins Glen," Bell said. "So, I'm expecting more of the same this week in Indy. I'd love nothing more than to kiss the bricks!"
The 20 has shown great performance in recent weeks, with four-straight top-10s. Bell should absolutely keep this step forward in consistency alive on Sunday, but how will he race around Larson? Larson was quick to apologize to Bell after winning, but Bell refused to talk to driver No. 5 after the fact. Could a rivalry be brewing as we head into the Playoffs?
Martin Truex, Jr.
Another stout road course racer, can Martin Truex, Jr. put the 19 in victory lane at Indy? Road courses have been very hit-or-miss for MTJ this year; five races have seen three top-10s, with two third place efforts. One of those podiums was Watkins Glen, so he does head to the Indy Road Course with some momentum. On an all-new track though, how does Truex approach this weekend?
"I honestly have no idea," Truex said. "All I know about is what I've seen on TV, so I've got a lot of homework to do this week to get prepared and be ready for practice on Saturday there. It will be fun. It's always exciting to go to new tracks and I like road courses as well so it should be good."
"If you don't today, you might as well stay home," Truex said on simulator time. "It's just the way it is, especially with no practice and a new track coming up this weekend. I think everybody does and there are so many tools available today, it's almost like we're becoming robots. If you don't use those things and the tools available, you're going to be behind."
Truex has been just a step behind the Hendrick cars on road courses all year long. Both of his third-place runs trailed both Larson and Elliott. With a new track being the great equalizer, can the 19 win this inaugural event? He will certainly have to outsmart the HMS cars to earn this victory.
Chase Elliott
Is Chase Elliott still the undisputed road course king? While he does boast two wins this year, two more times he's finished second to Kyle Larson. This includes Watkins Glen a week ago, so can Elliott outduel the 5 at Indy? In the three road course races Elliott has not won this year, circumstances have taken the 9 out of a near-assured win.
The Daytona Road Course saw Elliott lead until a rain caution. Sonoma saw Larson just outrace Elliott heads up. Lastly, Watkins Glen saw Elliott come back from a flat tire all the way to second. Last Sunday saw the 9 just run out of time to chase down the 5. What are Elliott's thoughts entering another new circuit at the Indy Road Course?
Is the Indy Road Course like Anything Else?
"You know, that road course, to me, is not going to be your average infield road course," Elliott said. "That place was the host of an F1 event, many IndyCar events over the years, and obviously Xfinity last year. It was laid out probably more like a traditional road course – a place that was kind of made for it and has a little more flow to it than some of the infield tracks that we see, like the ROVAL. A lot of these tracks have infield tracks. We just might not go to them."
"But I think it'll be more like a normal road course, more so than the ROVAL. One thing about those types of tracks is they don't have any elevation really. And that, to me, is kind of what makes them different. Charlotte has a little more elevation and up and down than you might think, but watching that race last year, the thing that stood out to me the most was it is super flat. There is really no up and down to it. So, I think that could be a little different than the norm."
Elliott on Indy Road Course vs. Oval
"The oval has always been a place that I wanted to do well at; unfortunately, I just never have. I was old enough for Dad's win at the Brickyard that I was a part of those photos. I always thought it would be really cool to have a win there. Just win that race and have my family there. I am not sure what the road course will bring. It's definitely going to bring a different feel for me because it is hard to view it as the same event as what Dad won."
"I am still excited about it and looking forward to it. I have never run there or run anything on the course. The big thing this weekend will be practice on Saturday. Until you get to a place and you can see it, feel it, and kind of find your rhythm with it, it's hard to tell especially with a new road course."
Elliott tops many people's short lists of favorites for Sunday, and rightfully so. Elliott is just bad luck or timing away from being 5-for-5 on road courses this year. The 9 will absolutely be a contender from the drop of the green flag Sunday, as he goes for his eighth career road course win at Indy.
Joey Logano
A proven road course sleeper pick all year long, Joey Logano could deliver Penske a huge Indy win. The first three road courses in 2021 saw the 22 finish second, third, and fourth. Logano was unfortunately never really a factor at Road America, and would have been higher at Watkins Glen if not being hit by his teammate. Any win at Indianapolis for Team Penske is a momentous occasion. Can Logano deliver The Captain a checkered flag in this inaugural event at his track?
"Roger is so passionate about that racetrack," Logano said. "We hear about it a lot. The improvements he's made, I got to go up there last week and take a look at the facility and what they've been able to do over the last year. The place is beautiful. It's a country club. It's nice and we're all gonna enjoy it, I know that. You're gonna know it's a Penske entity, for sure. When you see it, you'll realize it pretty quick."
Indy Still a Major for Logano
Unlike some of his competitors, Joey Logano still sees this weekend's race as a huge event in the NASCAR calendar. Which Indy circuit he's competing on does not make a difference to driver No. 22. "It doesn't matter, nope. I don't believe so. It's Indy. It's a racetrack that everyone in the world wants to win at — not just our country. It is a world-class facility and everyone in the world wants to say they've won at Indy, whether it's on the road course or on the oval, in a stock car or an IndyCar or a tricycle. You want to say you've won at Indy, so I think that's all it takes for me. I'll still kiss the bricks at the end of it. It doesn't matter."
With four cars entered in Sunday's Verizon 200, Joey Logano may just be Penske's best chance at the victory. The 22 has a strong shot at the win, as he sits fifth in points.
Kyle Busch
A two-time Brickyard 400 winner, Kyle Busch hopes to also become the inaugural Verizon 200 winner on the Indy Road Course. Busch's No. 18 Toyota is always a contender at Indianapolis, so expect him to be a factor on the road course. The last three road races have seen Busch finish in the top five, so he's absolutely a favorite for Sunday. Can Busch adapt to this new course though in enough time to hoist Sunday's trophy?
"It's definitely not what the oval is," Busch said. "Certainly not the Indy 500 or the Indianapolis Motor Speedway that was always known for being the 2.5-mile oval and all the history that came along with that from the 500 to the Brickyard 400 over the years, as well. To me, it's not going to be the same, but it is what it is."
"It's another racetrack where it's a different racetrack at the same venue. So we have to go out there and figure it out. I saw clips of last year's Xfinity Series race there and it looked pretty fun. We've been spending more time learning more about it and we are going to put the same effort into that race as any other. And we'll try to bring home another win there, this time on the road course, with our M&M'S MIX Camry, just like we did there a few times on the oval."
Busch's Road Racing Background
"It's definitely something you have to work on," Busch said on road racing. "With rule changes and tire changes, it's something you work on every year. There's always changes that you have to work on to be competitive. When I was a kid back in Las Vegas in Legends cars, that's where I was able to learn about shifting and turning left and turning right. I had the natural instincts for it and won a couple of championships in the winter series we had out there."
"We actually went out to Sonoma back then and ran the national championship races two years in a row and finished third both times. So, I had a little bit of experience on road courses as I came up through the ranks. Certainly the game has changed as far as road course racing this year, with several more races than we used to have, so you have to adapt and adjust. We've run well at the majority of the road courses so far this year and I'm hoping we can keep it going this weekend."
Oval or not, Kyle Busch is sure to be a deciding player in Sunday's race. Like his teammate Truex, Busch has been all-or-nothing in 2021's five road racing events. However, he has placed in the top five in the last three, so the 18 is favored to keep that streak alive.
William Byron
Another sneakily good road racer historically is the 24 of William Byron. While his teammates have won four of the five events, Byron has run into trouble four times. Byron only has one road course top 10 on the year, sixth at Watkins Glen. COTA saw Byron's top 10 streak end by placing 11th, while the other three races have seen the 24 outside of the top 30. The 24 has been a disappointment results-wise on road courses this year, but has shown some promise. Can Byron close out another full road course race at Indy? Like with all drivers, Byron's weekend preparation will be key to success.
"I think it's going to be really interesting," Byron said. "I honestly would compare it to the ROVAL just based on the laps I have run already on the Chevy simulator. A lot of the corners are low speed but there are also very high-speed braking zones to manage, as well, like the ROVAL. There's a lot of tight radius corners, too, but I feel like that's going to make for good racing. Continuing to prep for this weekend, I'm going to re-watch the Xfinity Series race from there last year and then Saturday's race, as well. Their cars are pretty similar to us, especially on the road courses with their horsepower and downforce package. They're a little bit slower than our cars but the characteristics are the same."
Byron's breakout season has the 24 team third in points through 23 weeks. Consistency has been the main driver of Byron's year, as he still only has the lone victory. Entering the Playoffs, Byron needs to begin to close out races and contend for more wins. Can this shift into a postseason mentality begin at Indy?
Denny Hamlin
Locked in a dead heat for the regular season championship, can a winless Denny Hamlin show out at Indy? The Brickyard 400 last year was a crushing blow to the 11 team; they led in the closing laps only to blow a tire and pound the wall. Now on a new layout, will the Indy Road Course be Hamlin's time to shine? The Fedex Toyota has four road course top-10s this year, and will likely need more to stay alive in the points battle for top dog.
"We lost a 'major,' that part of it stinks," Hamlin said. "I think as a driver, you would not regard the road course win the same as the Brickyard win. But I'm for whatever they want to change to get enthusiasm in that area. Indianapolis has always been one of the highest tune-in markets every week, but we need to get them to the racetrack. If they mix it up and more people come and see us race the road course, then that's OK. I'm good with that."
Hamlin's four road course top-10s are tied for the series-best in 2021. With that being said, he is absolutely on the short list of contenders for Sunday's win. Hamlin hopes to keep the fight for the regular season championship tight with Larson, as those 15 bonus points are valuable.
Kyle Larson
The hottest driver in NASCAR, Kyle Larson hopes to keep his winning ways rolling through Indy. Larson's tear of a season has not excluded road courses, as he's beaten road racing ace Chase Elliott twice. Larson also was a close second to Elliott in COTA, to round out his three road course top-fives this year. The 5's only stumbles on road courses this season were the Daytona Road Course and Road America. Larson was in contention to win the Daytona race before a late spin, and also ran mid-pack at Road America. Coming off a Watkins Glen win, can Larson go back-to-back at Indy?
"There is just a different vibe at Indianapolis – the history, the fans, the facility," Larson said. "I think it'll be cool to run the road course layout this weekend and we all want to say we won the inaugural event. With my racing (in Iowa) this week, I'll be watching a lot of tape of other series on the road course layout to familiarize myself with it ahead of practice on Saturday."
Larson has bested Elliott in two of the last three road course races, and Sunday at Indy could be a third. The 5 should adapt quickly to the new circuit and be a strong pick for the win Sunday. Elliott ran out of time to run Larson down last week. Can these two decide another road course race amongst themselves?
Coverage of the inaugural Verizon 200 at the Brickyard from the Indy Road Course will be live Sunday, August 15 at 1:00 p.m. ET on NBC, the IMS Radio Network, and SiriusXM NASCAR Radio Channel 90. Who will adapt the quickest to this new course, and who will kiss the bricks after a major win at Indianapolis?
Written by Peter Stratta
Be sure to follow us on Twitter
Be sure to follow the writer on Twitter
Photo Credit to Jamie Squire/Getty Images for NASCAR