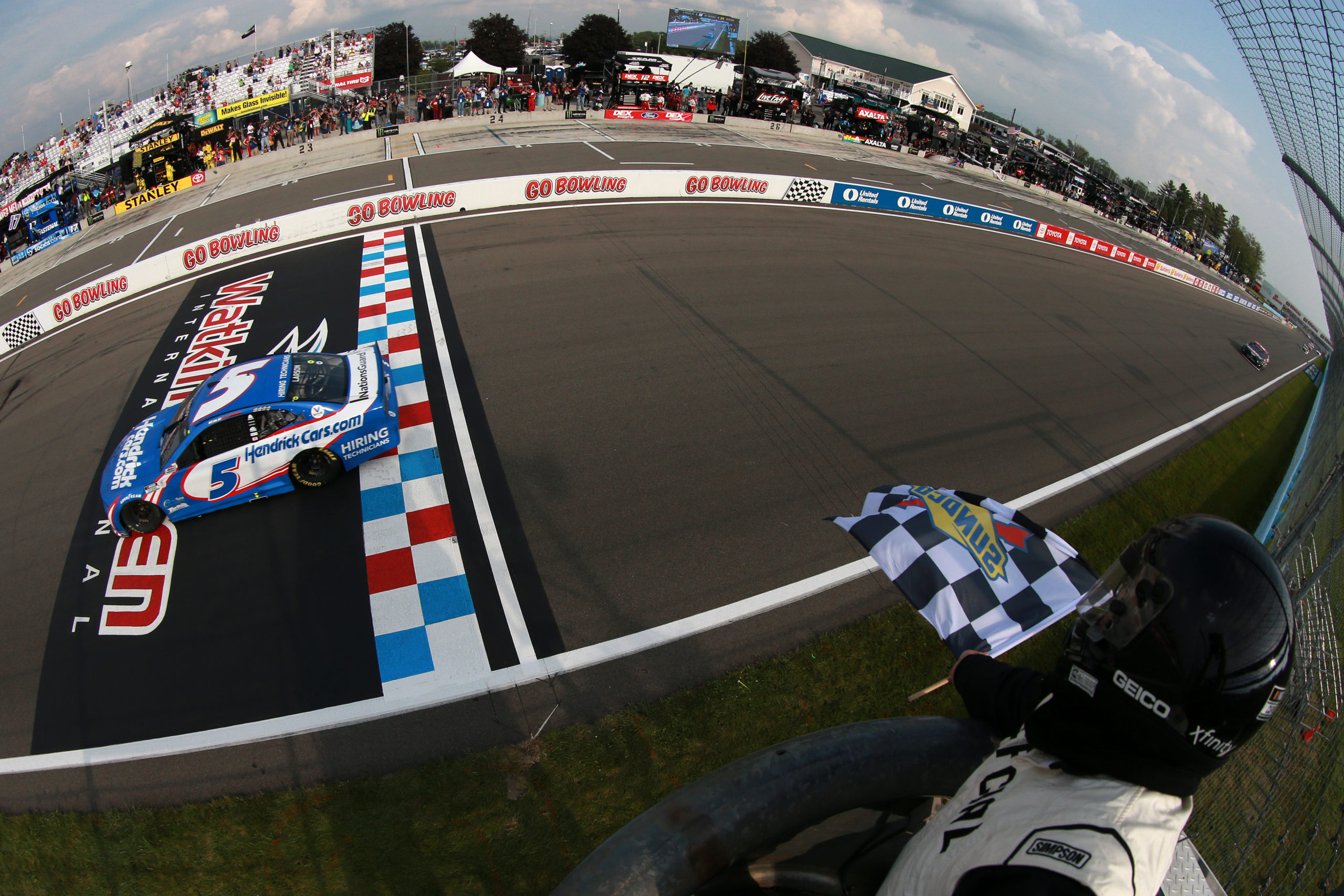 Kyle Larson Earns 5th Win of Year at Watkins Glen, Holding off Elliott
WATKINS GLEN, N.Y. – For the fifth time this season, Kyle Larson put the Hendrick 5 car in victory lane. While all of the attention at Watkins Glen was on his teammate Chase Elliott, Larson was able to hold off the 9 car. As the Playoffs near, is Larson the title favorite? With a series-high five wins now, it's hard to not pencil Larson all the way through to Phoenix. The 5 also made a huge gain in the regular season championship battle.
Penske-Perfect Stage 1
All three Penske cars made up the top three starting positions, behind Brad Keselowski. The 2 car would pace the field for the opening laps, but was hotly pursued by Joey Logano. Coming to the competition caution, Logano forced Keselowski into an error, as the 2 wheel-hopped turn six and spun. Logano would lead for the remainder of Stage 1, taking his fourth Stage win of 2021.
Due to failing prerace inspection, both Chase Elliott and Christopher Bell would have to start in the rear. Both driver's crew chiefs were also suspended for illegal rear window air deflectors. For Elliott this was of little issue, as the 9 was in the top 10 for Stage 1.
Thanks to short-pitting Stage 1, Martin Truex, Jr. would restart on the front row for Stage 2. The 19 quickly got the lead and took off, wanting to build a huge gap over the field. Truex would eventually win Stage 2 by three seconds over teammate Christopher Bell.
Midway through Stage 2 would certainly be a turning point in the race. Lap 31 would see Elliott pit under green with a flat-spotted tire. This out-of-sequence move put the 9 all the way back to 36th, but he was still running the fastest laps of the race. However, he would need patience to regain lost time as he clicked off lap after lap.
Tight Racing for the Lead
When the final Stage went green, Truex did not build up another huge lead. Rather, Bell remained all over the 19's bumper. This allowed Kyle Larson to close in, making the top three cars nose-to-tail for several laps. One moment just about saw three-wide for the lead at the start/finish line.
Just a few laps later, one of the top three would go spinning. Going into turn one, Larson dove to the inside of Bell and clipped the 20. Bell went spinning but did continue on. However, Bell was out of contention for the win and wound up finishing seventh.
With a two-way fight for the lead now, Truex did everything possible to keep Larson at bay. The 5 would remain behind the 19, until they both made their final pit stop on lap 57. On pit entry, Larson made up huge time on Truex, getting alongside the 19. Larson's No. 5 pit crew would then get him off pit road ahead of Truex with a lightning-fast stop. This would prove to be a huge moment in the race.
Engine No. 9 on the Charge
Meanwhile while this drama enveloped up front, Elliott was slowly picking his way through the field. After pit stops, the 9 ran fourth and was closing in. Elliott had a deficit of more than 12 seconds to try and erase, which he did with each passing lap. With 20 laps to go, Elliott took third from Kyle Busch. The bus stop with nine laps left saw Elliott get by Truex for second.
Elliott would try and erase a now five-second gap to Larson with under 10 to go. Even with heavy lapped traffic holding up the 5 however, Elliott could not quite get there. Larson would hold on for a series-high fifth win of 2021, more than two seconds ahead of Elliott.
Larson's Winning Reaction
"Chase was already catching me pretty quick," Larson said. "Even with me being in open track, so when I caught those, I think, four cars and got into the 38 right here, I thought I would look at my mirror and the 9 would be right on me, but thankfully had a comfortable enough gap to where I could make a mistake like that."
"I want to say a big apology to Christopher Bell. I was inside but I wasn't inside enough, and I didn't — I needed to have the nose a few feet further ahead. The angles just caught there in the middle and I ended up turning him. I hate that. I race with him a lot. He's probably the one guy that I race with the most in all my racing, so hate to turn him like that. We've had incredible races together."
"It really just shows how good the [Hendrick] organization is, all the people that they've assembled at their race shop, all the men and women. All four of us could not be getting these wins like we have been without them. Thanks to them, and thanks to everybody else I get to race for. Get to go to Iowa this week and chase another big win, so looking forward to that, and hopefully can just keep racking these wins up."
Top 10 Results from Watkins Glen
For the fifth time this year, two Hendrick cars took the top two spots with Larson and Chase Elliott. Joe Gibbs Racing would round out the top five with Martin Truex, Jr., Kyle Busch, and Denny Hamlin. William Byron, Christopher Bell, Kevin Harvick, Chase Briscoe, and Tyler Reddick were the rest of the top 10.
By virtue of Larson's win, the regular season points lead is a current tie between the 5 and Denny Hamlin. In three weeks, whoever has the most overall points gets 15 Playoff bonus points. Who will be the regular season champion? This battle will surely come down to the wire.
What's Next in Cup
The next stop for the NASCAR Cup Series is Indianapolis Motor Speedway, but a new layout there. The first-ever Verizon 200 will take place on the Indianapolis Road Course. Coverage begins Sunday, August 15 at 3:00 p.m. ET on NBCSN, the IMS Radio Network, and SiriusXM NASCAR Radio Channel 90. Can Chase Elliott rebound on an all-new road course, or can Larson go back to back?
Written by Peter Stratta
Be sure to follow us on Twitter
Be sure to follow the writer on Twitter
Photo Credit to Sean Gardner/Getty Images for NASCAR