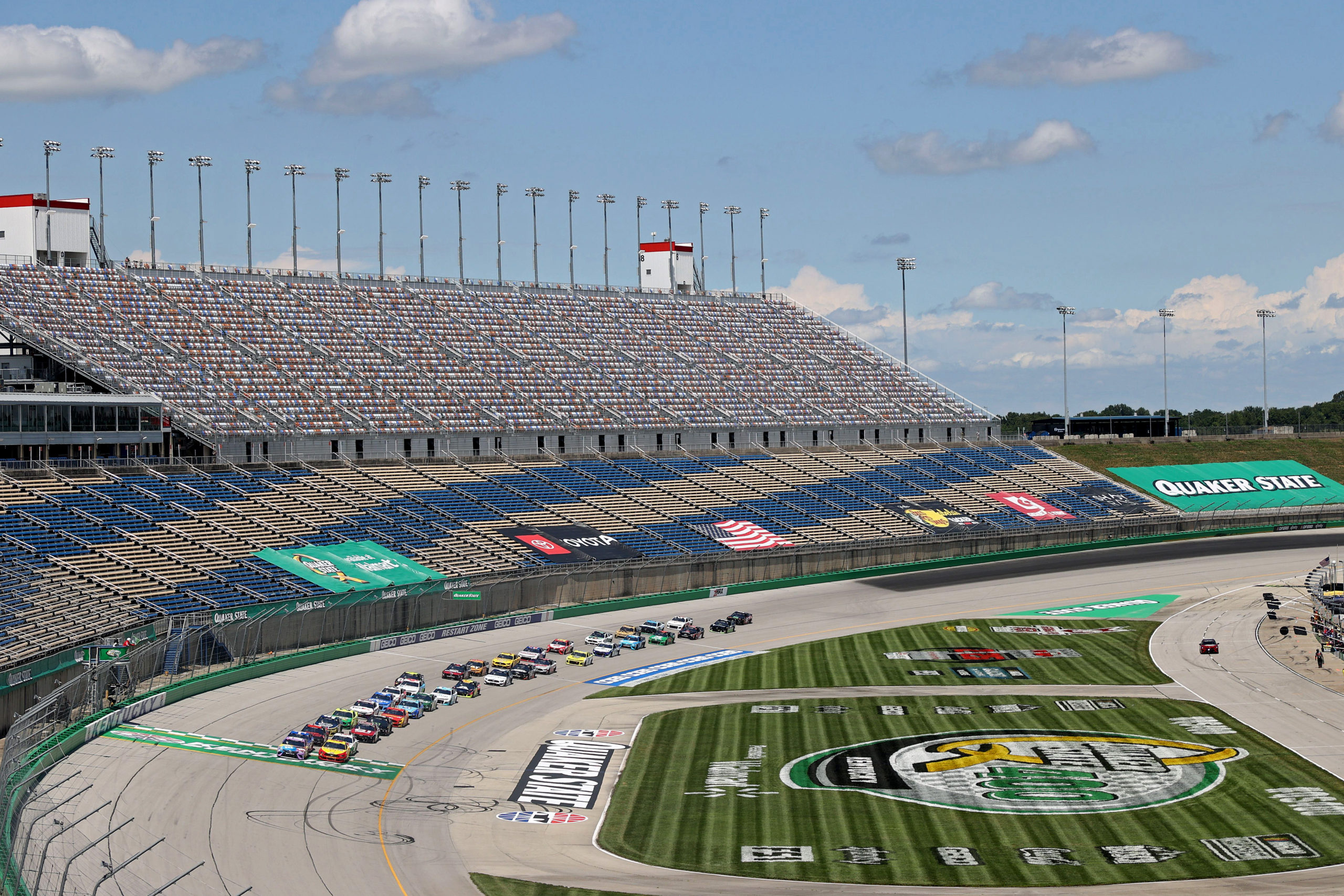 The Bluegrass Music Has Stopped for Racing in Kentucky
SPARTA, Ky. – This past weekend marked the first time since 2010 where Atlanta Motor Speedway held a second NASCAR Cup Series race. Where did that second race go to 11 years ago? It went to a track in the rolling foothills of the Ohio River Valley that now sits dormant, Kentucky Speedway. Now for 2021, the Quaker State 400 weekend shifted back to Atlanta. As a result, the Bluegrass State will not host NASCAR for the first time since 1999. This sudden change came with minimal warning or community input. What made Kentucky popular among fans enough to attract Cup, and what does the future hold for this mile-and-a-half track?
Track Origins
First opened in 2000, the 1.5-mile facility in Sparta gave fans in middle America a variety of racing moments in its first decade. The NASCAR Trucks and IndyCar held events here in the first year, with the Xfinity Series following suit. Kentucky Speedway saw arguably the biggest underdog win ever in the Xfinity Series. David Gilliland stunned the racing world with his first and only NASCAR victory in 2006, beating many Cup drivers. The track located midway between Cincinnati, Indianapolis, Louisville and Lexington also saw great moments in the Truck Series. This included Carl Edwards' maiden NASCAR win and the birth of his backflip celebration. Kentucky also became a popular testing venue for many NASCAR Cup Series teams, as it was not on their schedule. That would change though when track ownership shifted hands.
Cup Comes to Bluegrass State
Kentucky Speedway was awarded a long-awaited Cup Series event in 2011. This change came after Bruton Smith and Speedway Motorsports, Inc. bought the track. The inaugural Quaker State 400 did see Kyle Busch hold off Jimmie Johnson in a two-lap dash for the victory. However, this weekend did live on in infamy for off-track issues.
Ahead of the Cup race, KYS increased their seating capacity from 66,000 to over 100,000. However, this uptick in seating did not come along with many other infrastructure updates needed to handle such a large crowd. Because of this, Interstate 71 saw a monster traffic jam prerace. As a result, close to 20,000 fans did not make it to the track to witness this first race. At one point, security had to turn fans away from the track to avoid melee postrace.
Fans who missed the event were duly compensated. Regardless, this inaugural race blunder left a sour taste in the mouths of many. In summary, the increased seating capacity should have followed suit with easier access to the property from the interstate. No track's inaugural race weekend goes flawlessly, especially when bringing in a Cup Series crowd of more than 100,000 fans. Similar issues were faced just weeks ago in the first Cup Series race at Nashville Superspeedway.
By 2012 however, Kentucky bought additional land for parking. Their staff also implemented better operations for fans both approaching and leaving the facility. With the addition of the Cup Series though, IndyCar left Kentucky altogether after 2011. Oval specialist Ed Carpenter won the track's last open wheel race.
Necessary But Controversial Repave
With no repave since the track's initial construction, the surface at Kentucky became very bumpy by the mid-2010s. Drivers became very split down the middle on either loving or loathing the challenge of such worn-out asphalt. Like with any racetrack however, a repave was inevitable. Kentucky Speedway received a facelift ahead of the 2016 race weekend. Very similar to recently announced changes for Atlanta, Kentucky's banking was increased in turns 1 and 2 to 17 degrees. Turns 3 and 4 remained the same at 14 degrees, giving the track a very asymmetrical design. The first race on this new surface turned into a fuel-mileage gamble; Brad Keselowski just edged out Carl Edwards for the win. This marked Keselowski's third Kentucky win in only six races. Kentucky in 2016 also marked the final start for Dale Earnhardt, Jr. in his concussion-plagued season.
Keselowski (2012), Kyle Busch (2015), and Martin Truex, Jr. (2017) all have the distinction of winning at Kentucky in their championship seasons. Truex would also become Kentucky's only back-to-back winner in 2017 and 2018. The final win ever for Furniture Row Racing's No. 78 team would come in Sparta.
Incredible Finishes Lead to Nothing
The two most recent Kentucky races will live on in history as some of the best finishes of the Gen 6 era. In 2019, Kurt Busch held off younger brother Kyle in a beating-and-banging overtime finish. This win marked Kurt's first time getting the upper hand on Kyle in a Busch brothers 1-2 result. This was also the first Kentucky win for Chevrolet. As someone who was in attendance that night, the crowd went electric at the sight of this finish. Kurt earned a very popular win for Chip Ganassi Racing in front of a great throng of fans.
Amidst the pandemic a year ago, rookie Cole Custer scored an upset victory in front of empty grandstands. Also in overtime, the 41 restarted sixth and drove around everyone on the high side for his first career win. This day ended up deciding the 2020 Rookie of the Year battle among a highly touted and hotly contested class. As of the time of this writing, this finish marks the last on-track NASCAR action of any kind in Kentucky. When the 2021 schedules released in September, Sparta's track was noticeably absent from any competition for Cup, Xfinity, or Trucks.
In  a cruel twist of fate, Atlanta's Quaker State 400 also saw a Busch brothers 1-2, with Kurt winning again. However, many fewer fans speckled the Georgia grandstands this past weekend.
Busch Wants to 'Spread the Wealth'
After winning the second leg of the Pocono Doubleheader weekend, Kyle Busch had an interesting opinion on racetracks having multiple Cup Series dates. "My personal opinion with as much as the schedule has kind of changed over the last couple years, what all has been going on with different racetracks and such, fans' reception to coming and supporting some of those racetracks, we don't need to go to any racetrack more than once," Busch said. "You know what I mean? Spread the wealth. That's my opinion.
I like how we're able to take a date from Dover, go to Nashville. I don't know why we don't go to Chicago still. We go to Atlanta twice. That was dumb. I don't know why we don't go to Kentucky. Apparently that governor is pretty pissed off. That wasn't a smart move.
Just going to these places, you still want to be able to spread the wealth around a little bit. I mean, Kentucky, I can see where the fans might be a little upset about Kentucky is the traffic situation the first year was really bad. As it fizzles out and everybody figures it out, it will get better over time. That's my opinion. We should go to every place once, find a couple more places we can go to and spread the wealth."
Room Leftover for Schedule Growth
Some hallmark tracks of the sport such as Daytona, Talladega, Bristol and Martinsville should remain at two race dates. However, a second weekend is not necessary for every racetrack. Subtracting two popular venues in Kentucky and Chicagoland for additional races at Darlington and Atlanta oversaturates these markets. This move also diminishes fan appreciation for both races. Why go to the first Atlanta or Darlington race when there's another one in just a few months? Having one race at all but a few tracks allows for more diversity in the Cup Series schedule regarding new markets and venues.
Kentucky Governor Speaks Out
"Obviously it is a great disappointment," said Kentucky Governor Andy Beshear on NASCAR leaving back in September. "That is an incredible event. I'm personally disappointed because I worked with NASCAR to become one of the first locations that they could race in after the suspension for COVID. I certainly hope that they reconsider, that this is a 1-year or even less change. That speedway is an important economic driver. We certainly have been investing tens of millions of dollars if not more in infrastructure over the years to support that track & it would be pretty disappointing that we make all of those investments to support one of these races and then we not have it."
In the months since the announcement, Kentucky Speedway has wanted to redevelop into a multi-use facility in order to attract more events. As a state with no other professional sports though, local businesses will feel the impact of no longer having a NASCAR weekend.
Marcus Smith on the Atlanta Move
In the hours leading up to the Quaker State 400 this past weekend, I did run into SMI's President & CEO, Marcus Smith. Smith was gracious enough with his time to give some insight into the thought process of moving this race weekend from Kentucky to Atlanta, and spoke on the future of the Sparta property. "It was definitely a tough move," Smith said on shifting away from Kentucky. "One that we didn't take lightly at all. With last year, the COVID protocols and restrictions kept us out of Kentucky and a few other places. At the same time, we were also making plans for this year. So that was a big factor in how we decided to come to Atlanta Motor Speedway twice. There's just a lot of moving parts involved, definitely not one that we made a decision very easily."
"We have a lot invested in Kentucky, and we think there's some fantastic NASCAR fans in that part of the country. As far as the future goes, I think there's always an opportunity, we're going to continue to look at it and figure out what decisions we'll make going forward."
Smith certainly makes it sound like this shift from Kentucky to a second Atlanta race may have in fact been a temporary move. Only time will truly answer that, as NASCAR's 2022 schedule is still not public. When considering that 2019's Kentucky race had a lively crowd while this past weekend's in Atlanta fell flat, I certainly hope the Bluegrass State is in NASCAR's future.
What's Next for Kentucky?
Currently, the track is a storage facility for trucks made at a nearby Ford plant. With so many vehicles stored in the massive array of parking lots, it almost appears as if it's race weekend again in Sparta. Alas, the Quaker State 400 moved eight hours south to Atlanta Motor Speedway. With Marcus Smith's input though, he sounded as if all hope is not lost for the legions of racing fans in the Kentucky area.
With SMI moving Kentucky's race date back to Atlanta Motor Speedway, the future does seem in limbo for the Bluegrass State facility. Being centrally located between many major population centers, Kentucky did attract a healthy amount of fans over recent years despite the 2011 gaffe. It would be more than disappointing to see Kentucky Speedway waste away in a shell of its former glory. The last race having zero fans is another gut punch to the thousands of loyal supporters who flocked to this track every summer for two decades.
Written by Peter Stratta
Be sure to follow us on Twitter
Be sure to follow the writer on Twitter
Photo Credit to Robb Carr/Getty Images for NASCAR