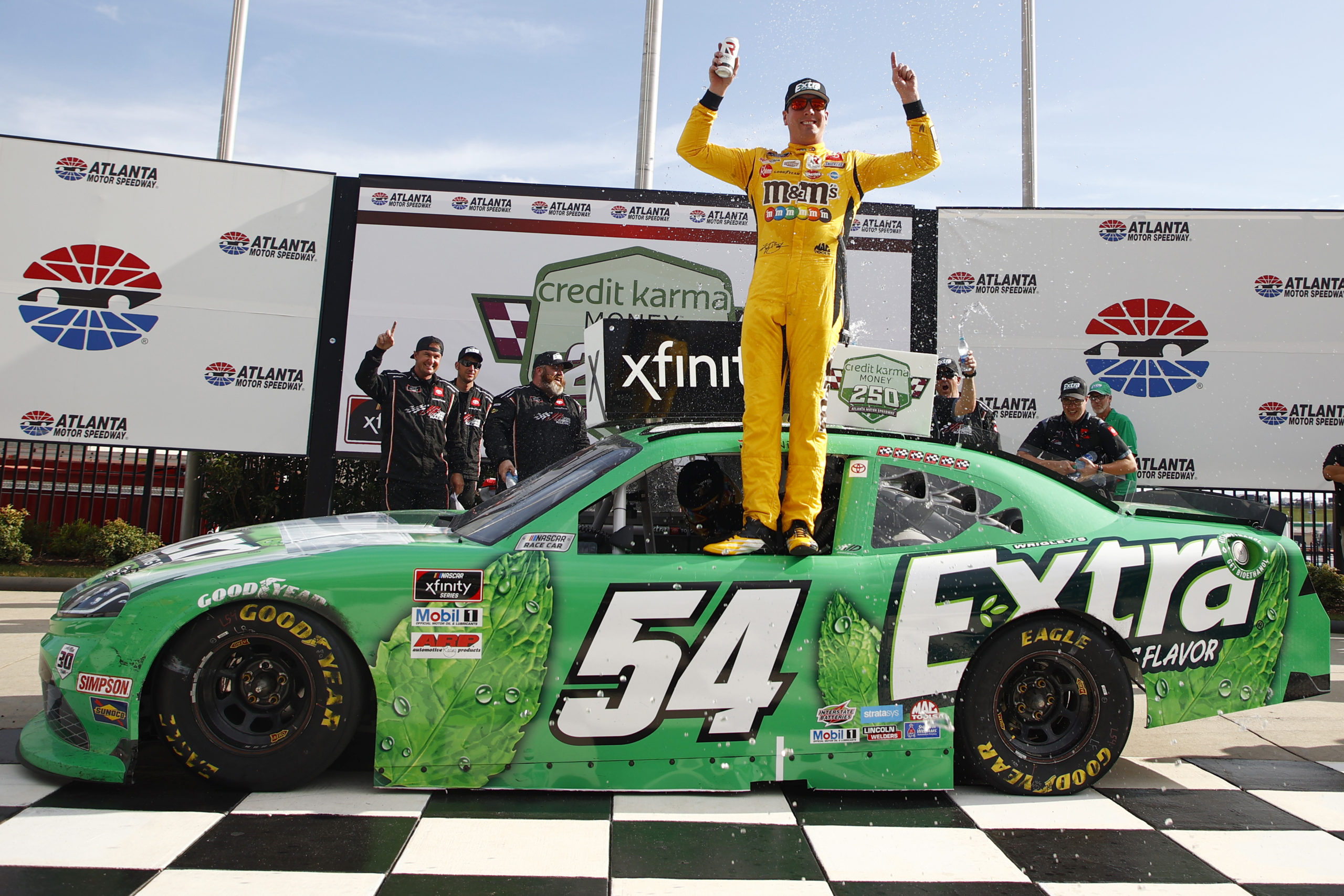 Kyle Busch Goes 5-for-5 in 2021 Xfinity Series, Is He Done?
HAMPTON, Ga. – Atlanta Motor Speedway was the site of Kyle Busch's fifth and final Xfinity Series race of 2021. Starting from the pole, Busch was dominant in taking his fifth win of the season and career victory number 102. The bright green Extra Gum Toyota Supra was money in the Credit Karma Money 250. Busch did have to battle back late though, so it was not an easy win. Busch was adamant all day long that this is his final scheduled Xfinity start, and the Las Vegas native left with a bang. However, Busch did repeatedly say "Never say never," on the potential for future starts.
Busch Sweeps Stages, Gets Set Back
From the pole, Busch's No. 54 Toyota was unbeaten in both Stages. In the closing laps however, Busch did have to do battle against one of his teammates. A split pit strategy among the lead lap cars shook up the running order around lap 100. Once things cycled out, Daniel Hemric had the lead over Busch. Another caution and ensuing restart saw Hemric still remain ahead of the 54. As laps wound down, it appeared as if Hemric would finally capture his first NASCAR win. Caution for a spinning Carson Ware would give Busch one more chance on a restart though.
Kyle Weatherman did stay out to inherit the lead, but on much older tires. Meanwhile Hemric, Busch, and the rest of the field pitted for scuffs or their last set. The 47 restarting as the leader did not go well, as Weatherman spun due to not getting up to speed. His spinning car would also collect Harrison Burton in the process. Burton's No. 20 Toyota wound up finishing 24th.
On the next restart, a bump gone awry from Busch sent Hemric spinning into the outside wall. While this may have looked very intentional on Busch's part, in fact Hemric just hit a bump on the racetrack and the 54 was trying to shove him into the corner simultaneously. This led to another caution and restart, but Busch remained unchallenged. The 54 set sail for win five of 2021, and career victory 102 in what may be his final start ever. While Busch enjoyed the spoils of victory, Hemric left Atlanta in 30th.
Busch's Winning Reaction
"Not quite the win we were hoping for,'' Busch said. "A little bit of a somber win, I guess, not just for it being it the last one, but for the way it kind of happened. Really hate it for my teammate Daniel Hemric there on the front stretch. Just trying to get to him, trying to push him, trying to hit him and get him moving forward. We hit that bump there on the track at the same time and it kind of juked his car and he went across traffic, I guess. Ended up wrecked, which was not all how I foresaw that all going."
"But we were able to push our way through and get on to victory lane. He probably was going to have us beat, you know. Whoever got ahead off of Turn 2 on a restart was probably going to circle back around and take the checkered.''
Does One Victory Stand Apart in the 102?
I also asked Busch postrace if he does have a favorite Xfinity win, any one that stands out over the other 101. "Not really," Busch immediately said. "Certainly the years of 2004 all the way to probably 2013, '14, '15 somewhere in there you were running against anywhere between eight, 12, 16 Cup guys. So people want to discredit the wins all they want, but back in that day, hell back in 2004 I was 18-years old and beating them.
It was pretty fun to have some of the runs that I had back then. You look at Michigan 2004, beating Mark Martin, the series' winningest driver at that time. You then look back on a bunch of other victories with Jason Ratcliffe, going and winning in Mexico, all of the wins we were able to score in dominating fashion, and some of the ones we stole. There were very rare ones we stole, not a lot of those, because we didn't have to luck into them, we could flat-out win them. There's just so many to talk about."
It appears as if that 2004 day in Michigan may have been a passing of the torch for Xfinity Series domination. Ever since 2011, Mark Martin's Xfinity win total of 49 has stood second all-time to Busch.
Is Kyle Busch truly done running in the Xfinity Series? Only time will truthfully answer that question, but he likely will not run his allotment of five races for 2022 and beyond. While a one-off start here or there could become the norm, Busch's days of 'stinking up the show' on Saturdays may be done.
Top 10 Results from Atlanta
The top five behind Busch were Jeb Burton, Noah Gragson, Justin Haley and Ty Dillon. Gragson pitted from the lead with a flat tire on a restart, and raced his way back to 3rd. Brett Moffitt, Justin Allgaier, Jeremy Clements, Sam Mayer and Austin Cindric were the rest of the top 10.
What's Next for Xfinity
As the regular season winds down, the next Xfinity race will be New Hampshire, for the Ambetter Get Vaccinated 200. Coverage of this race will be Saturday, July 17 at 3 p.m. ET on NBCSN, MRN, and SiriusXM NASCAR Radio Channel 90. With no Kyle Busch to worry about anymore, can Austin Cindric or Justin Allgaier be stopped in their quest for the 2021 title?
Written by Peter Stratta
Be sure to follow us on Twitter
Be sure to follow the writer on Twitter
Photo Credit to Jared C. Tilton/Getty Images for NASCAR